Regular price
$96.99
Sale price
$29.98
Unit price
per
Save 69%
Sold out
44 in stock
Wafer was designed for the discriminate consumer who wants the low profile look of recessed without the high cost. Manufactured of die cast aluminum, Wafer brings ultimate heat dissipation to its edge lit technology. Edge lighting gives very even light distribution while dispersing heat over a larger area. The result of this is longer LED life and better light diffusion.
FINISH - Bronze Finish can add warmth, depth, and character to your kitchen or dining area, and is a timeless choice for those looking for a classic and sophisticated finish.
DIMENSIONS - .5'' Height x 4.25'' Width x 24" Length. Minimum Height: 5". Maximum Overall Height: 122". Wire Length: 120". Canopy Width: 6". Canopy Height: 1.5". Canopy Length: 6".
LIGHTING - 1 x 18 Watt PCB Integrated LED bulb. Rated Life: 50,000 Hours. Delivered Lumens: 1300. Color Temperature: 3000 K. CRI: 90.
FEATURES - Dimmable light Triac CL. Can be adjusted to different levels of brightness to create your desired ambiance. Compatible with standard wall dimmers. When the lights are dimmed, these fixture creates bursts of warm rays on the wall for a look that is both beautiful and relaxing.
EASY INSTALLATION - Hardwired power source. All mounting hardware and detailed instructions are included for an easy installation. Safety Rating: Damp. Title 24: JA8 Listed. Weight: 3.96 lbs.
SKU:LD57842WTBZ
Share
View full details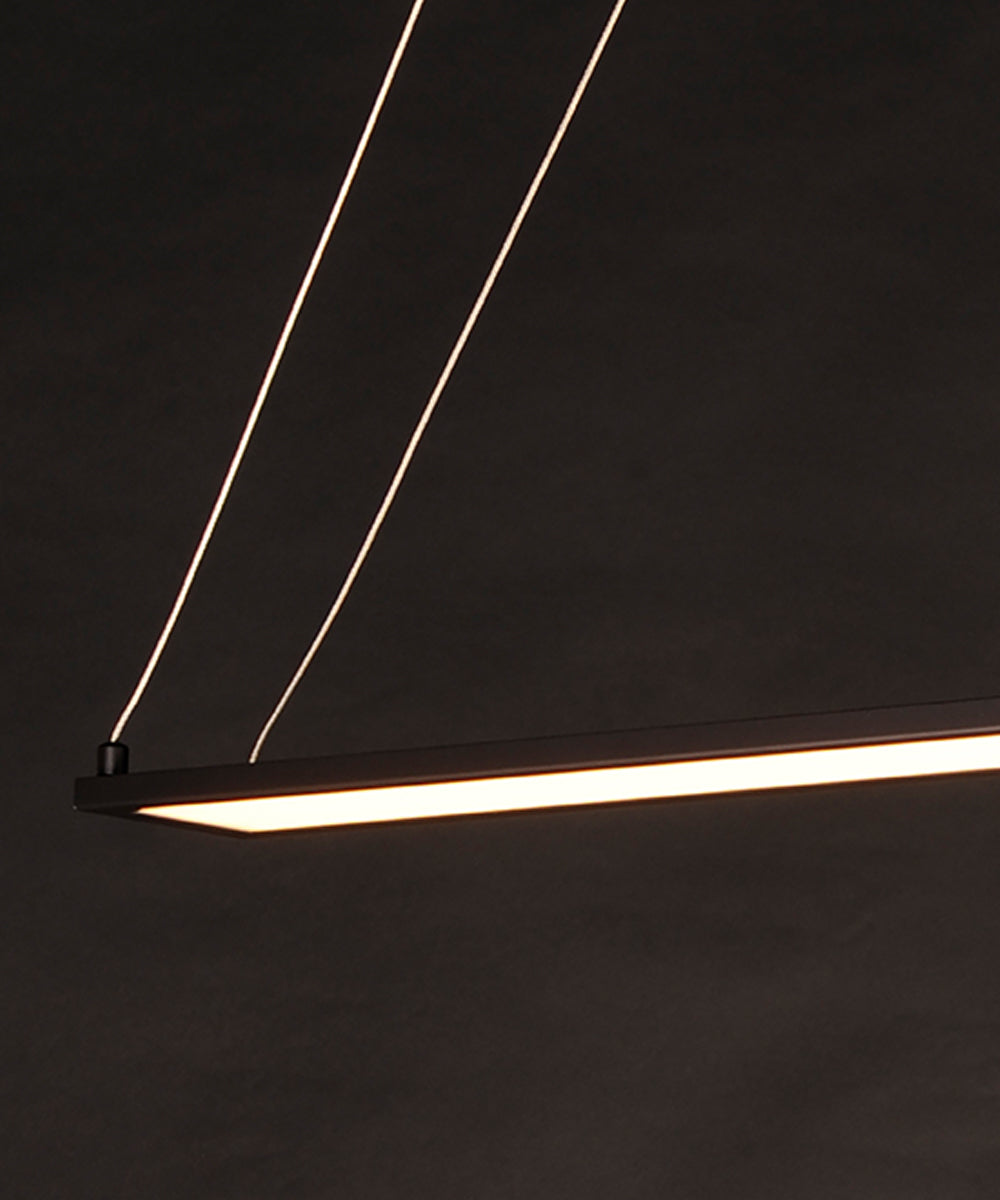 What is an Island Light?
An island is a large countertop or prep-area usually in a kitchen, and sometimes with seating around it. To light the area for preparing and enjoying meals, an island light is a great choice. Usually these are longer or more linear light fixtures, with multiple lights in a row rather than in a circular arrangement. This helps to shine light across the entire length of the island. A beautiful island pendant or chandelier also acts as a stunning centerpiece for your kitchen. These hardwired light fixtures are installed electrically and operated by a wall switch.
Island Light Benefits

Extend to the length of an island.
Light an elongated work surface.
Great over a kitchen island or dining table.
Spreads the light out rather than centralized.
A decorative centerpiece for your room.
Great over pool, billiard and game tables.
Well-suited for a longer dining room table.
Provides strong light from several bulbs.
Elegant for dining or over a breakfast counter.
Ambient Centerpiece Lighting
These hanging lights can form a centerpiece in any room, ideally positioned over a table, counter-top, kitchen island or in the middle of a larger room. They produce a lot of ambient light but also center the light below them. Great for dining rooms and living rooms or over a kitchen island. A larger number of light bulbs tends to produce more light and lights up the whole room.
For which rooms?
An island light is best suited over a kitchen island or alternatively a dining table. Best for kitchens and dining rooms. They could also be used over other long furniture, such as a bar, pool table or billiard table.
Placement/Layering
Lights over an island of table will focus much of the light in that area. Since the light is hanging, it will sit centrally in the room. You may want to add wall lights or lamps to light the further reaches of the room.
Mounts to the Ceiling
Attaches to a flat ceiling. The included canopy decoratively covers the electrical installation area. Not likely for use on vaulted/sloped ceilings.
Installed by an Electrician
An electrician or person with electrical installation knowledge will need to permanently wire the island-light into the building's electrical supply.