Regular price
$90.00
Sale price
$44.98
Unit price
per
Save 50%
Sold out
13 in stock
Brushed Nickel Ceiling Track Light features fashion flare-shaped light heads to provide optimum directional lighting. Stylized in brushed nickel with energy efficient, built-in integrated LED for your convenience, and cost savings. No bulbs to replace, ever.
FINISH - Brushed Nickel finish gives your home a chic update. A simple and elegant way to update your decor. Fits best with modern and industrial-style homes.
DIMENSIONS - 5.91" Height x 19.09" Width x 4.33" Depth. Perfect for small areas that need directional light to create dramatic shadows and highlight art or room features. 2.5 lbs
LIGHTING - Integrated LED included, so no bulbs to replace, ever. Maximum Bulb Wattage: 19.8. Color Temperature: 3,134 for a warm, comforting color. Output Lumens: 1323. CRI: 83. Lumens per Watt (Efficacy): 66.83.
FEATURES - Dimmable light. Can be adjusted to different levels of brightness to create your desired ambiance. Fully adjustable heads provide optimal directional lighting.
EASY INSTALLATION - Hardwired power source. Mounting hardware and detailed instructions are included for easy installation.
SKU:LD19541-000
Share
View full details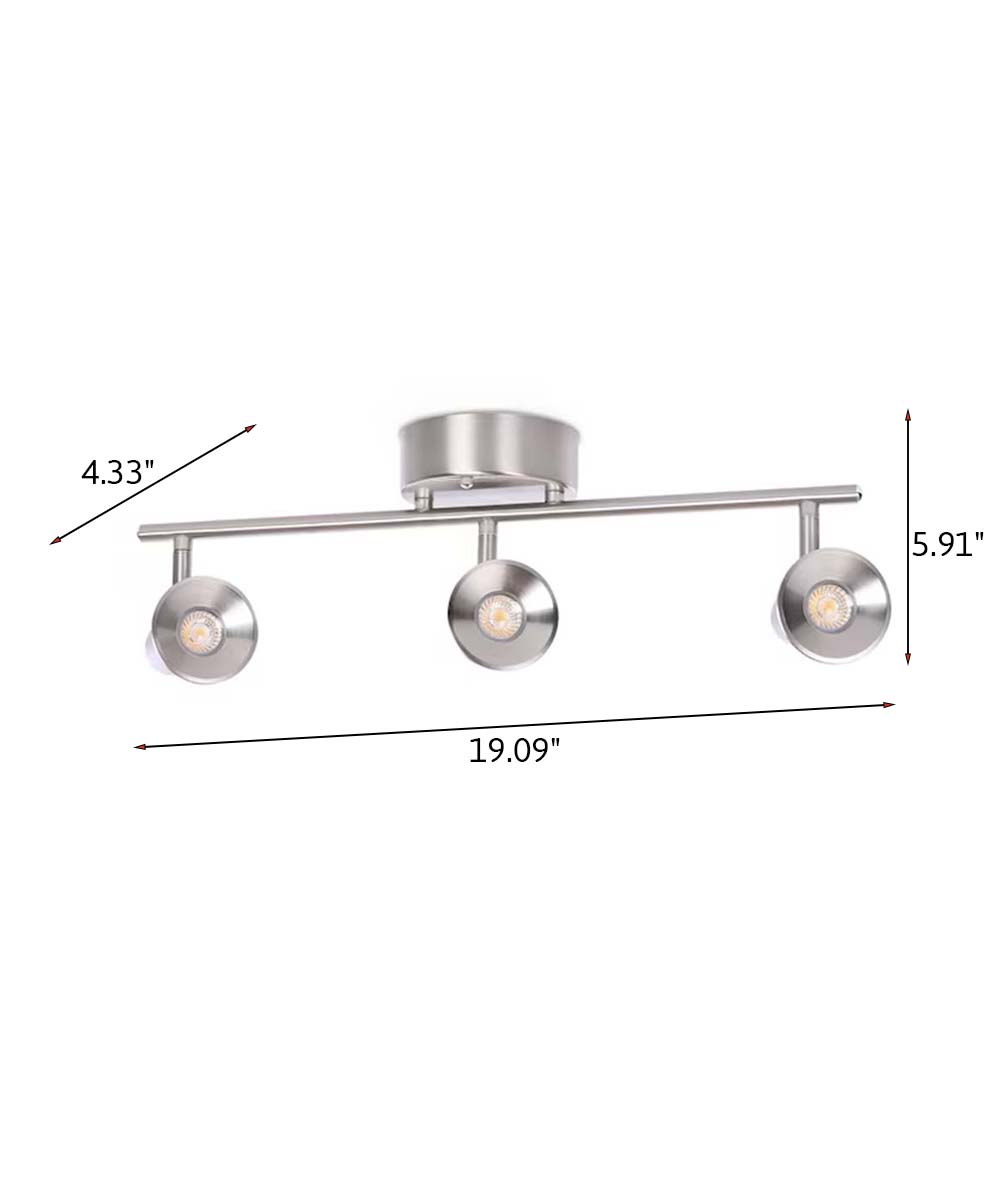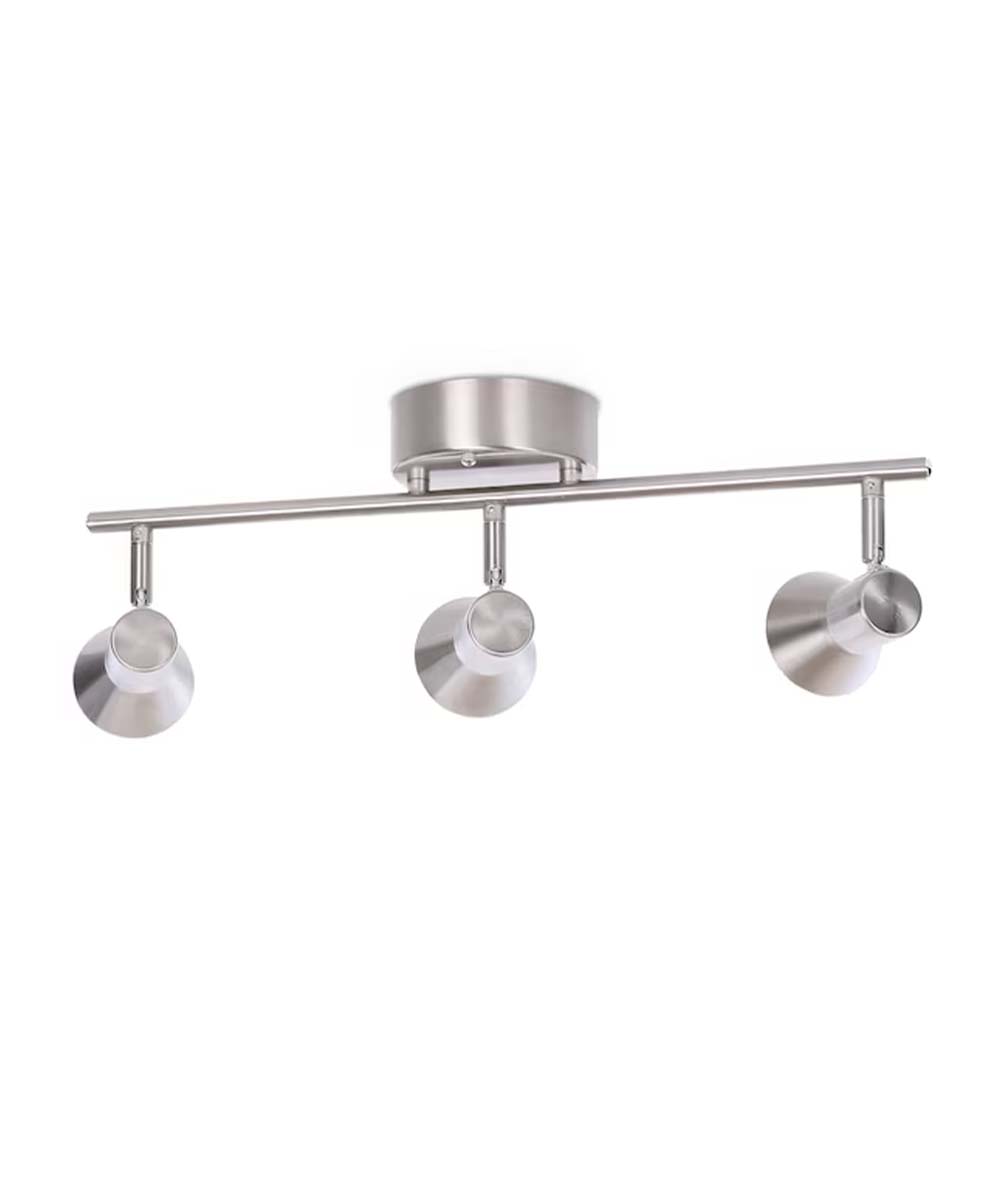 What is a Semi-Flush Mount?
A semi-flush light fixture is mounted to a ceiling. While part of the fixture sits flush to the ceiling, usually there is a gap between the ceiling and the light shade. A close-to-ceiling fixture can work well as a central light fixture, ideal in smaller rooms and hallways where there is less head-room. A semi-flush fixture tends to be more decorative than a fully-flush light fixure. These lights are hardwired and must be installed electrically, operated by a wall switch. They produce good ambient light, although a larger room may need more than one.
Semi-Flush Benefits

More decorative than a flush mount.
Close to the ceiling, leaves head-room.
Allows for fairly bright overhead lighting.
Single installation with multiple bulbs.
Ideal for small, medium or large rooms.
A big upgrade over 'boob lights'.
Better-quality than 'builder lights'.
A less-expensive alternative to chandeliers.
Less formal than a larger light fixture.
Ambient Background Lighting
Fixtures closely attached to a ceiling tend to produce more ambient background light. They might be used to support a more central light fixture or as a less elaborate central light. They can produce strong light near to where they are placed. A close-to-ceiling light can flood a room with ambient light.
For which rooms?
A semi-flush may need a little more ceiling height than a flush mount, but is often useful in a living or family room, bedrooms, a kitchen, a home office or in a basement. They also work well in hallways, bathrooms and smaller rooms.
Placement/Layering
Being close-to-the-ceiling, these lights will radiate light outward and downward. They can light a large area, but you should also consider wall lights or lamps to fill out the edges or corners of the room, and to provide softer light for more relaxed situations.
Mounts to the Ceiling
Attaches to a flat ceiling. Could potentially be mounted to a sloped/vaulted ceiling. The flush-mount canopy area hides the electrical installation.
Installed by an Electrician
An electrician or person with electrical installation knowledge will need to permanently wire the semi-flush fixture into the building's electrical supply.