Regular price
$69.97
Sale price
$19.98
Unit price
per
Save 71%
Sold out
47 in stock
This Satco Lighting Clip-On Gooseneck Lamp Set is an ideal lighting solution for multiple reading spaces including clipping onto a headboard, a chair or a desk to illuminate your work area. The flexible gooseneck is the perfect design to easily direct the light path to where you need it most.
FINISH - White Finish, Metal shade with white gooseneck arm.  2 lamps per set.
DIMENSIONS - 8.25" Length x 4.75" Width x 13" Height, Weight: 1.09 lbs
STYLE - Modern. Heartland Collection by Satco. Flexible gooseneck design for multi-directional options to direct the light path.
BULB - Incandescent, Intermediate Base, 40 Watt 120-volt (S11N bulb included). Replacement bulb SatcoS3629
USAGE - Handy Clip on Clamp light fits desks up to 1.25" thick. 5' cord with polarized plug and in-line on/off switch.
SKU:LD60/840/2PACK
Share
View full details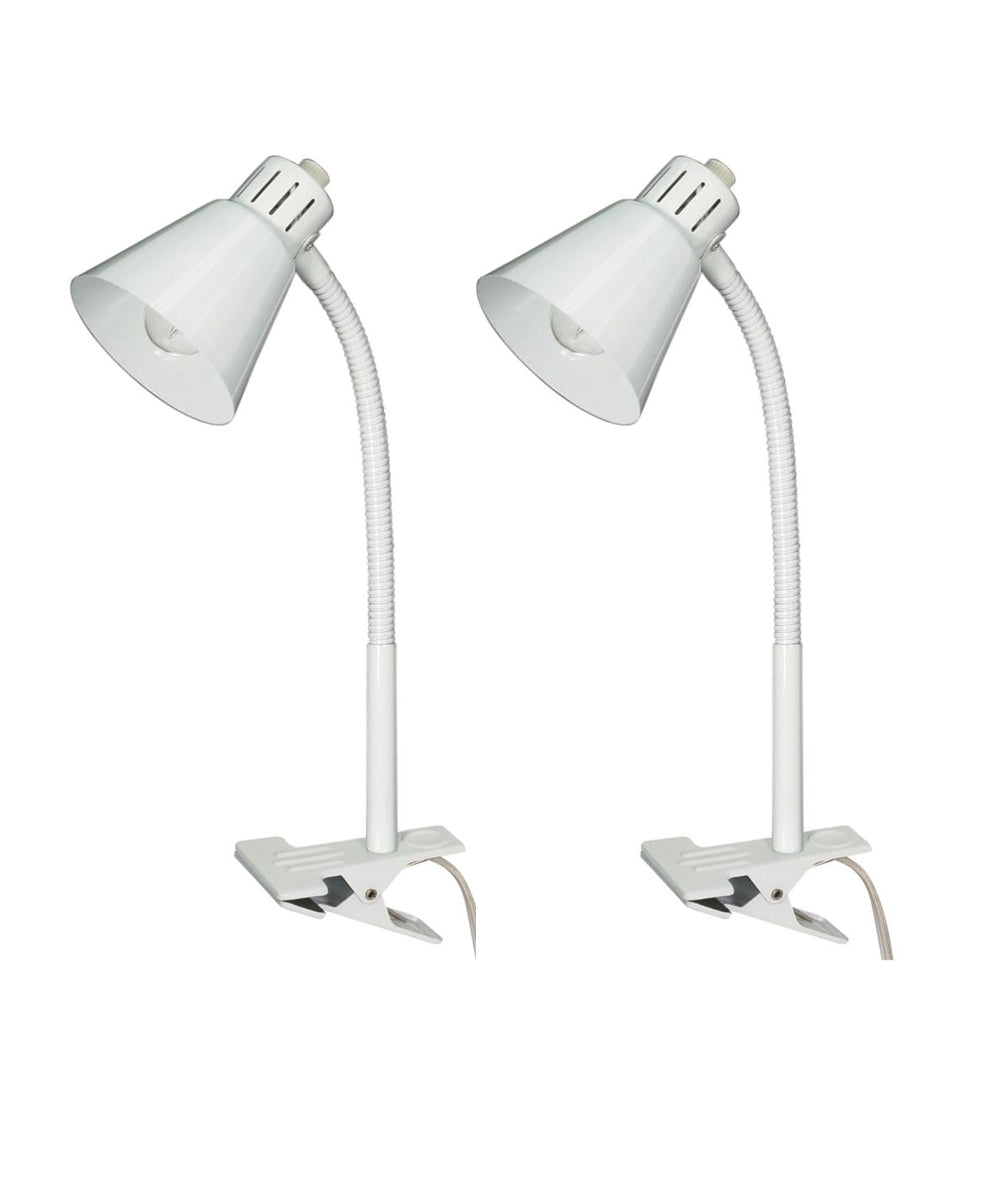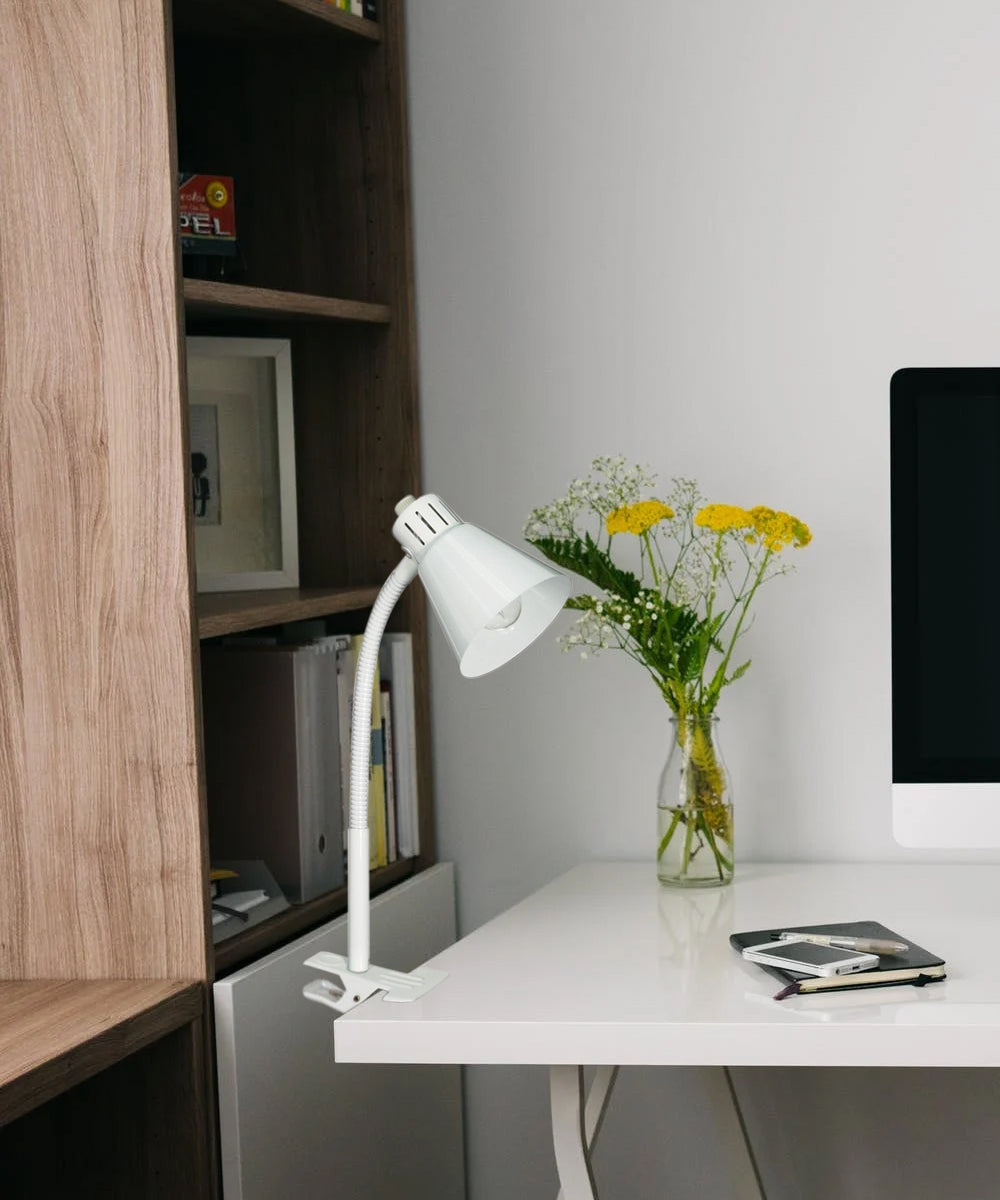 What is a Desk Lamp?
Desk lamps are portable tabletop lamps which can sit on a desk or table. They usually direct their light downwards so that they can be used for tasks such as reading, crafts or paperwork. The light from a desk lamp usually shines off to one side, rather than directly over the lamp base, so that it can optimally light up your desk area. Desk lamps are also often adjustable to place the light where you need it. Being portable they can simply be plugged into a wall socket. Great for work activities or for crafts and hobbies.
Desk Lamp Benefits

Perfect for an office desk.
Can also sit on standup-up-desks.
May be adjustable in position and height.
Places light over the desk where you need it.
Lamp base gets out of the way of the light.
Easy to switch on and off.
Doesn't take up much desktop space.
Great for highlighting crafts and hobbies.
Provides bright localized light.
Helps with visibility, reading and eye-strain.
Traditional Style
Classic in nature, yet elegant by design best describes the timeless appeal of predictable yet dignified lines and curves. Traditional Style Lighting prides itself on stately structure, beautiful ornate details, and reliable designs that tell a story of enduring appeal and craftsmanship. It's a tried-and-true style that is reliable, and speaks of discriminating and taste of a steadfast lifestyle.
Task Lighting
Task lighting places a stronger light in one area of the room. Very good for tasks when you're sitting nearby. Most lamps can be used as task lights and can be quickly switched on when needed. Great for reading, crafts and hobbies. They also work well to light up one area of a room, e.g. on either side of a couch or in the corners of a room. Most of the light is directed downwards and out to the sides.
For which rooms?
A desk lamp is best used with a desk or table, or next to a bed or seating area. Ideally in an office or work area, in living rooms, bedrooms, family rooms and guest rooms.
Placement/Layering
A desk lamp is best suited for desk, writing and office areas, on side-tables and accent furniture. They're likely to live closer to the edges of the room providing local light. You should add other light fixtures or lamps as well to create appropriate levels of light in the room.
Mounts to Furniture
Portable, sits on a surface via the lamp base. Covers a relatively small area, can be placed on desks, tables, shelves and other furniture.
Plugs in
Plug the desk lamp into a regular power outlet socket and switch it on.