Regular price
$169.99
Sale price
$45.71
Unit price
per
Save 73%
Sold out
Low stock: 1 left
One-light stem-hung mini-pendant with white opal shades. Aged Pewter finish coordinates with Delta Faucets Victorian Collection. Displays a clean-lined style without fussy embellishments for a timeless, tasteful addition to any room.
Aged Pewter Finish
7" Height x 5.5" Width
63" Overall Length
Includes 10' of wire.
1 x 100 Watt Max Medium Base bulb (not included)

OPEN BOX SPECIAL! Special price is limited to the open box stock only. First come first served. Box may be opened or seal broken. Merchandise is examined and in good working condition.
SKU:LDP5034-03-OPEN
Share
View full details
What is an Mini Pendant?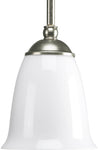 A miniature pendant is usually a 1-light pendant which hangs from the ceiling. The smaller pendant directs downward light to a specific area, over a kitchen island, table or furniture. A group of mini pendants in a row is a great way to light a larger area, and they often feature colorful shades. As a hardwired light fixture, mini pendants are installed electrically and operated by a wall switch. You may need at least a few mini pendants to light a larger area such as an island or bar.
Mini Pendant Benefits

Small size doesn't take much space.
Decorative shade adds a splash of style.
Easy to hang from the ceiling.
Focuses light directly beneath it.
Lights the local area over a table, island or bar.
Useful when a few are hung in a row.
Doesn't block line of sight.
Adjustable height.
Several can be hung in a row or cluster.
Casual Style
Informal and comfortable, this relaxed style accentuates an airy and unpretentious living space, evoking the feeling of a permanent beach cottage vacation. Casual Lighting uses clean and simple lines, subtle curves, natural textures, and decorative glass for a subtle elegance that doesn't overwhelm the senses.
Ambient Focused Lighting
A mini pendant offers a spot-light of focused light over a local area. Being typically a one-light fixture they need to be grouped to light a larger area. Light will diffuse and reflect outward for ambient light, but most of the light will be aimed downwards to light a surface. Best used over a piece of furniture such as a kitchen island, bar or table.
For which rooms?
Mini pendant lights work well over furniture such as a kitchen island, bar or dining area. They are most often found in kitchens and dining rooms, although could also provide interesting office lighting.
Placement/Layering
Being fairly small, these small pendants tend to shed light near to themselves. For a larger area you'll need more than one. They may act almost like spotlights. Wall lights or another main light fixture is a good complement, or consider adding some lamps.
Mounts to the Ceiling
Attaches to a flat ceiling. Includes a canopy which covers the electrical installation area. However, since the mini-pendant is lightweight, it could potentailly hang from a vaulted or sloped ceiling, though pressure will apply to the bent stems/chain and power cord.
Installed by an Electrician
An electrician or person with electrical installation knowledge will need to permanently wire the mini pendant into the building's electrical supply.