Regular price
$62.99
Sale price
$19.99
Unit price
per
Save 68%
Sold out
Low stock: 1 left
Satco LED low profile Blink lights feature a clean design that delivers efficient and functional lighting wherever you need it. Blink lights can be used in a flush mount/ceiling location, or a surface mount/wall sconce location. Blink lights favor simple design cues, mainly circles, and squares, allowing them to look amazing in just about any environment. Sleek, modern, and functional. These easy to install LED surface/flush mount Blink lights resemble recessed lighting with a low 1" profile. Blink lights are dimmable with most LED-rated dimmers. Energy Star approved.
Finish: White
Shape: 5.5" x 5.5" Square
Lumens: 600 
Watts: 10.5, (50w equivalent)
Bulb Category: LED
Volts: 120
CRI: 80
Color Temperature: 3000K (warm white)
Low profile, 1" Height
Surface/Flush mount fixture
Solid-State LED lighting
Dimmable. Compatible with most LED-rated dimmers.
Damp location rated
Housing: Die-cast aluminum
Average life: 40,000 hours
Connector base
UL Listed
Energy Star
5-Year limited warranty
UPC: 045923093272
OPEN BOX SPECIAL! Special price is limited to the open box stock only. First come-first served. Box may be opened or seal broken. Original manufacturers warrantee does not apply. Merchandise is examined and in good working condition.
SKU:LDS9327-OPEN
Share
View full details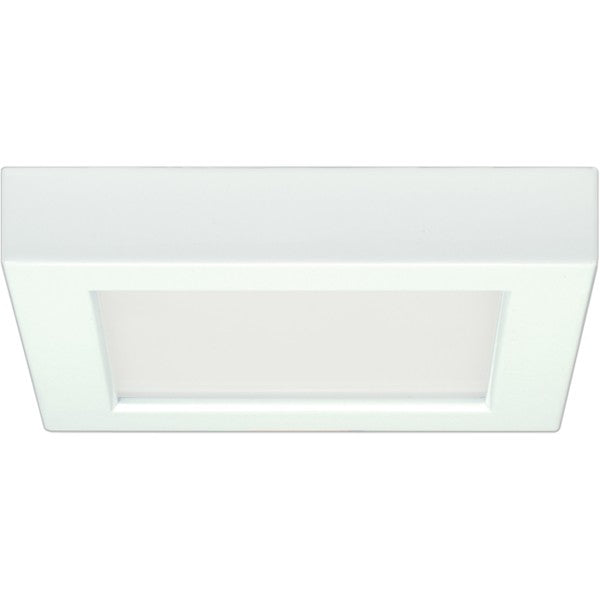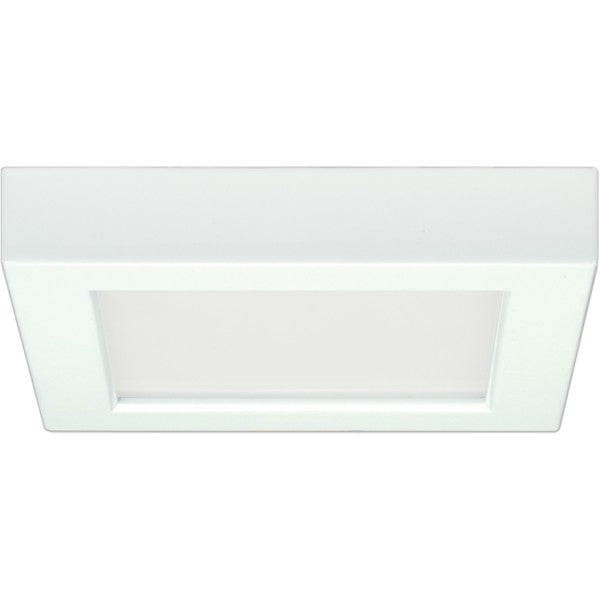 What is a Flush Mount?
A flush mounted light fixture is mounted to a ceiling. The fixture hugs close to the ceiling, usually without any gap between the ceiling and the light shade. A close-to-ceiling fixture can work well as a central light fixture, ideal in smaller rooms and hallways where there is less head-room. A flush-mount fixture provides maximum head-room, though tend to be less decorative than a semi-flush fixture. These lights are hardwired and must be installed electrically, operated by a wall switch. They produce good ambient light, although a larger room may need more than one.
Flush-Mount Benefits

Clean close-to-the-ceiling design.
Leaves the most head-room.
Allows for fairly bright overhead lighting.
Single installation with multiple bulbs.
Ideal for small and medium rooms.
Simple low-profile design gets out of the way.
A cheaper ceiling light option.
Less-expensive than large light fixtures.
Appropriately sized for hallways and smaller rooms.
Modern Style
Contemporary and innovative, modern lighting underscores futuristic form and structure, and geometric or asymmetrical shapes. A modern lighting design instills functionality within an artfully streamlined form, radiating a reflective glow while providing clear and bright light. Modern Lighting complements a sleek, contemporary interior with straight lines, and can also create an agreeable contrast with transitional styles.
Ambient Background Lighting
Fixtures closely attached to a ceiling tend to produce more ambient background light. They might be used to support a more central light fixture or as a less elaborate central light. They can produce strong light near to where they are placed. A close-to-ceiling light can flood a room with ambient light.
For which rooms?
Being fairly low-profile, flush mounts are often found in smaller or narrower rooms. They work well in a hallway, bathroom or smaller bedroom. They can also work well in a basement or rooms with less headroom.
Placement/Layering
Being flush-to-the-ceiling, these lights will radiate light outward and downward. They can light a large area, but you should also consider wall lights or lamps to fill out the edges or corners of the room, and to provide softer light for more relaxed situations.
Mounts to the Ceiling
Attaches to a flat ceiling. Could potentially be mounted to a sloped/vaulted ceiling. The flush-mount canopy area hides the electrical installation.
Installed by an Electrician
An electrician or person with electrical installation knowledge will need to permanently wire the flush-mount fixture into the building's electrical supply.