Regular price
$110.00
Sale price
$53.98
Unit price
per
Save 51%
Sold out
Low stock: 1 left
This 1-Light Pendant by Quorum features an Satin Nickel w/ Aqua finish, that will bring a terrific look to any room.
Satin Nickel w/ Aqua
Features Glass Shade
11'' Height x 5.25'' Width
1 x 100 Watt Medium bulbs (not included)
Weight: 5 lbs
UL Listed: Dry

OPEN BOX SPECIAL! Special price is limited to the open box stock only. First come-first served. Box may be opened or seal broken. Original manufacturers warranty does not apply. Merchandise is examined and in good working condition.
SKU:LD824-1265-OPEN
Share
View full details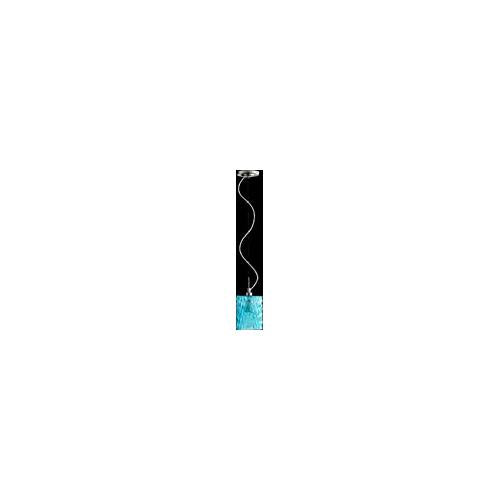 What is an Mini Pendant?

A miniature pendant is usually a 1-light pendant which hangs from the ceiling. The smaller pendant directs downward light to a specific area, over a kitchen island, table or furniture. A group of mini pendants in a row is a great way to light a larger area, and they often feature colorful shades. As a hardwired light fixture, mini pendants are installed electrically and operated by a wall switch. You may need at least a few mini pendants to light a larger area such as an island or bar.
Mini Pendant Benefits

Small size doesn't take much space.
Decorative shade adds a splash of style.
Easy to hang from the ceiling.
Focuses light directly beneath it.
Lights the local area over a table, island or bar.
Useful when a few are hung in a row.
Doesn't block line of sight.
Adjustable height.
Several can be hung in a row or cluster.
Modern Style
Contemporary and innovative, modern lighting underscores futuristic form and structure, and geometric or asymmetrical shapes. A modern lighting design instills functionality within an artfully streamlined form, radiating a reflective glow while providing clear and bright light. Modern Lighting complements a sleek, contemporary interior with straight lines, and can also create an agreeable contrast with transitional styles.
Ambient Focused Lighting
A mini pendant offers a spot-light of focused light over a local area. Being typically a one-light fixture they need to be grouped to light a larger area. Light will diffuse and reflect outward for ambient light, but most of the light will be aimed downwards to light a surface. Best used over a piece of furniture such as a kitchen island, bar or table.
For which rooms?
Mini pendant lights work well over furniture such as a kitchen island, bar or dining area. They are most often found in kitchens and dining rooms, although could also provide interesting office lighting.
Placement/Layering
Being fairly small, these small pendants tend to shed light near to themselves. For a larger area you'll need more than one. They may act almost like spotlights. Wall lights or another main light fixture is a good complement, or consider adding some lamps.
Mounts to the Ceiling
Attaches to a flat ceiling. Includes a canopy which covers the electrical installation area. However, since the mini-pendant is lightweight, it could potentailly hang from a vaulted or sloped ceiling, though pressure will apply to the bent stems/chain and power cord.
Installed by an Electrician
An electrician or person with electrical installation knowledge will need to permanently wire the mini pendant into the building's electrical supply.