Regular price
$283.14
Sale price
$99.98
Unit price
per
Save 65%
Sold out
Low stock: 1 left
Matching Set of 2 Antler & Pine Cone Table Lamps L316984 
If you like things a bit rustic, or if you're keen for some rustic cabin décor, these rustic table lamps will have you yearning for the wilderness with pine-cone and antler table lamp base and a lampshade adorned with evergreen trees fading away.
This set of two matching table lamps provides great bedroom lighting and looks splendid as a pair of end table lamps.
You can be sure that getting a pair of matching antler table lamps from Signature Design by Ashley Furniture Home Store at this fantastic price will either bring a smile to the outdoors-man or hunting wife in your life or will be the finishing touch on your man cave.
Don't forget the solid-as-Oak LampsUSA 120% Price Match Guarantee!
Ashley Store Rustic Home Decor Table Lamps:
2 lamps in a set
Shade: 5" Top x 14" Bottom x 10.5" Height
Lamp: 24" Height x 14" Width x 14" Depth
Lamp Base: 8" x 5 3/4"
1 x 100 Watt Med Base Bulb (not included)
Features a Pull Chain On/Off Switch
OPEN BOX SPECIAL! Special price is limited to the open box stock only. First come-first served. Box may be opened or seal broken. Original manufacturers warrantee does not apply. Merchandise is examined and in good working condition.
From Signature Design by Ashley the Furniture Home Store Sale Prices
Rustic Antlers and Pine Cones Indoors! Take rustic to a whole new level with this Signature Design by Ashley matching table lamp set. This rustic Ashley Store table lamp shows off a beautiful silhouette with ashley furniture stores lampshade trimmed with evergreen trees and a base that is made of faux pine-cone and deer antlers that look and feel realistic. The Derek Set of 2 table lamps are so unique that all your guests will be wondering where you managed to rustle up those two matching Ashley Store side table lamps.
Rustic Home Decor meets Living Room Lamps vs. Rustic Table Lamps
Rustic Living Room Table Lamp Set from from Signature Design by Ashley Store! Boy was that a mouthful. So what exactly makes this table lamp so fascinating? Take a look at the rustic table lamps antlers and pine cone base design. This unique table lamp set is like no other. Surely this is not something that you commonly see even in rustic table lamps where you commonly go. If you are someone who is a fan of hunting and the great outdoors, these would be perfect living room lamps for your log cabin.
Where do They Go? Side Table, End Table or Living Room Lamps or Bedroom lighting?
Double the Rustic fun
And because this lamp is very appealing, having only one of it in your home is probably not enough. Whether its rustic bedroom lighting, or just some nice rustic accents you are looking for (or both), you'll surely have options with this pair. 
Simple mechanism
This table lamp spares you the complexities that go along with operating some of today's modern lamps, especially those that have numerous buttons and switches. This rustic lamp only has a single chain so turning it on or off is as simple as pulling it. 
SKU:LDL316984-OPEN
Share
View full details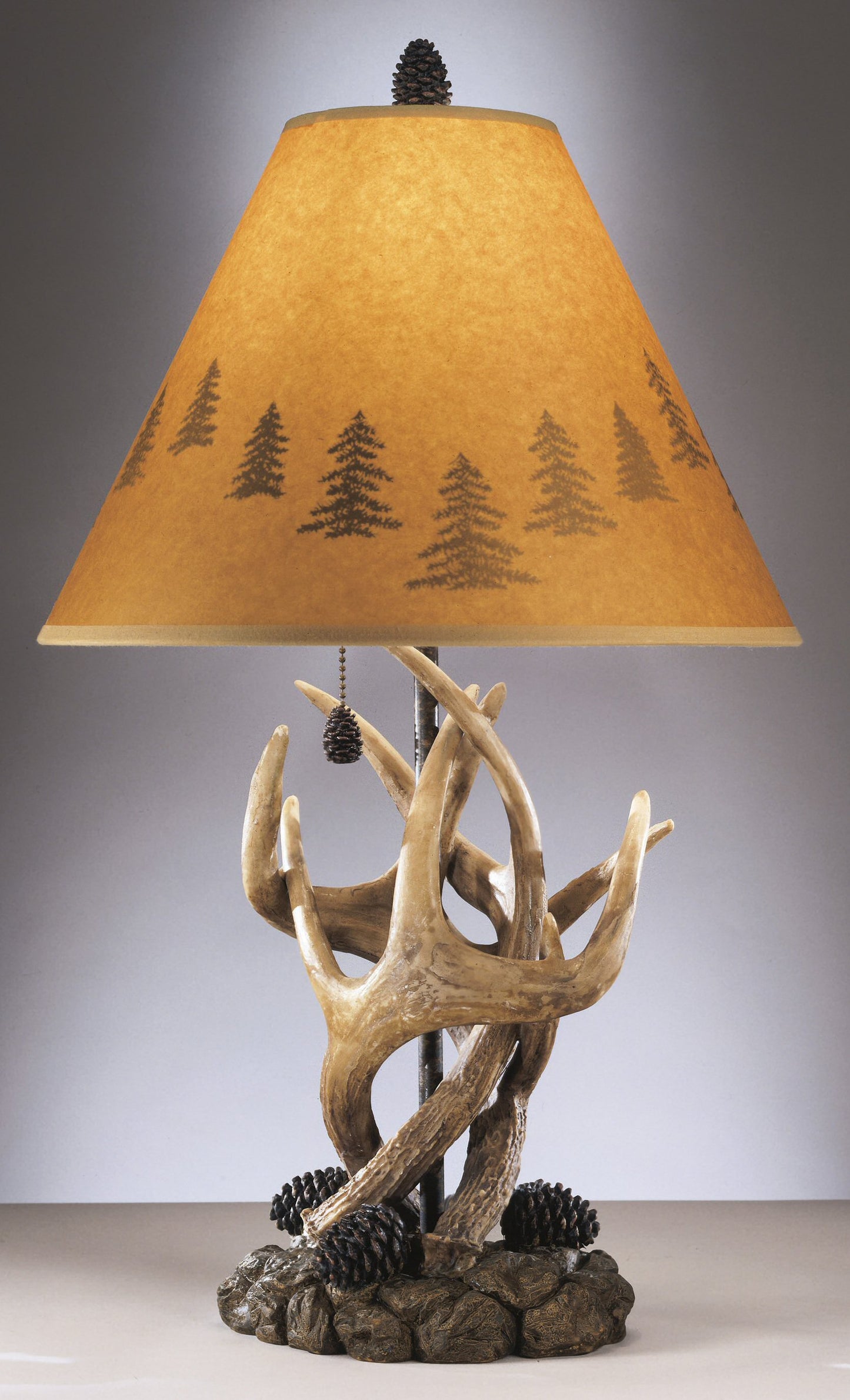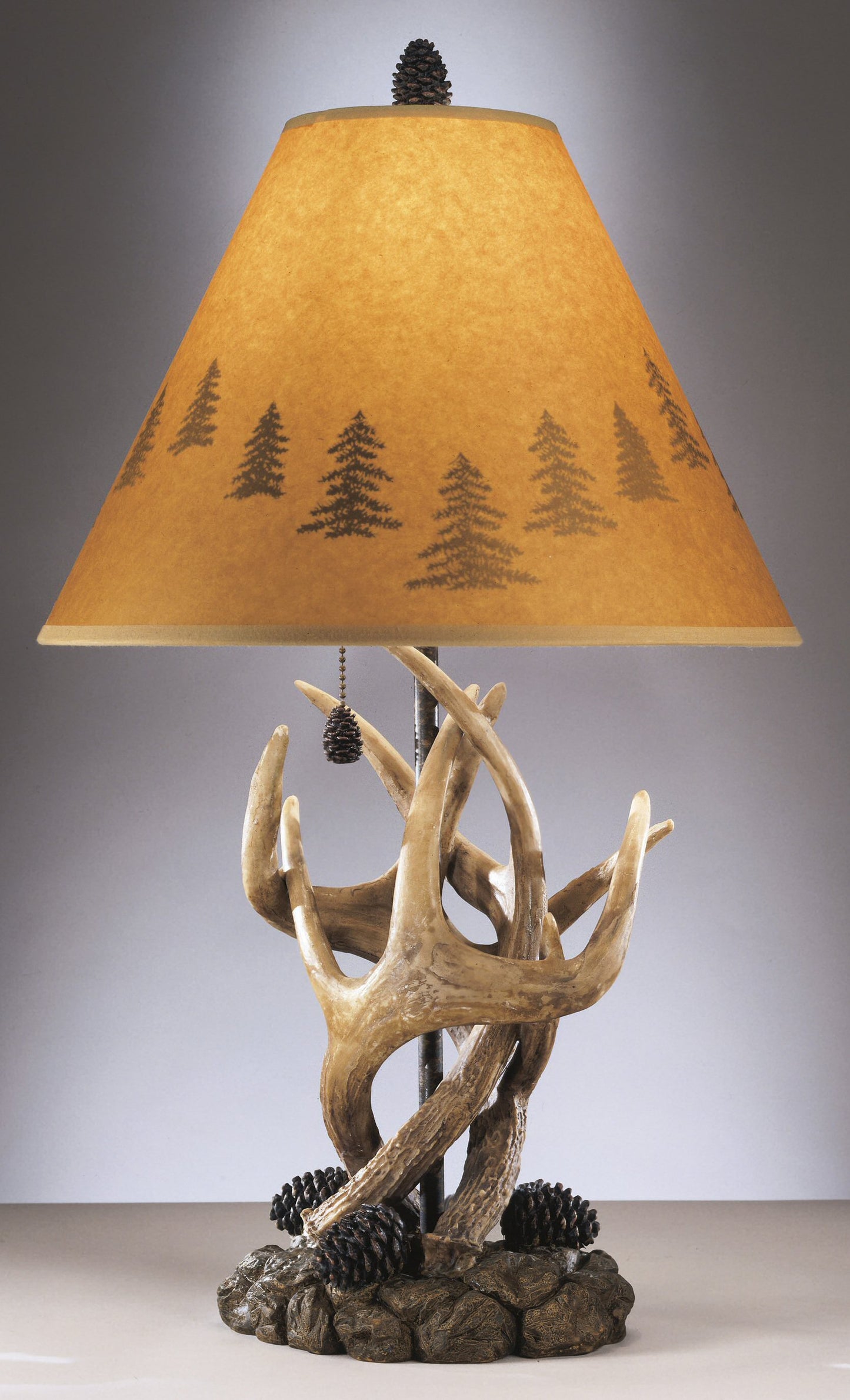 What is a Table Lamp?
A table lamp is a portable light which can sit on a side-table. Usually a light bulb is positioned above the lamp base and surrounded by a lamp shade. They plug into a regular wall socket and can be easily switched on or off while seated nearby. Light typically emits outward and downward to illuminate a local area, great for tasks, reading, crafts and hobbies. Ideally positioned next to seating, at the bedside, or in the corners of a room for a more ambient mood. Table lamps usually feature one or two light bulbs.
Table Lamp Benefits

Portable and can be moved to any room.
Take them with you if you move.
Makes for a wonderful gift.
Lights up a local area for reading etc.
Ideal next to seating or sleeping areas.
Great as a bedside lamp.
Position either side of a couch or bed.
Easy to switch on or off.
Shade diffuses and deflects light.
Adds a decorative touch to any room.
Farmhouse Style
The grit and grace of the American farm has formed an alliance with country chic and modern convenience. Our Farmhouse Lighting Style cultivates historic charm that is modest, functional and genuine. Our collections of farmhouse style lighting designs may use natural wood and forged metals that will enhance the hospitality of any room or outdoor space.
Task Lighting
Task lighting places a stronger light in one area of the room. Very good for tasks when you're sitting nearby. Most lamps can be used as task lights and can be quickly switched on when needed. Great for reading, crafts and hobbies. They also work well to light up one area of a room, e.g. on either side of a couch or in the corners of a room. Most of the light is directed downwards and out to the sides.
For which rooms?
All you need is some furniture to sit it on. Most useful as a bedside table lamp, but also as a living room table lamp. It may also work in a family room, home office or guest room, or to help light a basement.
Placement/Layering
A table lamp works well to light a nearby area, shedding light to the sides and below. You'll need one either end of a couch or either side of a bed, or in corners of a room. Table lamps can provide a medium-level of light, but you'll want some ceiling and/or wall lights for when you need the room to be brighter. Consider also a floor lamp to make the room brighter.
Mounts to Furniture
Can sit on top of any piece of flat furniture able to support the weight. The lamp sits on its base which is flat on the bottom. Ideally positioned on a side-table, nightstand, or other smaller furniture.
Plugs in
Plug the table lamp into a regular power outlet socket and switch it on.