Regular price
$34.10
Sale price
$15.97
Unit price
per
Save 53%
Sold out
9 in stock
The Maxim Flush Mount from Maxim Lighting is finished in White and features Marble glass.
White Finish
Features Marble Glass
6" Height x 13.5" Width
2 x 75 Watt Medium Base bulbs (not included)
Part of the Maxim Collection by Maxim
Weight: 3.42 lbs
UL-Dry Listed for indoor/dry (not damp or wet) locations

OPEN BOX SPECIAL! Special price is limited to the open box stock only. First come-first served. Box may be opened or seal broken. Original manufacturers warranty does not apply. Merchandise is examined and in good working condition.
SKU:LD5841MRWT-OPEN
Share
View full details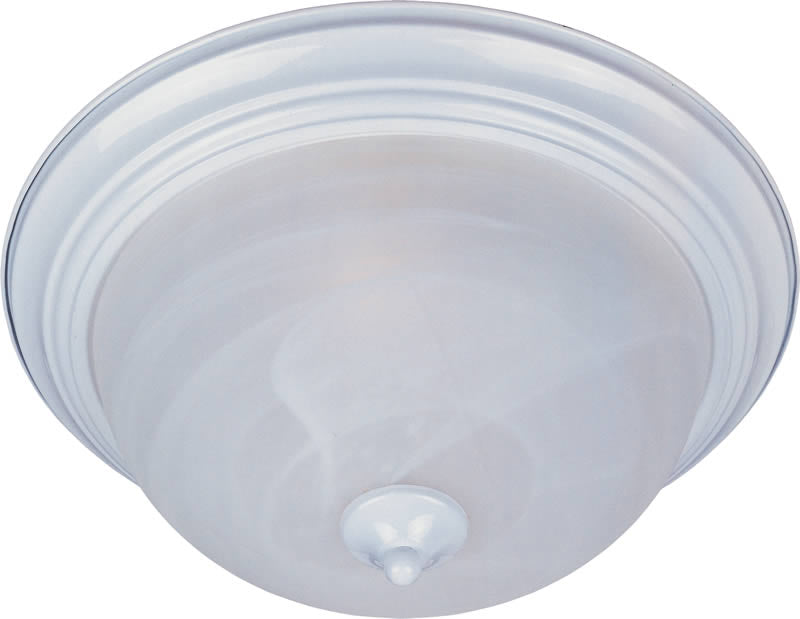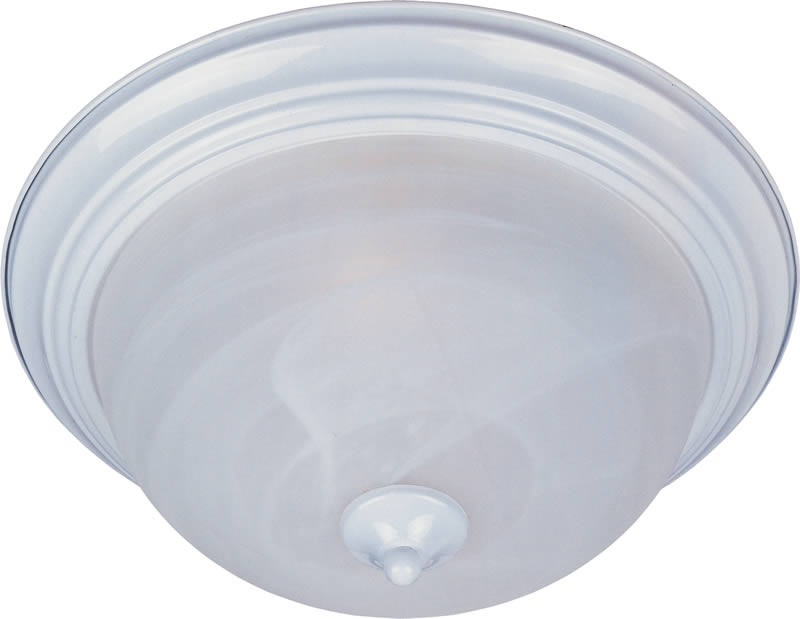 What is a Flush Mount?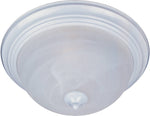 A flush mounted light fixture is mounted to a ceiling. The fixture hugs close to the ceiling, usually without any gap between the ceiling and the light shade. A close-to-ceiling fixture can work well as a central light fixture, ideal in smaller rooms and hallways where there is less head-room. A flush-mount fixture provides maximum head-room, though tend to be less decorative than a semi-flush fixture. These lights are hardwired and must be installed electrically, operated by a wall switch. They produce good ambient light, although a larger room may need more than one.
Flush-Mount Benefits

Clean close-to-the-ceiling design.
Leaves the most head-room.
Allows for fairly bright overhead lighting.
Single installation with multiple bulbs.
Ideal for small and medium rooms.
Simple low-profile design gets out of the way.
A cheaper ceiling light option.
Less-expensive than large light fixtures.
Appropriately sized for hallways and smaller rooms.
Casual Style
Informal and comfortable, this relaxed style accentuates an airy and unpretentious living space, evoking the feeling of a permanent beach cottage vacation. Casual Lighting uses clean and simple lines, subtle curves, natural textures, and decorative glass for a subtle elegance that doesn't overwhelm the senses.
Ambient Background Lighting
Fixtures closely attached to a ceiling tend to produce more ambient background light. They might be used to support a more central light fixture or as a less elaborate central light. They can produce strong light near to where they are placed. A close-to-ceiling light can flood a room with ambient light.
For which rooms?
Being fairly low-profile, flush mounts are often found in smaller or narrower rooms. They work well in a hallway, bathroom or smaller bedroom. They can also work well in a basement or rooms with less headroom.
Placement/Layering
Being flush-to-the-ceiling, these lights will radiate light outward and downward. They can light a large area, but you should also consider wall lights or lamps to fill out the edges or corners of the room, and to provide softer light for more relaxed situations.
Mounts to the Ceiling
Attaches to a flat ceiling. Could potentially be mounted to a sloped/vaulted ceiling. The flush-mount canopy area hides the electrical installation.
Installed by an Electrician
An electrician or person with electrical installation knowledge will need to permanently wire the flush-mount fixture into the building's electrical supply.