Regular price
$90.00
Sale price
$44.98
Unit price
per
Save 50%
Sold out
51 in stock
Inspired by a glass of champagne, this elegantly effervescent Integrated LED Flush Mount Ceiling Fixture has the look of bubble glass in durable, lightweight acrylic. This flush-mount ceiling light fixture boasts a beautifully curved shape and features delicate air bubble details dispersed throughout the clear shade. Its shiny, modern polished nickel metal canopy sits flush with the ceiling to create a sleek, slim profile. The top of the shade contains a ring of high-quality LED lights that deliver a brilliant 3000k/1500 lumens (75-watt incandescent equivalent), plus an excellent color-quality rating of 90 CRI that makes colors look more natural and boosts contrast. The ring of LEDs shines down through the acrylic shade to illuminate the bubble details and cast a champagne-colored glow. The light is dimmable with a standard wall dimmer switch (not included).
FINISH - Features clear acrylic shade with beautiful air bubble details, plus built-in energy-efficient LED lights. Chic champagne-inspired clear shade paired with shiny polished nickel and chrome metal upper ring for a glamorous look.
DIMENSIONS - Clear round low profile shade measures 12" Wide x 2.8" High, the slim-profile canopy is flush with the ceiling.  Dry Rated. UL Listed. Weight: 2.71 lbs.
LIGHTING - Includes integrated LED bulbs. Lumens: 1500. Color Temperature (Kelvins): 3000K, for a soft, warm light. Color Rendering Index(CRI): 90 for more natural colors and better contrast. Energy efficient LED lights give the equivalent of a 75 watt bulb but uses only 9 watts.
FEATURES - Romantic curved shape and fizzy air bubble details dispersed throughout the clear acrylic shade. Dimmable light can be adjusted to different levels of brightness to create your desired ambiance. Low profile and modern style. Modern elegance by Cresswell.
EASY INSTALLATION - Hardwired power source. Mounting hardware and detailed instructions are included for easy installation. Hardwired and attaches easily to any standard junction box (6 in. wiring length). ETL safety certified. 1-year limited warranty. 
SKU:LD23215-001
Share
View full details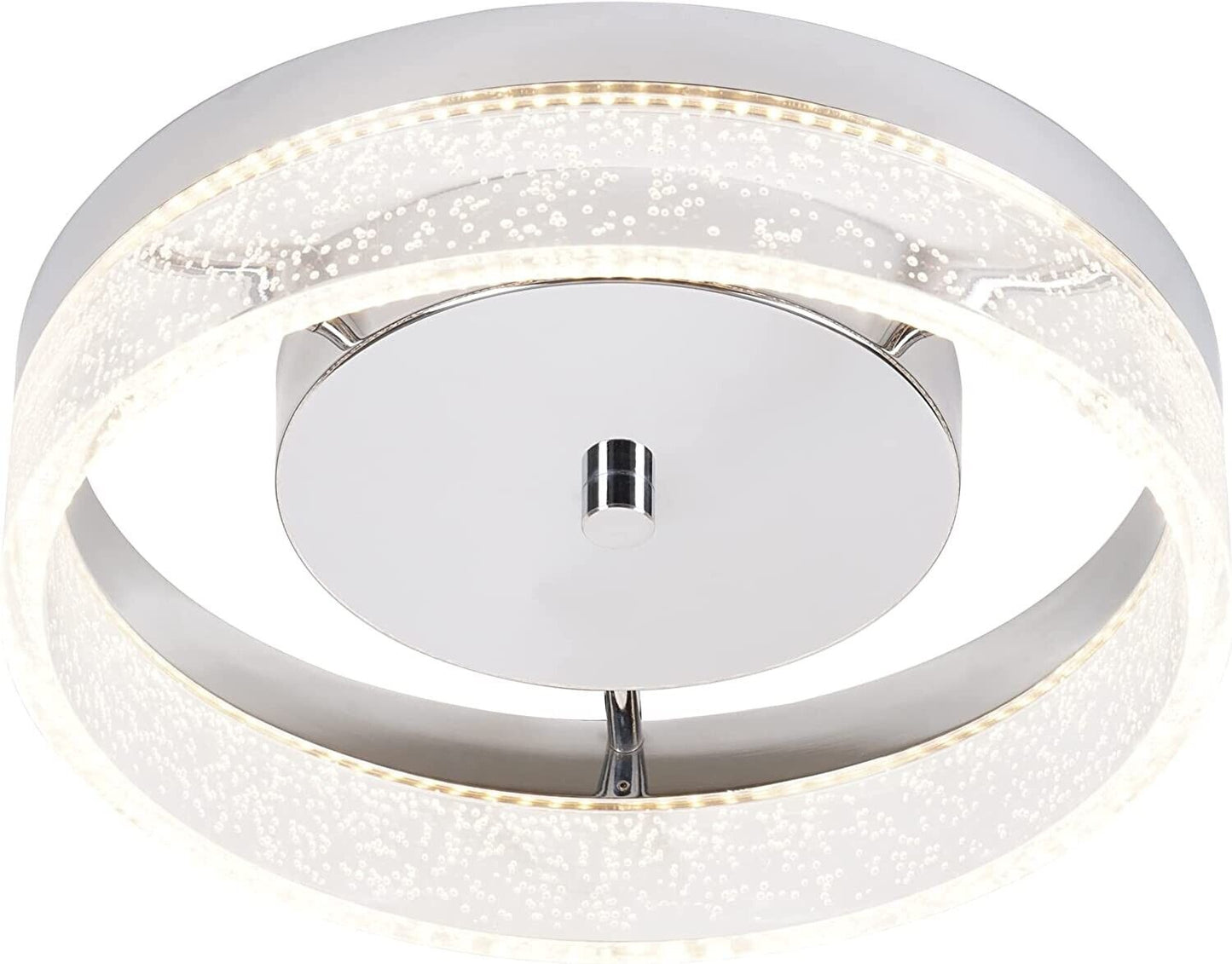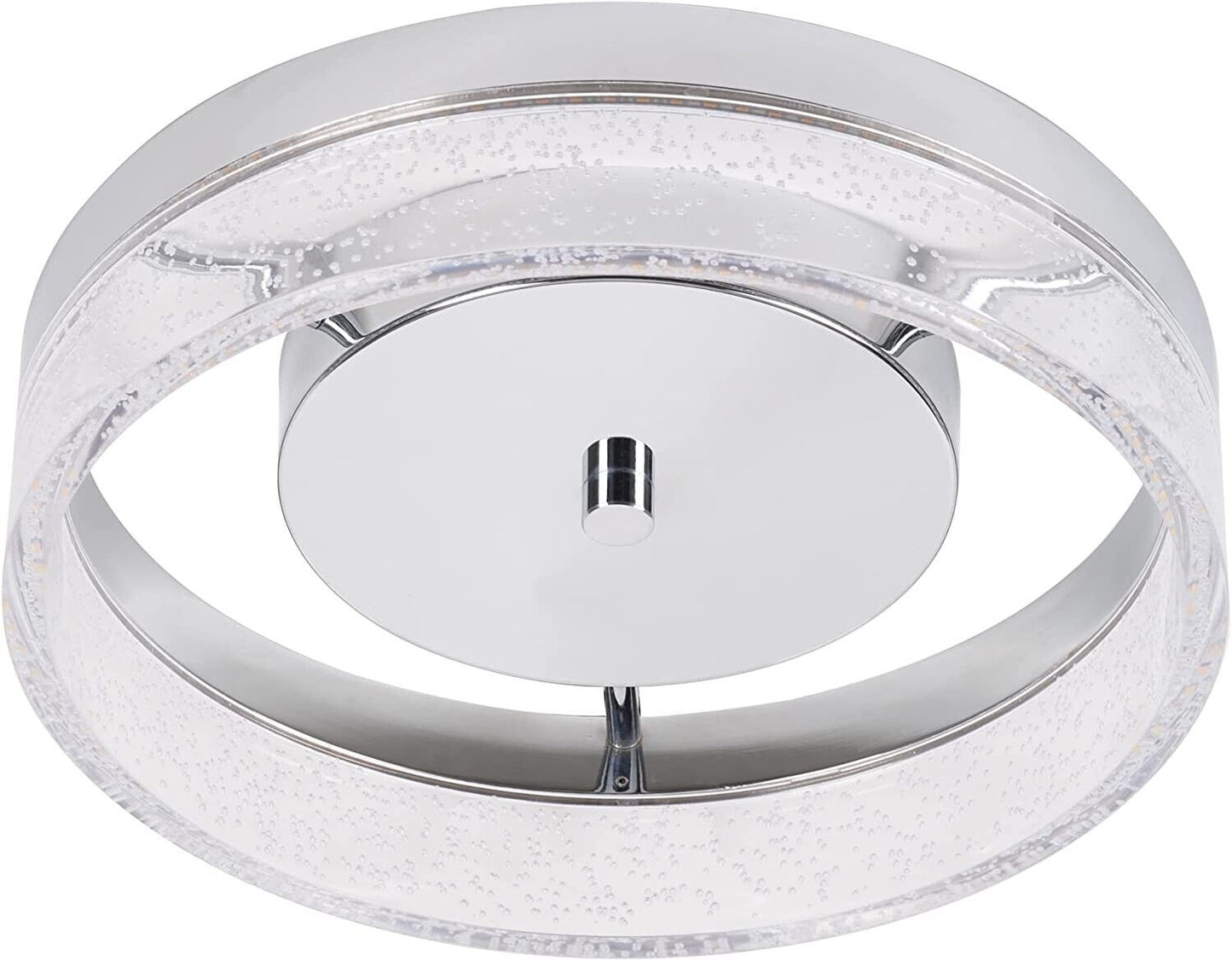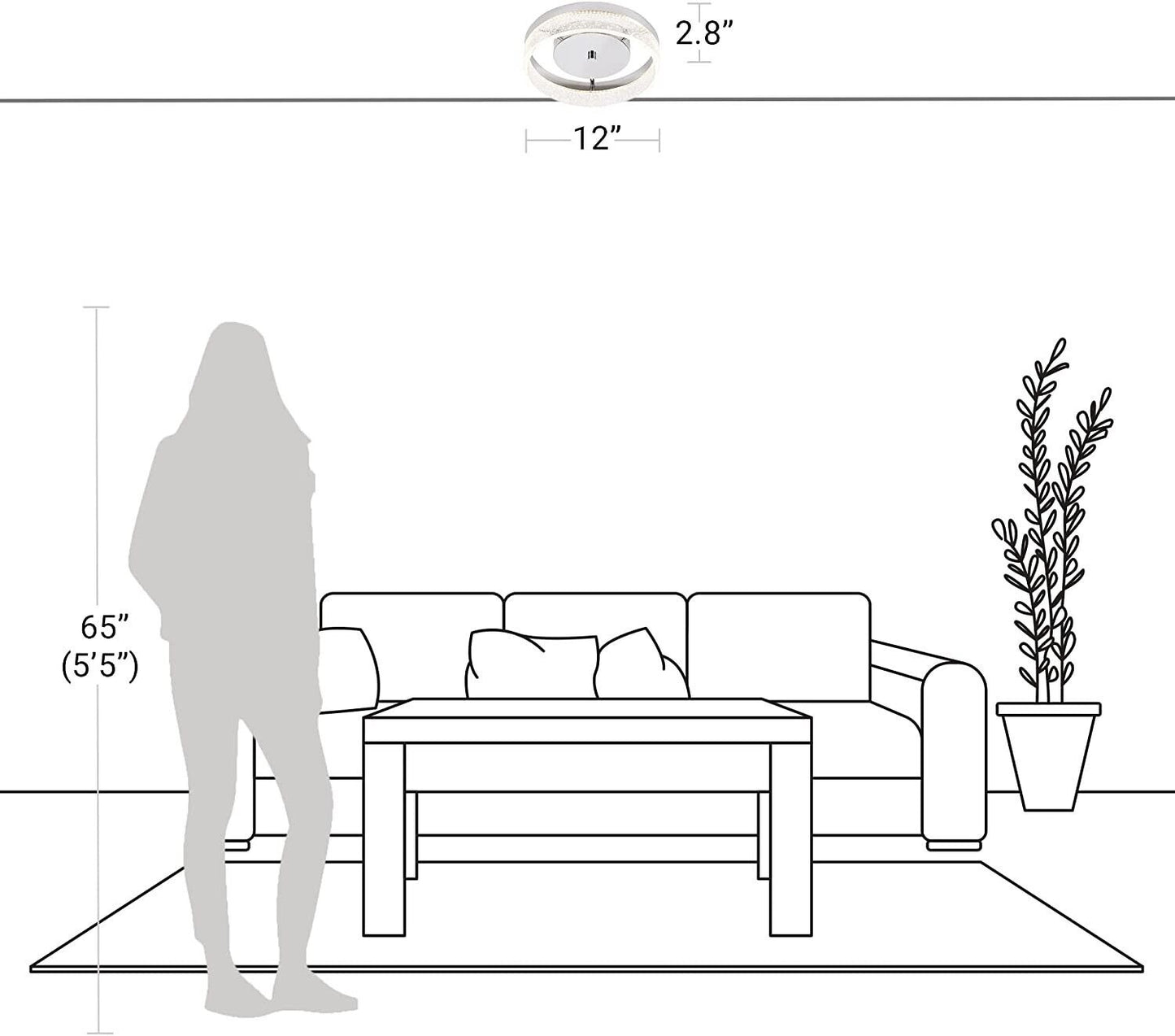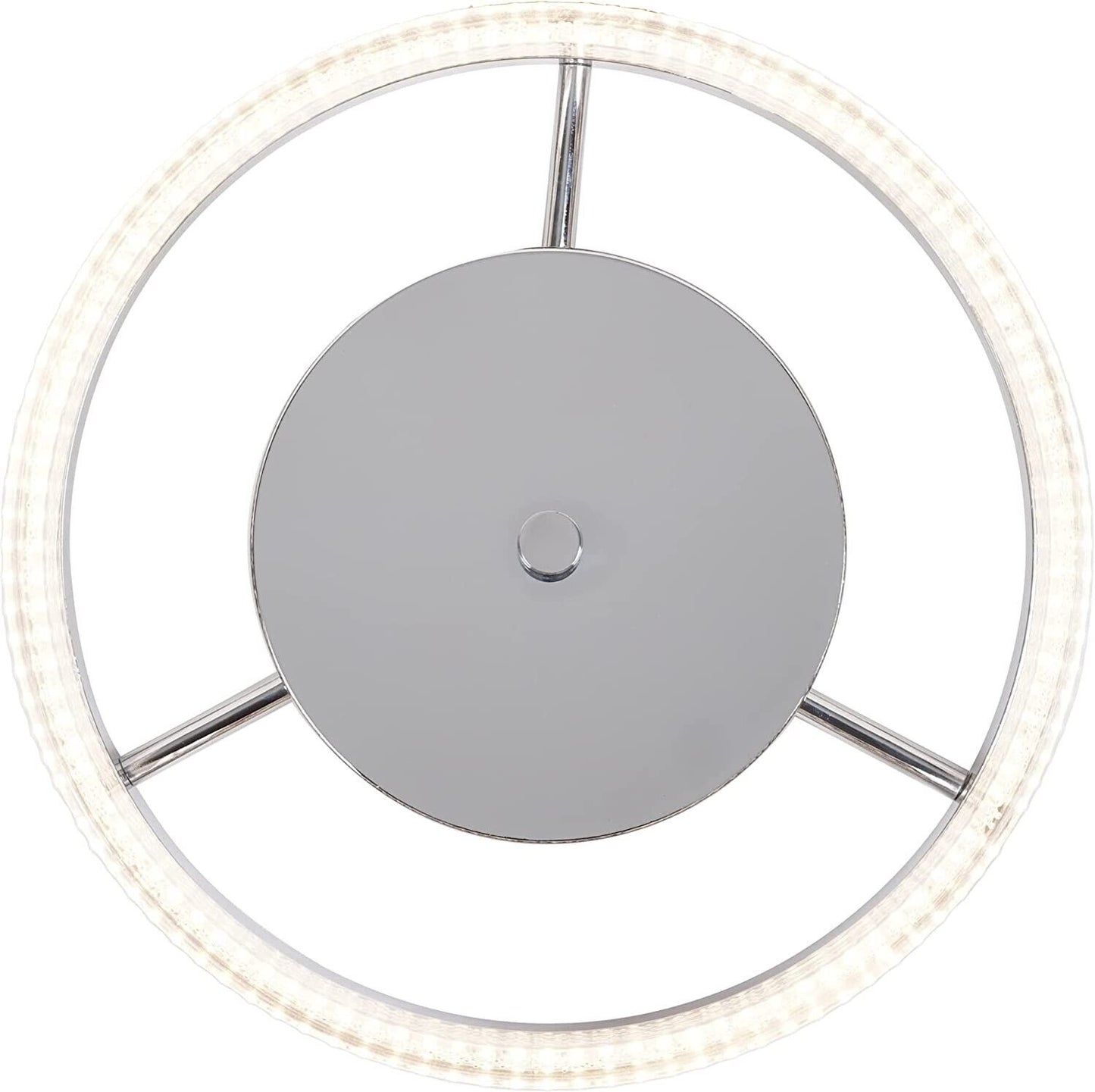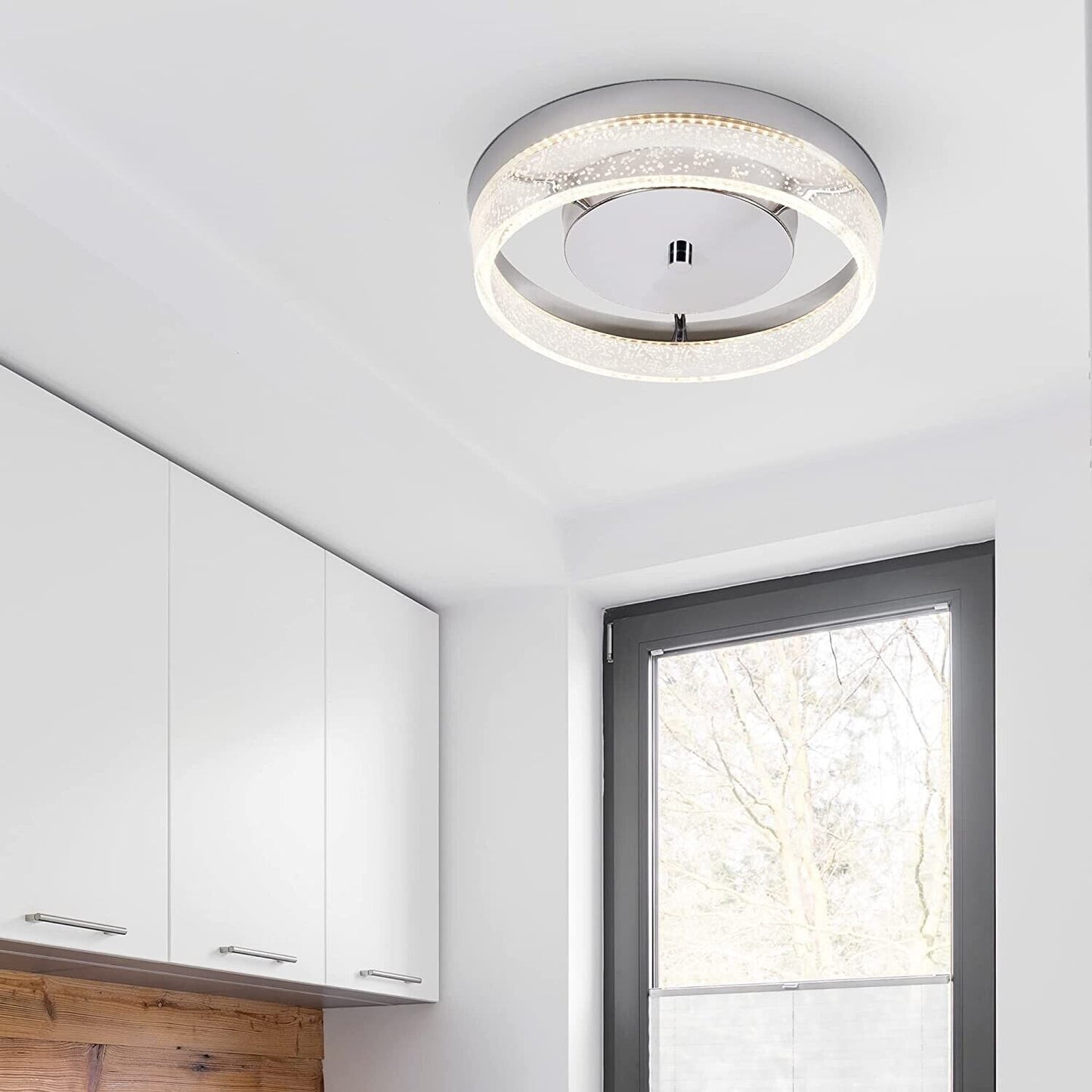 What is a Flush Mount?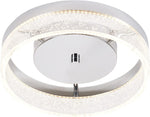 A flush mounted light fixture is mounted to a ceiling. The fixture hugs close to the ceiling, usually without any gap between the ceiling and the light shade. A close-to-ceiling fixture can work well as a central light fixture, ideal in smaller rooms and hallways where there is less head-room. A flush-mount fixture provides maximum head-room, though tend to be less decorative than a semi-flush fixture. These lights are hardwired and must be installed electrically, operated by a wall switch. They produce good ambient light, although a larger room may need more than one.
Flush-Mount Benefits

Clean close-to-the-ceiling design.
Leaves the most head-room.
Allows for fairly bright overhead lighting.
Single installation with multiple bulbs.
Ideal for small and medium rooms.
Simple low-profile design gets out of the way.
A cheaper ceiling light option.
Less-expensive than large light fixtures.
Appropriately sized for hallways and smaller rooms.
Ambient Background Lighting
Fixtures closely attached to a ceiling tend to produce more ambient background light. They might be used to support a more central light fixture or as a less elaborate central light. They can produce strong light near to where they are placed. A close-to-ceiling light can flood a room with ambient light.
For which rooms?
Being fairly low-profile, flush mounts are often found in smaller or narrower rooms. They work well in a hallway, bathroom or smaller bedroom. They can also work well in a basement or rooms with less headroom.
Placement/Layering
Being flush-to-the-ceiling, these lights will radiate light outward and downward. They can light a large area, but you should also consider wall lights or lamps to fill out the edges or corners of the room, and to provide softer light for more relaxed situations.
Mounts to the Ceiling
Attaches to a flat ceiling. Could potentially be mounted to a sloped/vaulted ceiling. The flush-mount canopy area hides the electrical installation.
Installed by an Electrician
An electrician or person with electrical installation knowledge will need to permanently wire the flush-mount fixture into the building's electrical supply.