Regular price
$200.00
Sale price
$99.98
Unit price
per
Save 50%
Sold out
16 in stock
Illuminate your space with this 5-light pentagon-shaped Wagon Wheel Country Rustic chandelier. Showcasing exposed bulbs in an upward candle-like position, this chandelier creates an instant centerpiece for your room. The faux wood finish highlighted with matte black accents creates a transitional design that blends with a variety of decors like country, rustic, farmhouse, and modern. A metal canopy mounts to any standard ceiling junction box using the 60" matte black decorative chain and mounting hardware included, perfect for sloped ceilings and a variety of ceiling heights. This chandelier uses five 40-watt incandescent or LED equivalent bulbs (not included). Elevate your design by adding this pendant over a kitchen or dining table or foyer entrance to create a stunning focal point. Merge the aesthetic of yesterday with the technology of today thanks to the Catalina Geometric Metal Tray Chandelier. The pentagon shape of this rustic ceiling light will both elevate your design and illuminate your home, showcasing the exposed lightbulbs so they shine brightly in an upward, candle-like position, marrying modern and vintage styles. Complete with a faux wooden finish and matte black accents, this showcase chandelier light reflects many potential decor styles, making it ideal for display anywhere in your home. 
FINISH - Rustic faux wood finish offers the advantage of flexibility and customization to a farm-like décor. The faux wood finish highlighted with matte black accents creates a transitional design that blends with a variety of decors. A modern and rustic metal chandelier that elevates your interior design while providing an ambient glow throughout your home. This chandelier makes a stunning centerpiece over your dinner table, in your bedroom, or over your front door.
DIMENSIONS - 21" Height x 24" Width. 60" Chain Length, and mounts to any standard ceiling junction box using the included mounting hardware.
LIGHTING - Requires 5 x 40-watt max. medium base (E-26) bulb. Vintage LED bulbs are recommended to highlight the rustic style and for energy-savings and long bulb life. (Bulbs not included).
FEATURES - Rustic country style that fits with most modern decor styles. Energy-saving LED bulbs help to reduce energy consumption, lower costs, and contribute to a more sustainable future. Made to be hardwired into your home, this pendant light features an adjustable-length 60" chain for easy installation on various ceiling heights and slopes.
EASY INSTALLATION - Hardwired power source. Mounting hardware and detailed instructions are included for easy installation. A metal canopy mounts to any standard ceiling junction box using the 60" matte black decorative chain.
SKU:LD22164-000
Share
View full details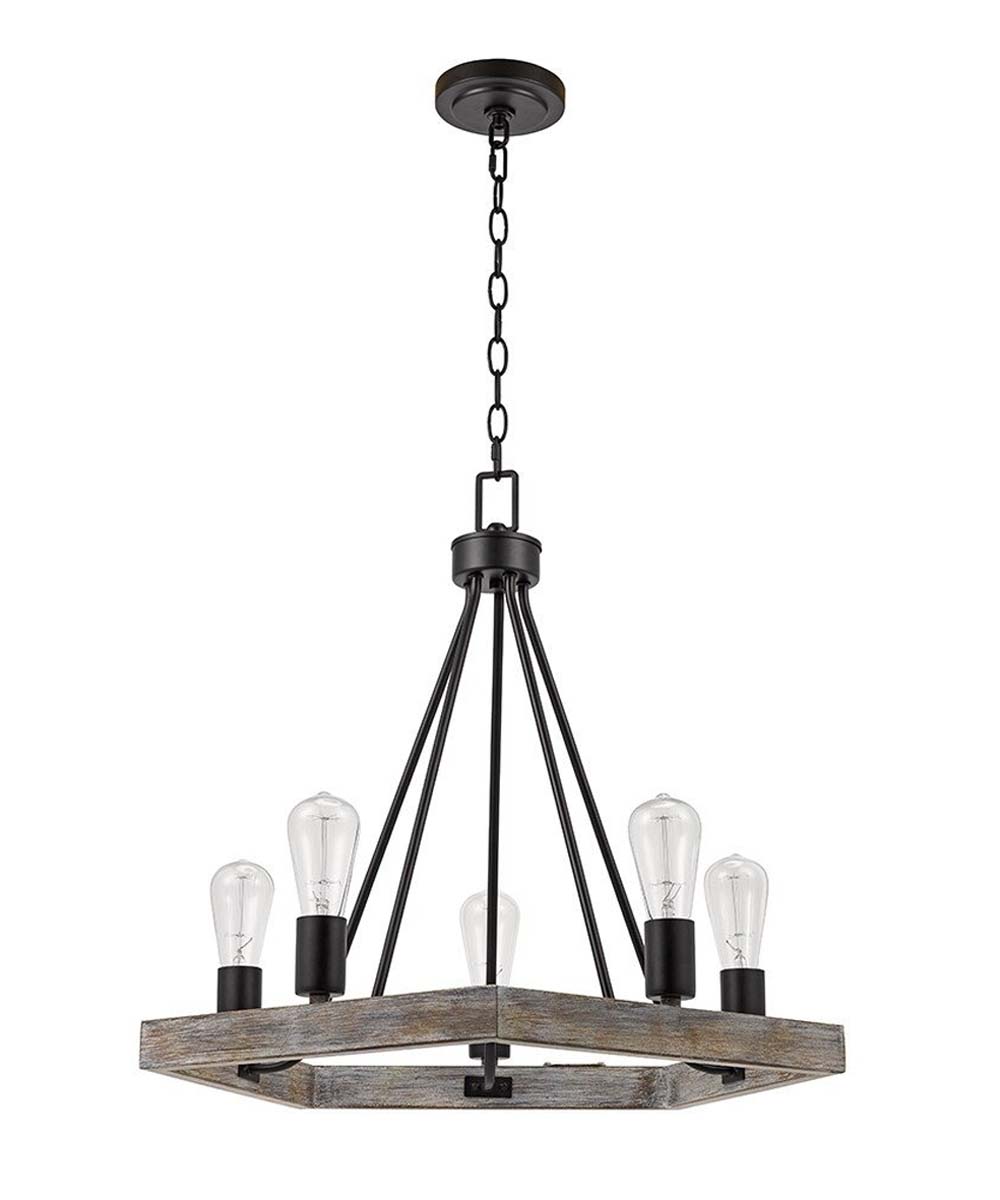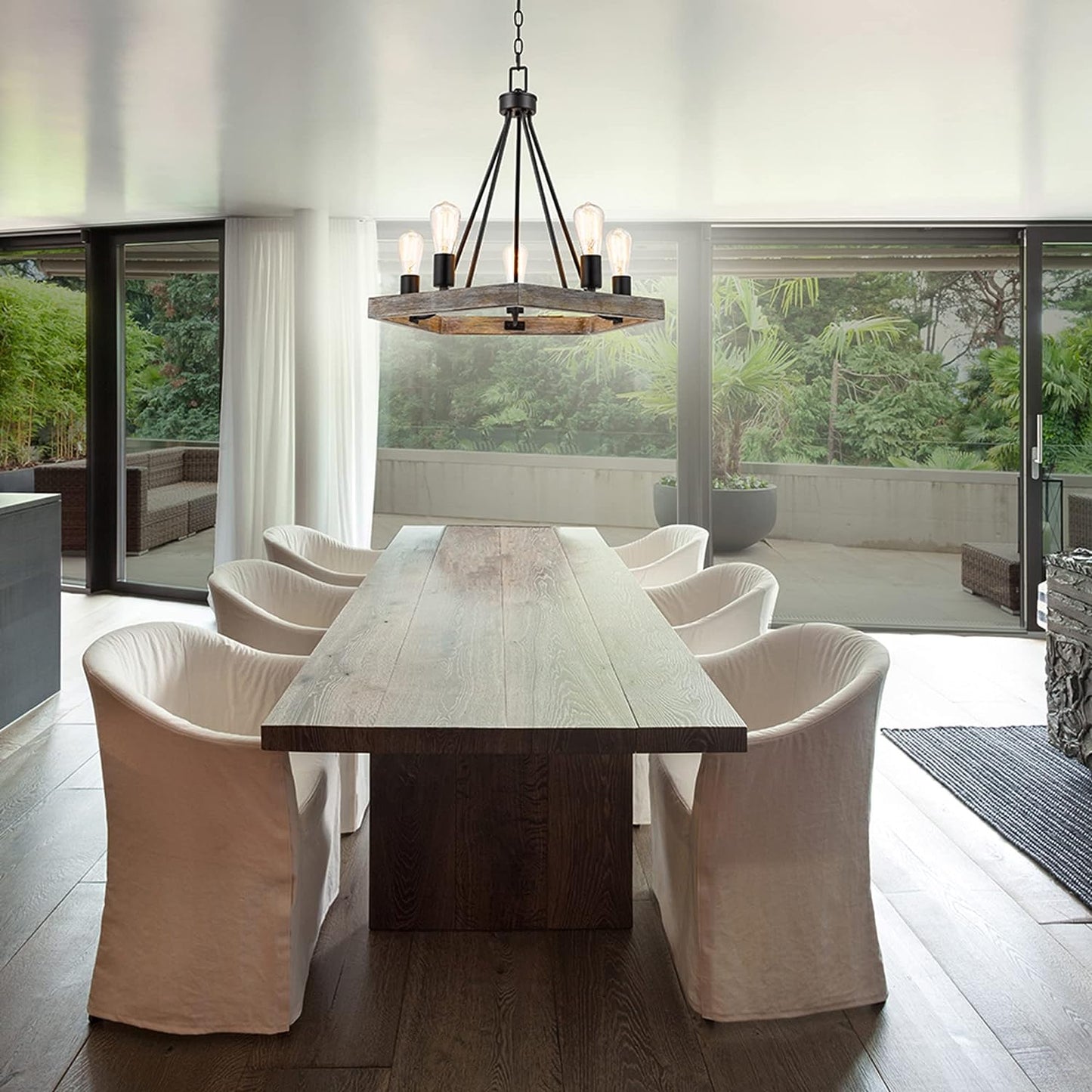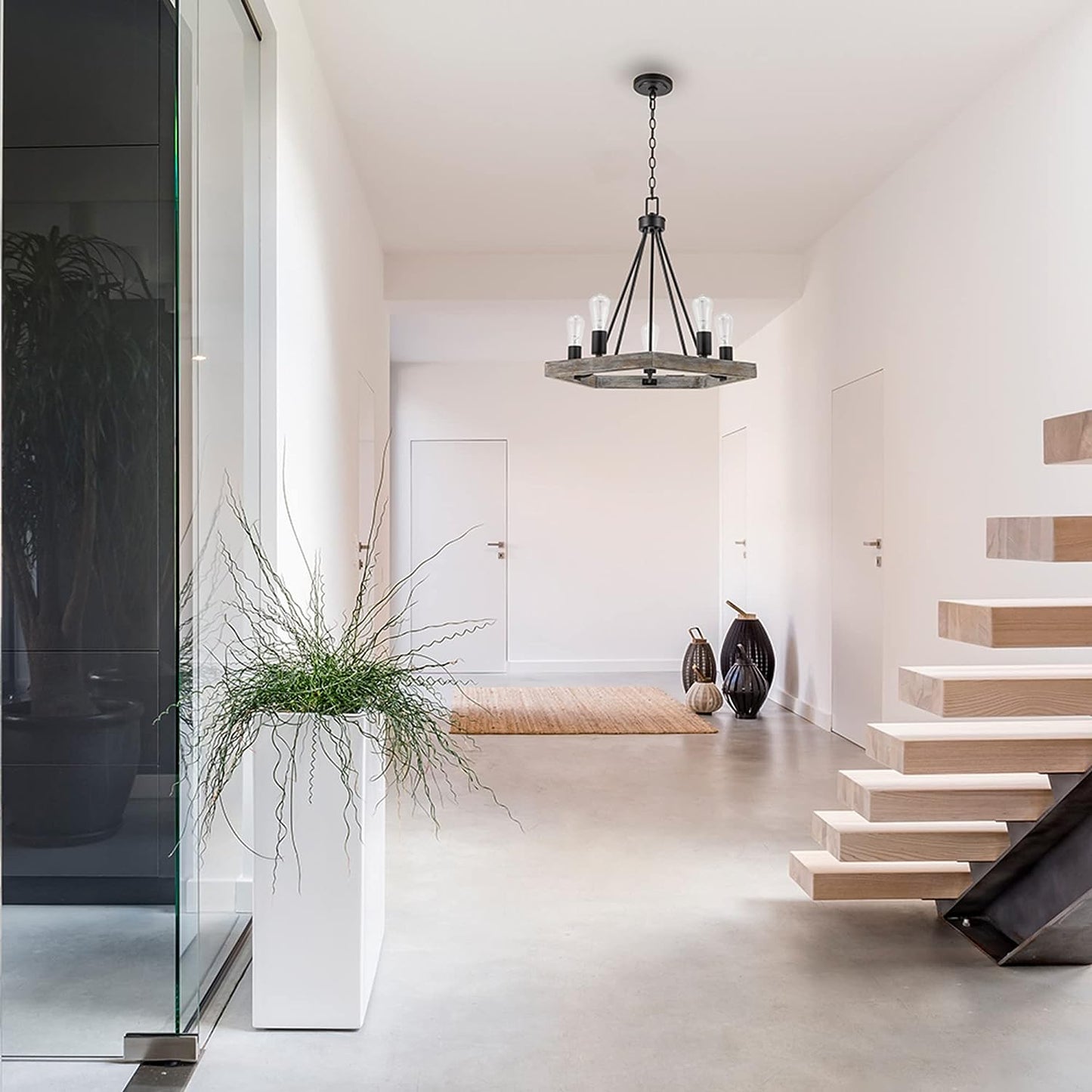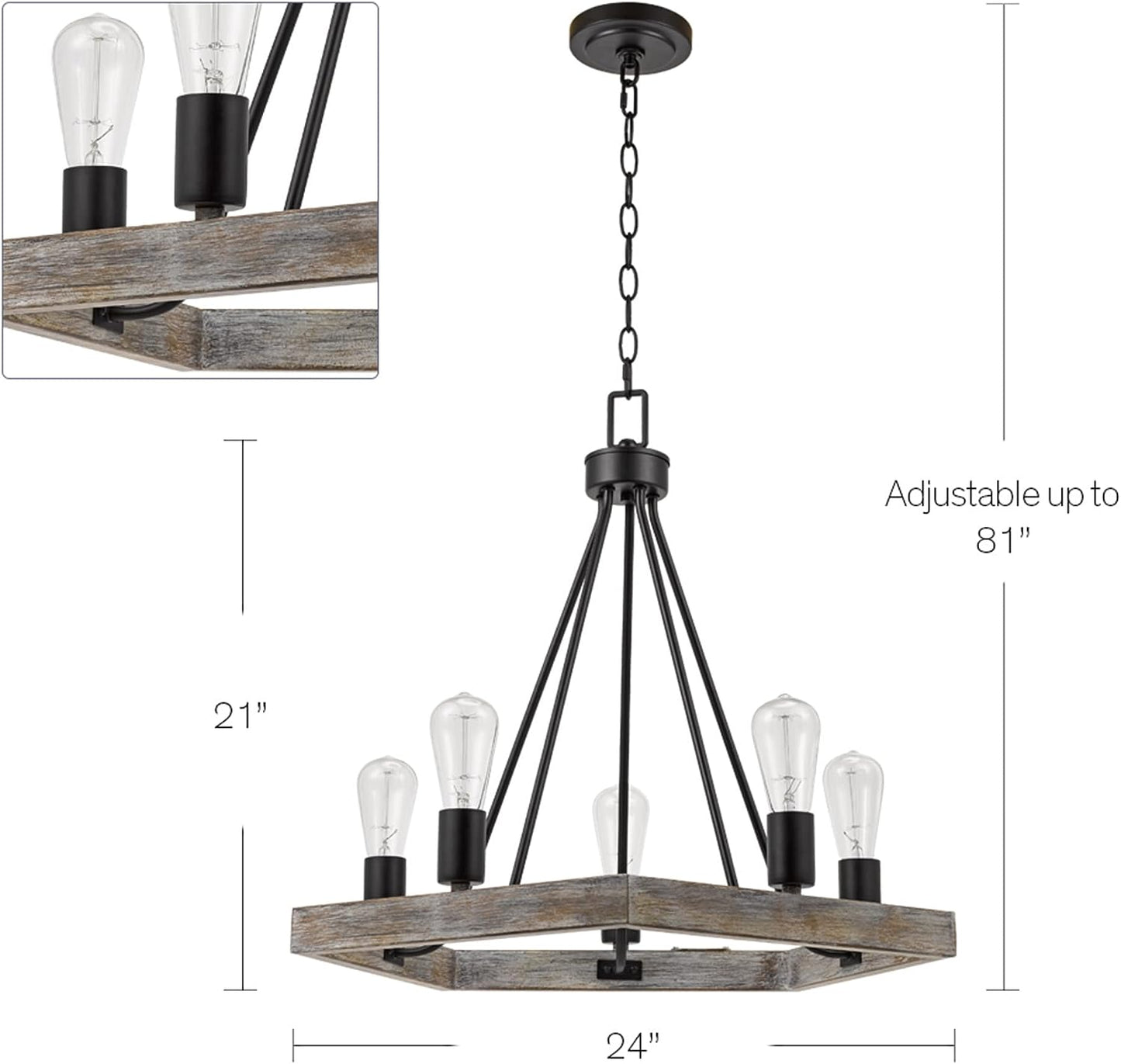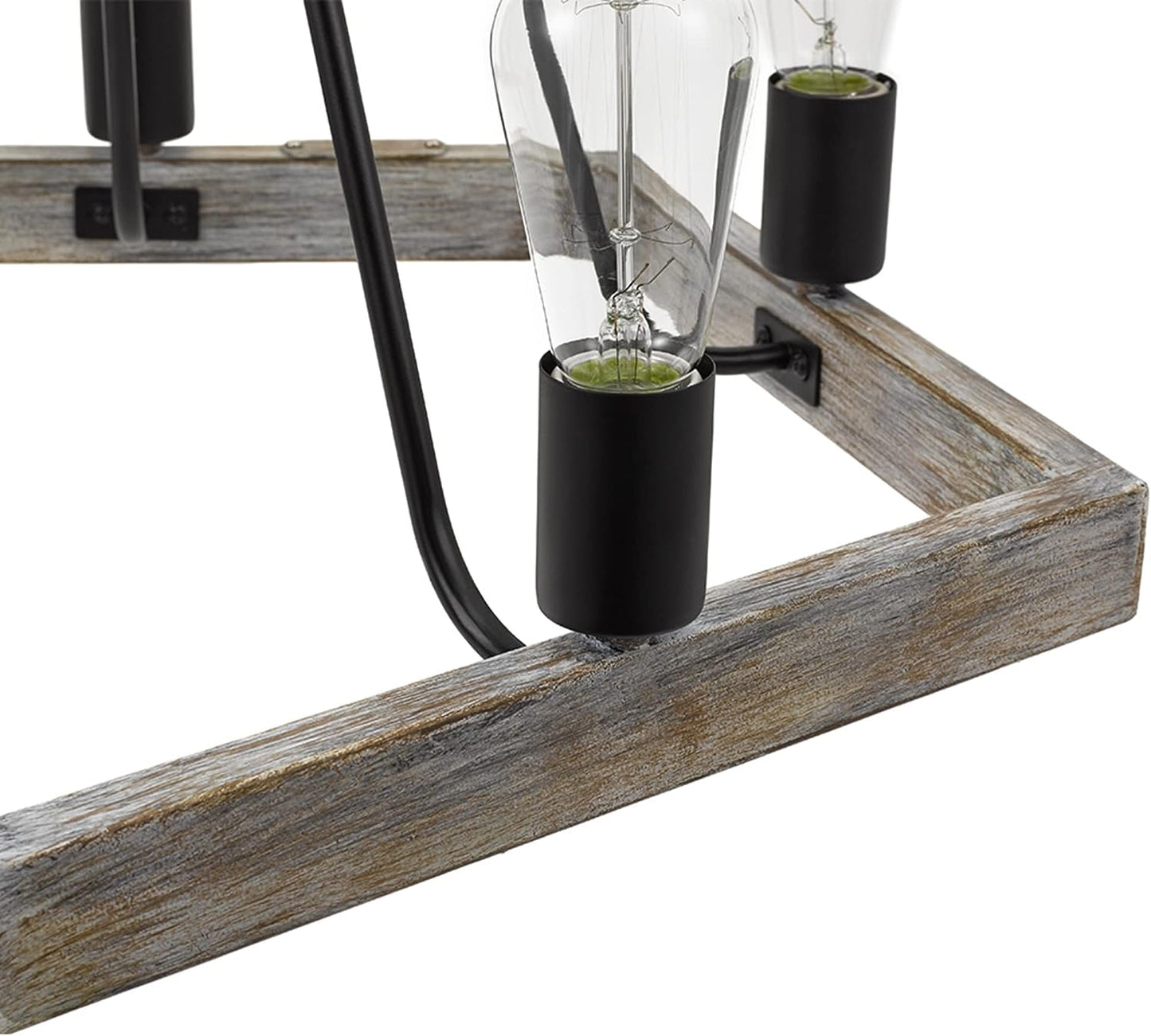 What is an Chandelier?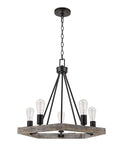 Chandeliers hang from a ceiling, usually nearer to the center of a room or over a table area. They usually feature multiple arms spreading out from the center, with a larger number of light bulbs. They produce a lot of light and work great over a dining room table, in a living room or foyer. A smaller chandelier also works well over a seating area or smaller table. As a hardwired light fixture it must be installed electrically and is usually switched on or off by a wall switch. A chandelier can make a statement as a beautiful centerpiece.
Chandelier Benefits

Creates a strong central light in a room.
Can act as a talking point and centerpiece.
Adds significant light through multiple bulbs.
Highly decorative design adds to the room.
May work well coupled with a dimmer/bulbs.
Great for dinner parties and dining.
Wonderful lighting in a formal living room.
Makes a statement and brightens the whole room.
Viewable from multiple angles.
Hard-wearing finishes and expert craftsmanship.
Chandeliers are a well-established type of fixture.
Ambient Centerpiece Lighting
These hanging lights can form a centerpiece in any room, ideally positioned over a table, counter-top, kitchen island or in the middle of a larger room. They produce a lot of ambient light but also center the light below them. Great for dining rooms and living rooms or over a kitchen island. A larger number of light bulbs tends to produce more light and lights up the whole room.
For which rooms?
Chandeliers are best suited in a medium or larger room where there is space around it. They work well in a living room or over a dining room table. A larger foyer or tall hallway is also a good place to hang a chandelier. They may also be used in a bedroom or guest room. Just be aware of having enough headroom for foot traffic.
Placement/Layering
Chandeliers can be located centrally over a table or living area, and form a focal centerpiece. Most of this light will be in the middle of the room. You should add wall lights or lamps as an alternative option for when you don't want to use the larger fixture.
Mounts to the Ceiling
Attaches to a flat ceiling. The chandelier will include a decorative canopy which conceals the electrical installation.
Installed by an Electrician
An electrician or person with electrical installation knowledge will need to permanently wire the chandelier into the building's electrical supply.