Regular price
$248.00
Sale price
$123.98
Unit price
per
Save 50%
Sold out
21 in stock
Transform your home into a rustic manor with the Catalina Geometric Open-Cage Orb 4-Light Chandelier. This unique and awe-inspiring pendant chandelier features faux wood orbs paired with four matte-black chandelier arms that use candelabra 60-watt incandescent lightbulbs (or the LED equivalent), sold separately. Elevate your design and illuminate your home with this hanging ceiling light, showcasing the exposed lightbulbs so they shine brightly through the round caged design as if they were candles. Complete with a faux wood finish and matte black accents, this centerpiece light reflects many potential decor styles, including country, rustic, farmhouse, cottage, and modern, making it ideal for display anywhere in your home, including the kitchen, dining room, bedroom, or main foyer. For your convenience, the metal canopy mounts to any standard ceiling junction box using the included mounting hardware. A 60-inch long adjustable black chain makes this lightweight fixture perfect for sloped ceilings and a variety of ceiling heights.
FINISH - Rustic faux-wood finish and matte-black accents offer the advantage of flexibility and customization to a farm-like décor. A stunning and unique open-cage round chandelier casts aesthetic and brilliant light throughout your home.
DIMENSIONS - 21" Height x 18" Width. 60" Cord Length, and mounts to any standard ceiling junction box using the included mounting hardware.
LIGHTING - Requires 4 x 60-watt max. medium base (E-26) bulbs. LED bulbs are recommended for energy-savings and long bulb life. (Bulbs not Included). Dimmable with dimming wall switch.
FEATURES - Rustic globe design made with pride by Cresswell Lighting. Energy-saving LED bulbs help to reduce energy consumption, lower costs, and contribute to a more sustainable future. Made to be hardwired into your home, this pendant light features an adjustable-length 60" chain for easy installation on various ceiling heights and slopes. 
EASY INSTALLATION - Hardwired power source. Mounting hardware and detailed instructions are included for easy installation.
SKU:LD22163-000
Share
View full details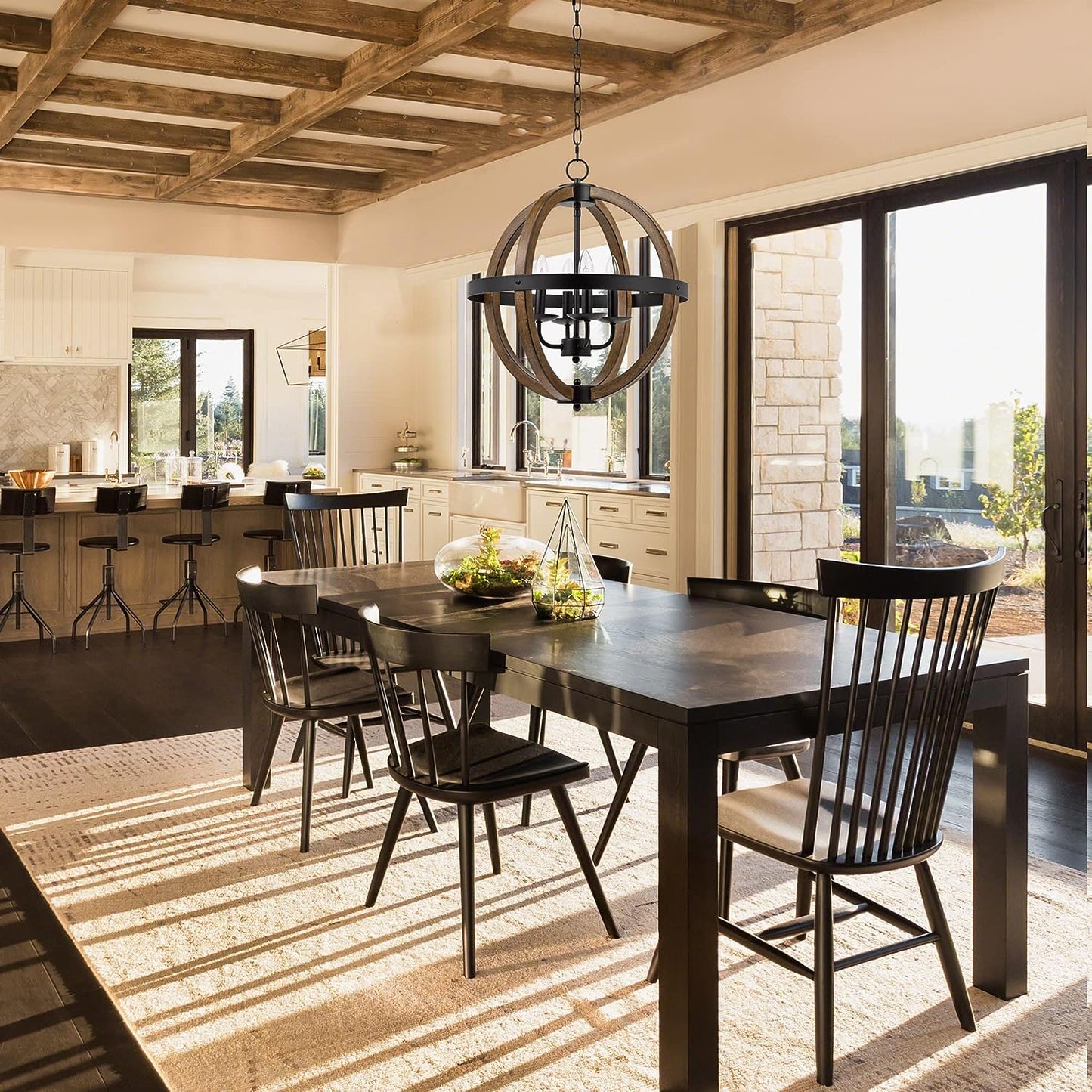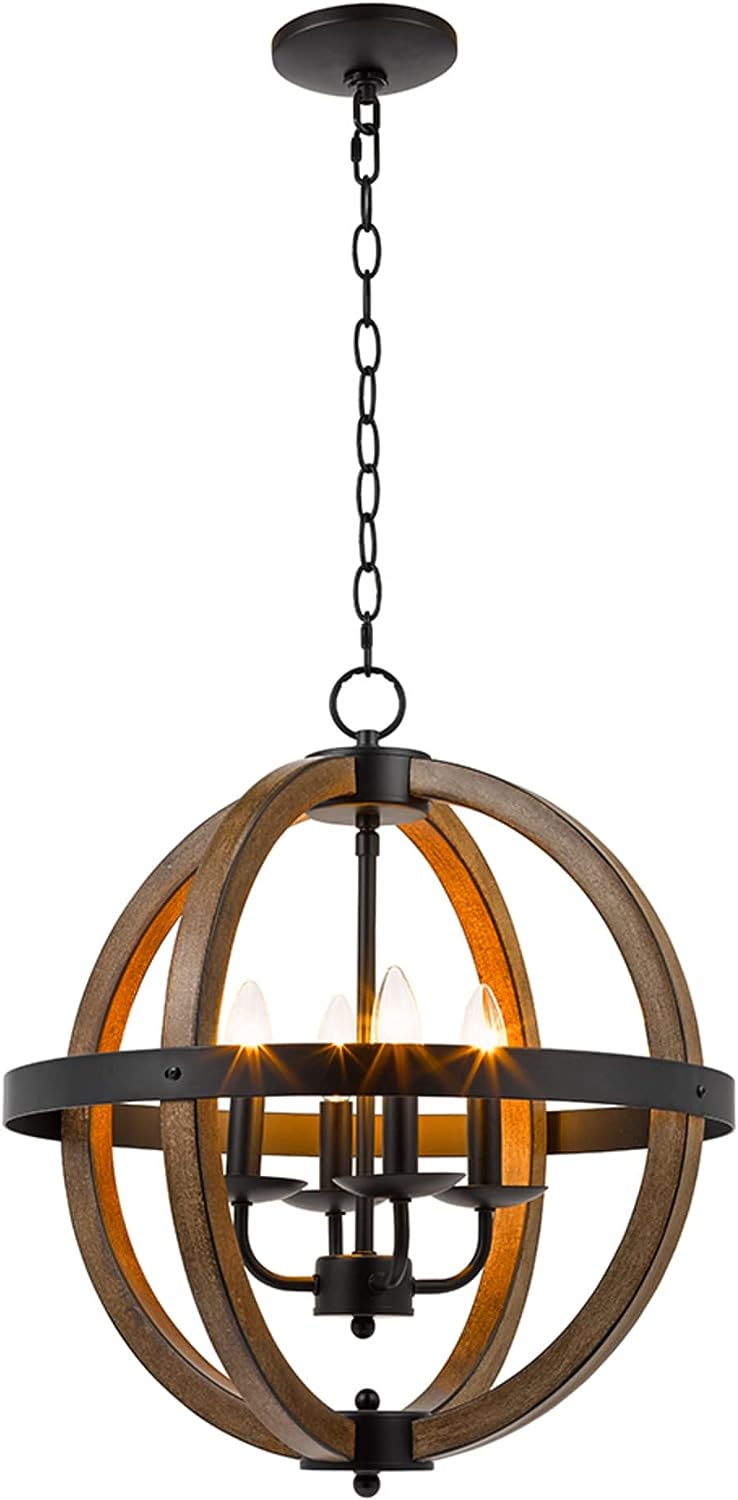 What is a Pendant?
Pendant lights hang from a ceiling and place strong light over an island, table or furniture. Often the light is aimed downwards to help with tasks, but also outward to provide ambient lighting. A central stem or chain usually supports a single shade, although it may also support multple light bulbs. Pendants work well for dining and sitting areas. They can also be used in a hall or foyer if there is head-room. They are installed electrically and operated by a wall switch, and can also function as a centerpiece.
Pendant Benefits

Shines a stronger light onto a table or surface.
Can be used instead of chandeliers.
Work well in a row of 2 or 3 fixtures.
Ideal over a kitchen island or dining table.
Can be hung over or near to seating areaas.
Speads light outward in the lower half of room.
Can be hung overhead if enough headroom.
Adjustable height.
Over a table, the shade shields the eyes.
Ambient Centerpiece Lighting
These hanging lights can form a centerpiece in any room, ideally positioned over a table, counter-top, kitchen island or in the middle of a larger room. They produce a lot of ambient light but also center the light below them. Great for dining rooms and living rooms or over a kitchen island. A larger number of light bulbs tends to produce more light and lights up the whole room.
For which rooms?
Pendants are ideal over a table or seating area. They work well in kitchens and dining rooms. But also can be useful in a living room, office, bedroom or guest room.
Placement/Layering
Since pendants hang from the ceiling they'll shine most of their light at mid-level height. This may produce less ambient light in the upper part of the room. You may want to pair it with some lamps or closer-to-ceiling fixture to fill out the area.
Mounts to the Ceiling
Attaches to a flat ceiling. The provided decorative canopy covers up the electrical installation area.
Installed by an Electrician
An electrician or person with electrical installation knowledge will need to permanently wire the pendant light into the building's electrical supply.