Regular price
$280.00
Sale price
$99.98
Unit price
per
Save 64%
Sold out
42 in stock
Kichler presents New Barrett 20"H 5-Light Chandelier by Kichler Distressed Antique Gray with Brushed Nickel Finish. Inspired by a North Eastern Cottage style barn, the Barrett 5-light chandelier features a Distressed Antique Gray finish with Brushed Nickel accents. The rustic feel makes it ideal for modern farmhouse decor. Perfect for that spot you want an elegantly styled accent piece.
FINISH - Mixed finish style where touches of brushed nickel highlight the arms, canopy and chains of the fixture and distressed antique gray adorns the candle base. With its 2-toned finish and rustic appeal, Barrett is the perfect fit for a modern farmhouse setting. Complete the look by adding coordinating fixtures in distressed antique gray and/or brushed nickel. Rustic lodge style chandelier perfect for a modern farmhouse look. Perfect for kitchens, dining rooms and other living spaces.
DIMENSIONS - 20" Height x 22" Width x 22" Depth. Chain/Downrod Length: 36". Maximum Hanging Height: 61". Mounting Deck Width: 5". Mounting Deck Height: 1".
LIGHTING - Requires 5 medium base E12 up to 60-Watt bulb. LED bulbs recommended for energy-savings and long bulb life. (Bulb not Included). Exposed bulbs provide plenty of ambient light in your space.
FEATURES - Dimmable light. Can be adjusted to different levels of brightness to create your desired ambiance. Adjustable chains make it easy to customize the height of this fixture up to 61". Compatible with standard wall dimmer.
EASY INSTALLATION - Hardwired power source. All mounting hardware and detailed instructions are included for an easy installation. ETL listing demonstrates that this fixture has met or exceeded the UL/CSA Standard safety requirements. Weight: 11.25 lbs.
SKU:LD82350AG
Share
View full details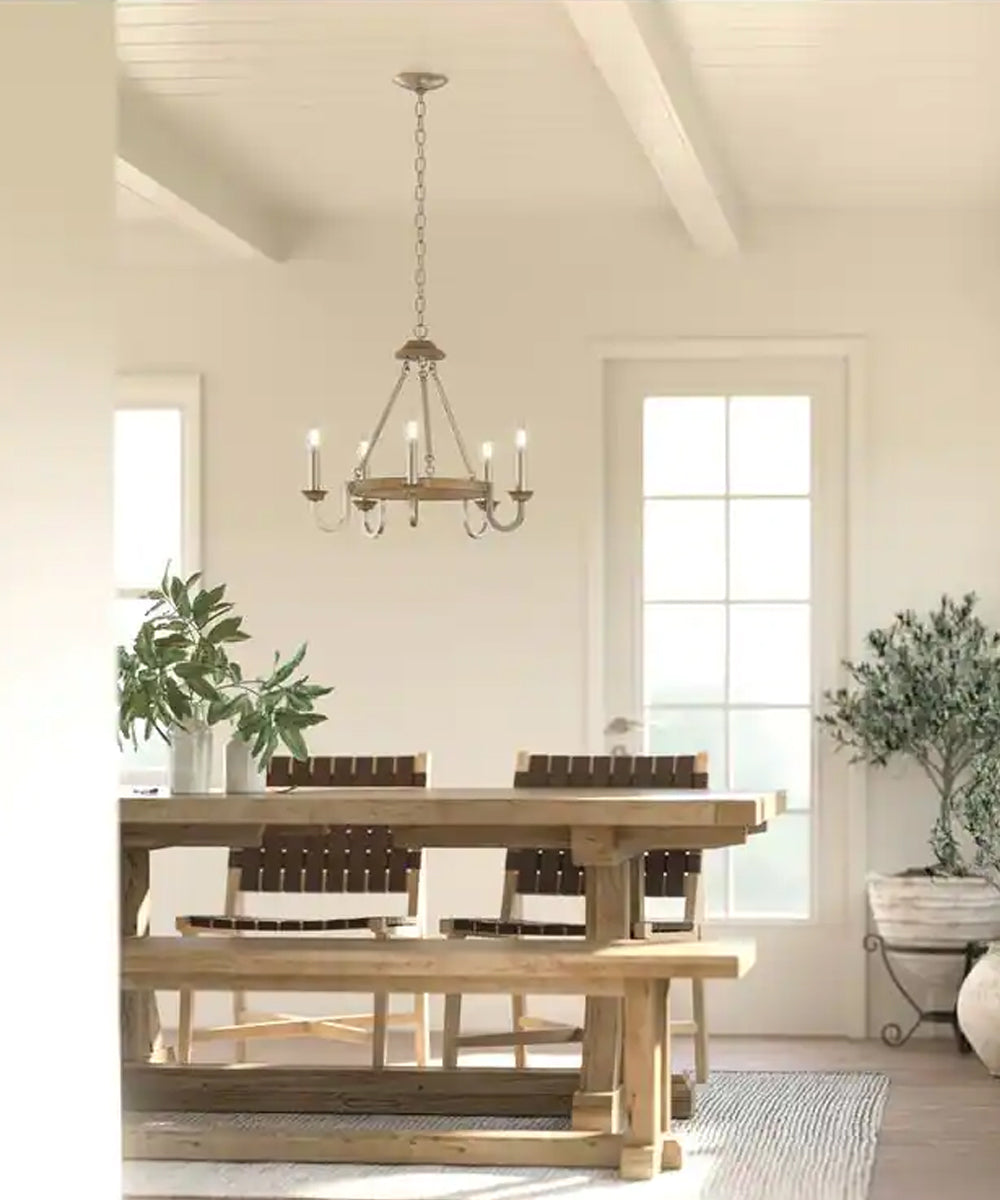 What is an Chandelier?
Chandeliers hang from a ceiling, usually nearer to the center of a room or over a table area. They usually feature multiple arms spreading out from the center, with a larger number of light bulbs. They produce a lot of light and work great over a dining room table, in a living room or foyer. A smaller chandelier also works well over a seating area or smaller table. As a hardwired light fixture it must be installed electrically and is usually switched on or off by a wall switch. A chandelier can make a statement as a beautiful centerpiece.
Chandelier Benefits

Creates a strong central light in a room.
Can act as a talking point and centerpiece.
Adds significant light through multiple bulbs.
Highly decorative design adds to the room.
May work well coupled with a dimmer/bulbs.
Great for dinner parties and dining.
Wonderful lighting in a formal living room.
Makes a statement and brightens the whole room.
Viewable from multiple angles.
Hard-wearing finishes and expert craftsmanship.
Chandeliers are a well-established type of fixture.
Farmhouse Style
The grit and grace of the American farm has formed an alliance with country chic and modern convenience. Our Farmhouse Lighting Style cultivates historic charm that is modest, functional and genuine. Our collections of farmhouse style lighting designs may use natural wood and forged metals that will enhance the hospitality of any room or outdoor space.
Ambient Centerpiece Lighting
These hanging lights can form a centerpiece in any room, ideally positioned over a table, counter-top, kitchen island or in the middle of a larger room. They produce a lot of ambient light but also center the light below them. Great for dining rooms and living rooms or over a kitchen island. A larger number of light bulbs tends to produce more light and lights up the whole room.
For which rooms?
Chandeliers are best suited in a medium or larger room where there is space around it. They work well in a living room or over a dining room table. A larger foyer or tall hallway is also a good place to hang a chandelier. They may also be used in a bedroom or guest room. Just be aware of having enough headroom for foot traffic.
Placement/Layering
Chandeliers can be located centrally over a table or living area, and form a focal centerpiece. Most of this light will be in the middle of the room. You should add wall lights or lamps as an alternative option for when you don't want to use the larger fixture.
Mounts to the Ceiling
Attaches to a flat ceiling. The chandelier will include a decorative canopy which conceals the electrical installation.
Installed by an Electrician
An electrician or person with electrical installation knowledge will need to permanently wire the chandelier into the building's electrical supply.