Regular price
$150.00
Sale price
$59.98
Unit price
per
Save 60%
Sold out
33 in stock
Kichler presents New Augustine 22"W 3-Light Vanity Light by Kichler Weathered Zinc with Whitewashed Faux Wood Finish. The Augustine 3-light vanity light features a mixed finish of Weathered Zinc with a Whitewashed Faux Wood faceplate. This Vintage Farmhouse collection brings a contemporary feel to any bathroom decor with its clean lines, unique shape, clear glass and charming touches.
FINISH - Weathered Zinc and Whitewashed Faux Wood mixed finishes works well in vintage farmhouse or transitional style bathrooms and powder rooms. Glass can be removed for easy cleaning. Complete the look with coordinating fixtures in weathered zinc and whitewashed faux wood.
DIMENSIONS - 8" Height x 22" Width x 7" Depth. Mounting Deck Width: 22". Mounting Deck Height: 5.5".
LIGHTING - Requires 3 medium base E26 up to 60-Watt bulb. LED bulbs recommended for energy-savings and long bulb life. (Bulb not Included).
FEATURES - Dimmable light. Can be adjusted to different levels of brightness to create your desired ambiance. Compatible with standard wall dimmers. When the lights are dimmed, these fixture creates bursts of warm rays on the wall for a look that is both beautiful and relaxing.
EASY INSTALLATION - Hardwired power source. All mounting hardware and detailed instructions are included for an easy installation. ETL listing demonstrates that this fixture has met or exceeded the UL/CSA Standard safety requirements. Damp rated for use in bathrooms. Weight: 10.35 lbs.
SKU:LD37523WC
Share
View full details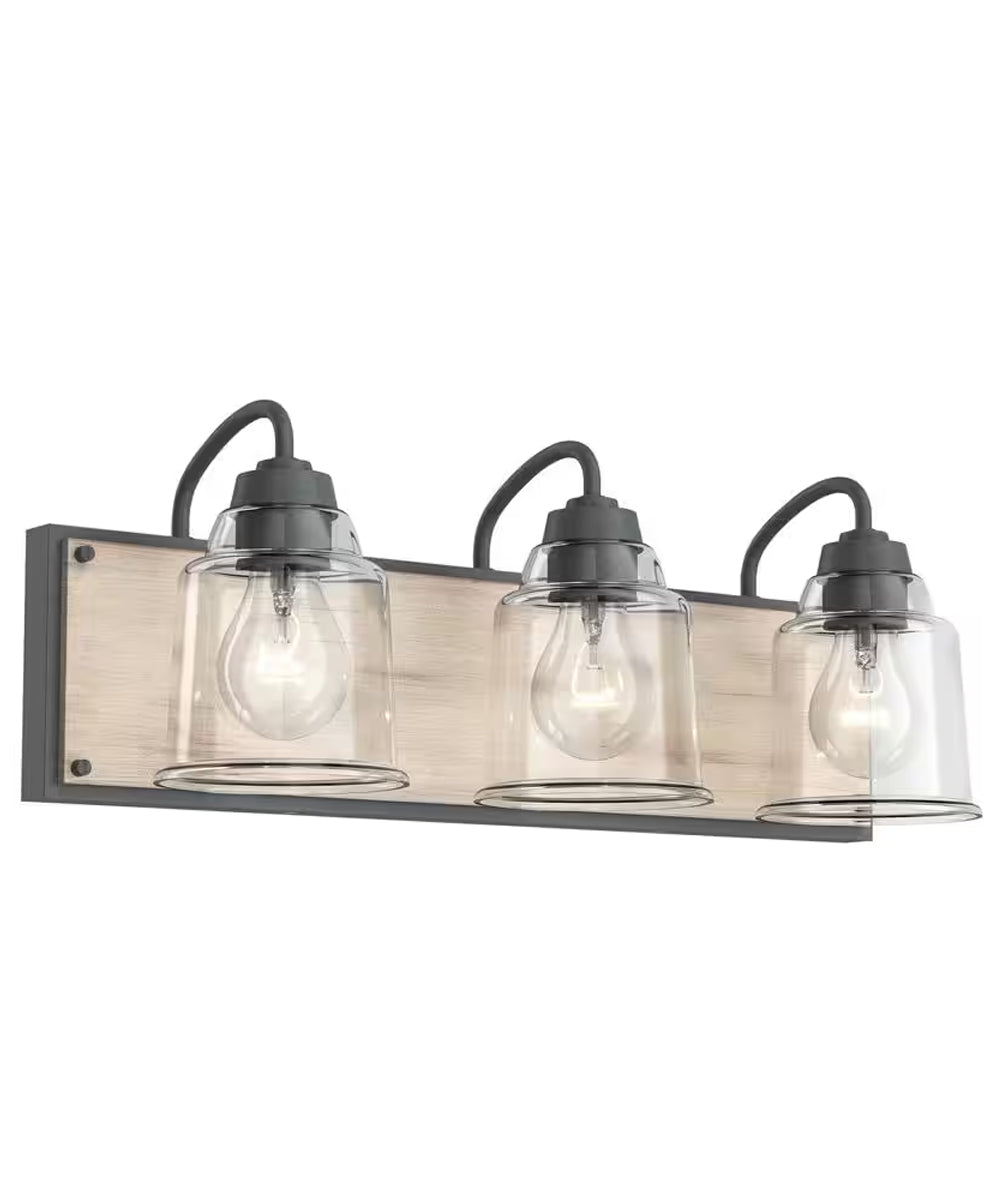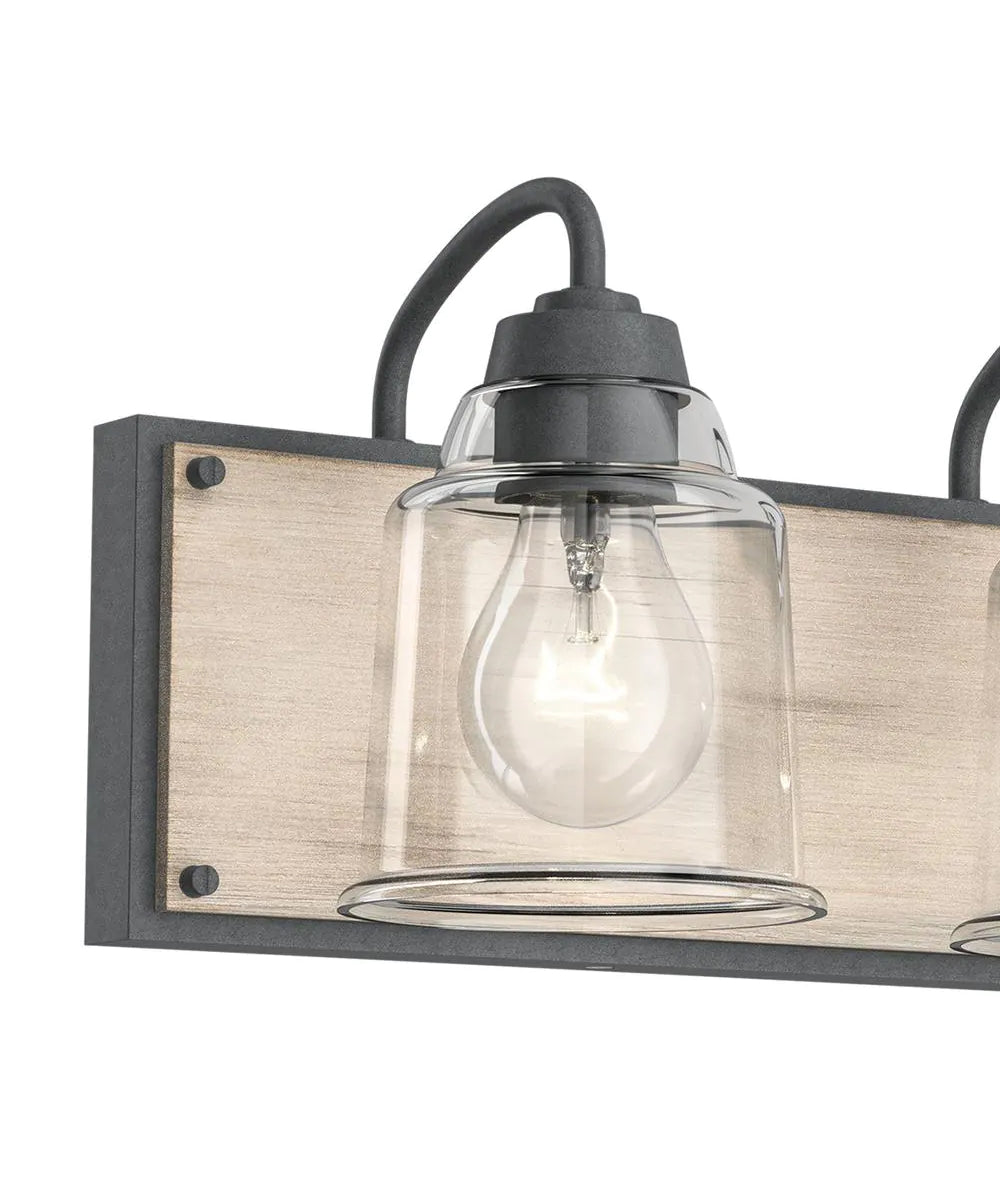 What is an Bath Vanity Light?
Bathroom lights usually are placed above or next to a bathroom mirror, above your vanity or sink. They provide a fairly strong light in front of your face which helps you to see clearly for washing, make-up application and so on. A row of 3-5 light bulbs is ideal for most bathrooms, while 1-light or 2-light fixtures could be placed either side of a mirror. Bath vanity lights shield your eyes from the glare of lightbulbs and also provide ambient light for the whole bathroom.
Bath Light Benefits

Illuminates the area around a mirror.
Helps you to see to apply makeup.
Helps to clarify personal higeine.
Provides ambient light for a shower or bath.
Gives guests light where they need it.
Designed to fit well over a large mirror.
Decorative shades (if applicable) shield the eyes.
Standard lighting in almost all bathrooms.
Brightens the room for safety, e.g with wet floors.
Places light in front of a person to light their face.
May amply light a restroom without a ceiling light.
Farmhouse Style
The grit and grace of the American farm has formed an alliance with country chic and modern convenience. Our Farmhouse Lighting Style cultivates historic charm that is modest, functional and genuine. Our collections of farmhouse style lighting designs may use natural wood and forged metals that will enhance the hospitality of any room or outdoor space.
Ambient Background Lighting
Fixtures closely attached to a wall tend to produce more ambient background light. They might be used to support a more central light fixture or as a less elaborate central light. They can produce strong light near to where they are placed. Wall sconces and bathroom lights can add extra light to one side of a room where you need it.
For which rooms?
Bath vanity lights are best used in a bathroom or restroom, above or next to a mirror. However, single or two-light bath lights could be used like a wall-sconce in other rooms such as living rooms, dining rooms, hallways or bedrooms.
Placement/Layering
The bath light and mirror are most likely placed directly above the vanity in front of the sink. The combination of using the sink while looking in the mirror is common. Since this places light to the side of the room, an overhead light is also recommended.
Mounts to a Wall
Attaches to an interior wall. The backplate hides the electrical installation.
Installed by an Electrician
An electrician or person with electrical installation knowledge will need to permanently wire the bath light into the building's electrical supply.