Regular price
$170.00
Sale price
$84.98
Unit price
per
Save 50%
Sold out
150 in stock
Add a chic farmhouse-inspired touch to your home with this Alsy 4-Light Caged Pendant. A distressed white finish metal rectangular frame contrasts with the black inner chandelier. The perfect pendant for your foyer, over your kitchen island, or dining room, this heartwarming fixture is a perfect addition to your home decor and matches well with Shabby Chic, Cottage, French Country, Coastal, and Farmhouse styles. This pendant comes with a 60 in. black chain and is compatible with standard 60-Watt bulbs (4 LED bulbs are included).
FINISH - Features a distressed White finish on metal rectangular frame.  Contrasting black interior pendant light creates a stunning look. Beautiful open-caged outer shade with distressed wood type finish on metal frame.
DIMENSIONS - Assembled Dimensions: 15.75" Length x 15.75" Width x 21.25" Height. Overall Maximum Chain Height of 82.25". Mounting Canopy is 1" High and 5" Wide. Maximum Chain Hanging Length: 60".  (Be sure to check the size, as some customers have been surprised by the large size of this beautiful chandelier.)
LIGHTING - Requires 4 x 60-Watt max. bulbs with standard E12, type-B socket bases for easy installation (4 LED C32-4 2700K chandelier bulbs are included). LED bulbs are recommended for energy-savings and long bulb life.
FEATURES - French Country distressed finish with contrasting black pendant creates an impressive show-stopper light for any foyer or dining room. Can be used over large kitchen islands but only in large-scale kitchens with high ceilings. Dimmable light. Can be adjusted to different levels of brightness to create your desired ambiance.
EASY INSTALLATION - Hardwired power source. Mounting hardware and detailed instructions are included for easy installation. Fixture comes almost fully assembled, so installation is a breeze. UL Listed. Dry Rated. Weight: 4.5 lbs.
SKU:LD24135-001
Share
View full details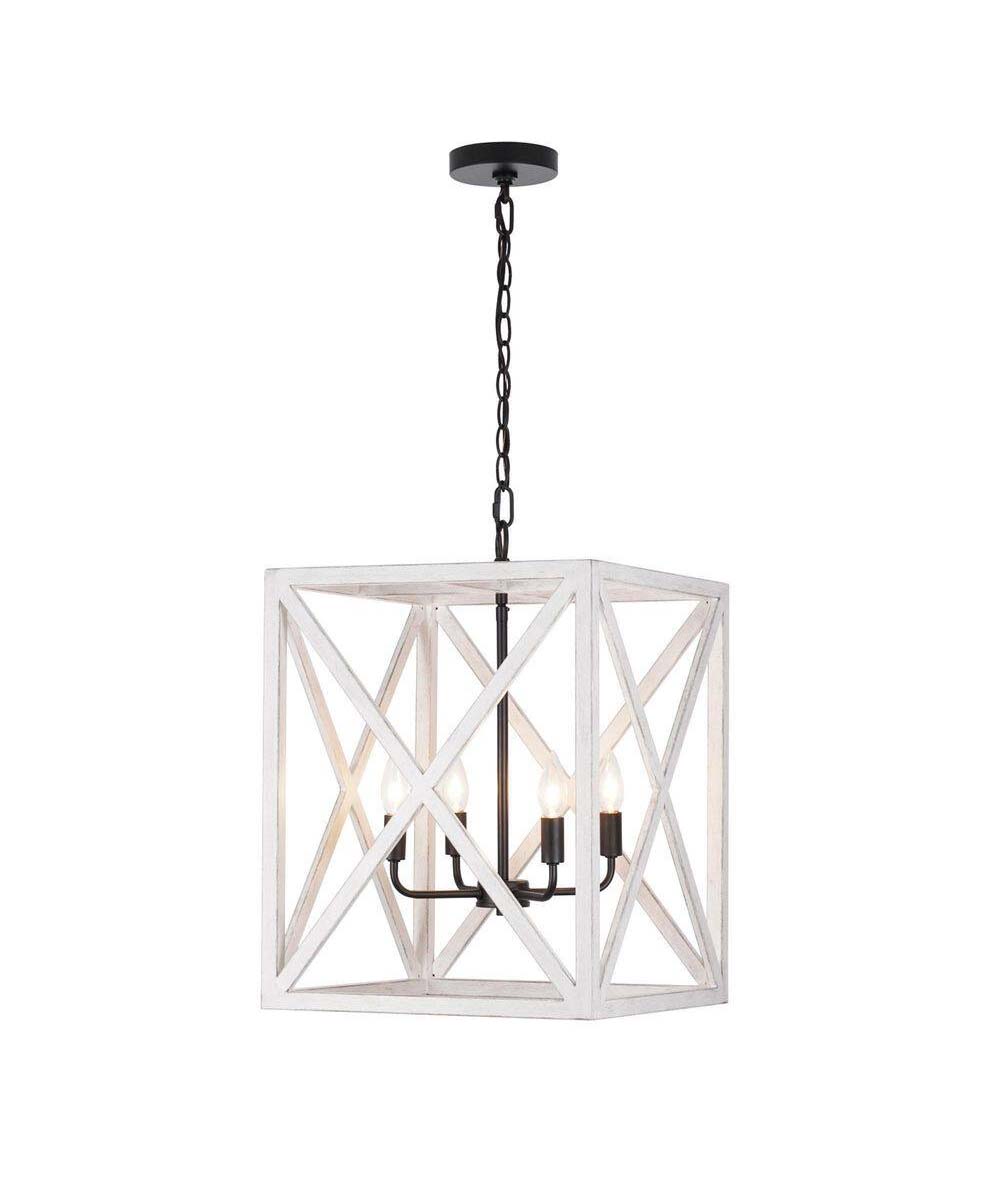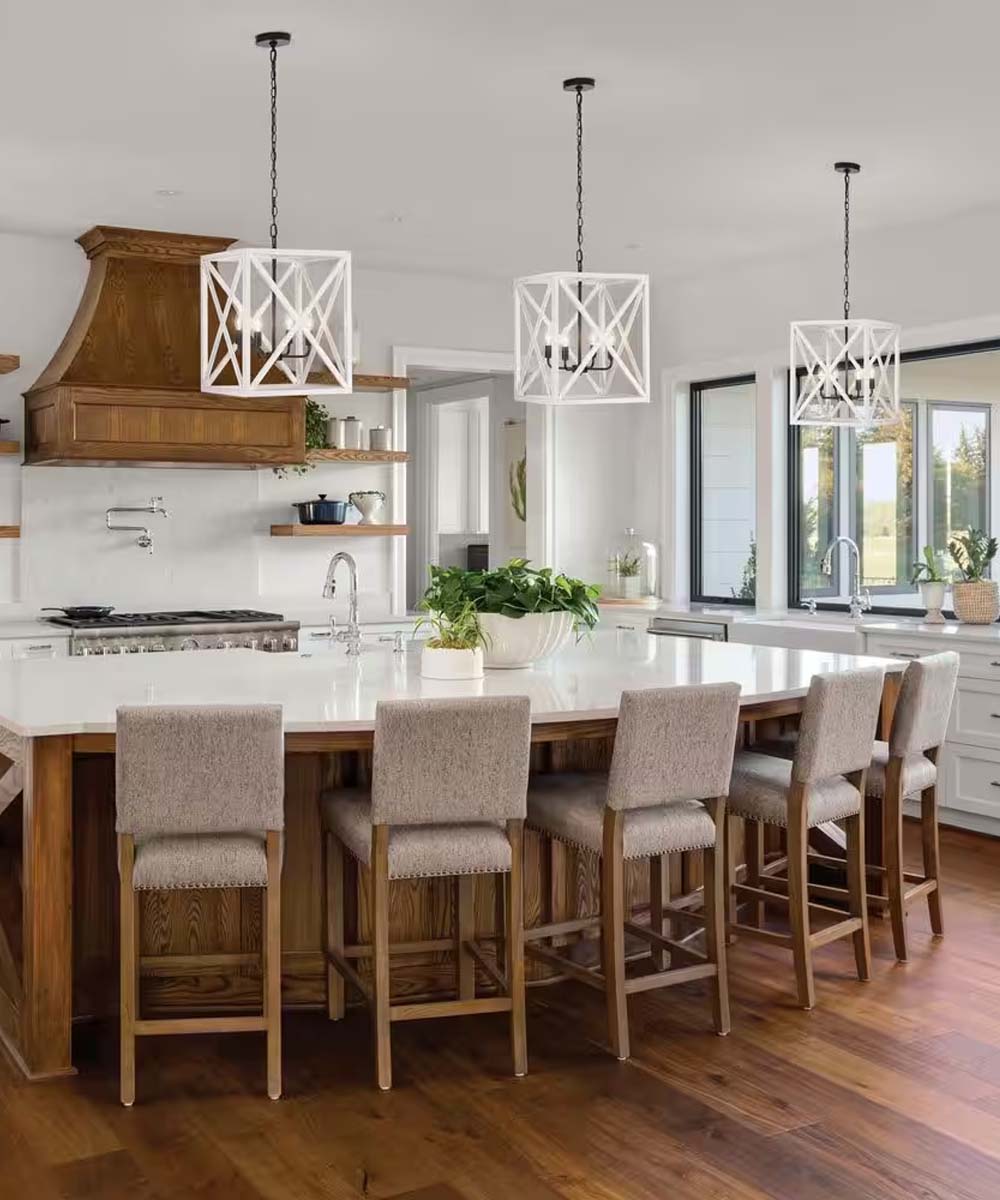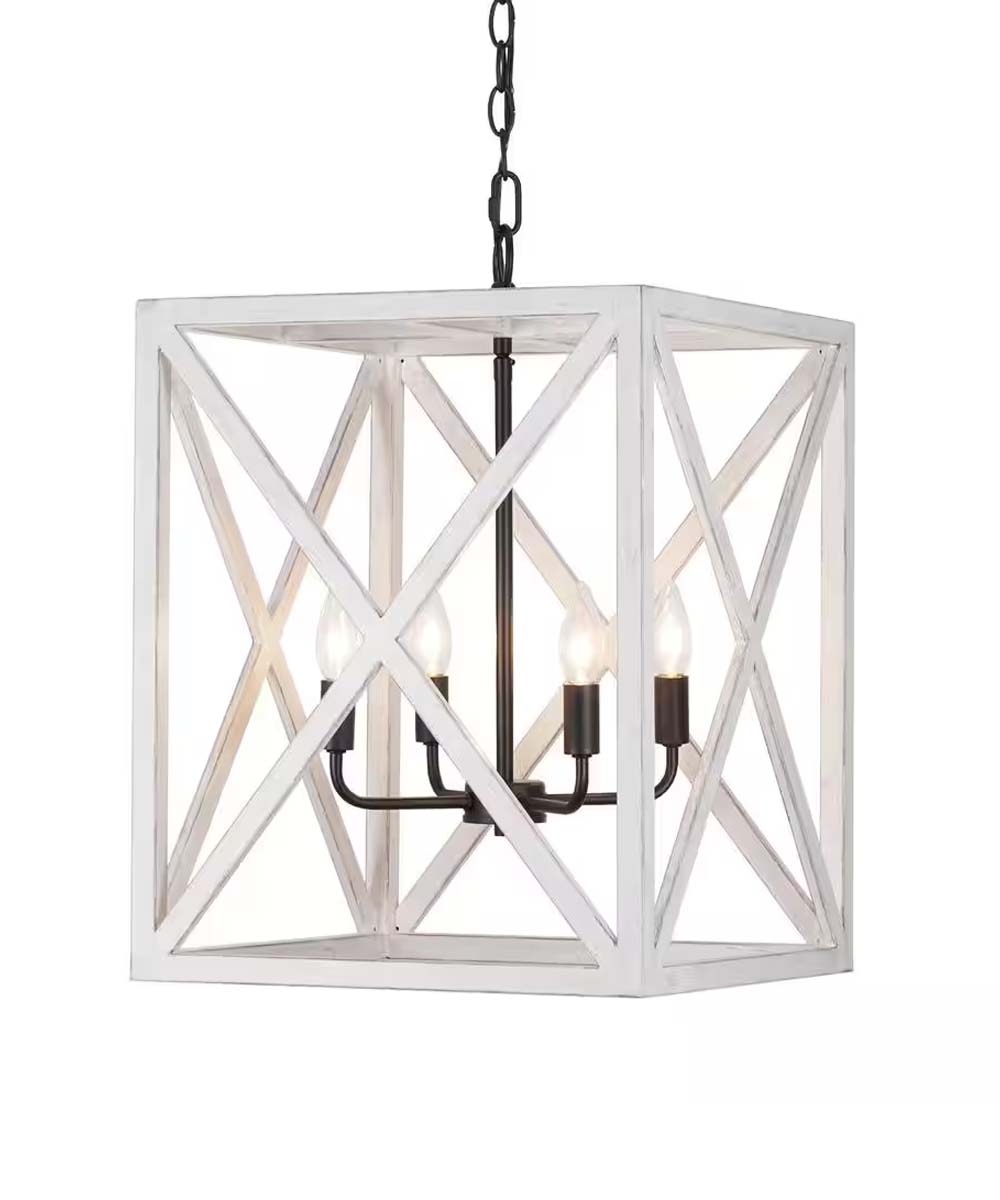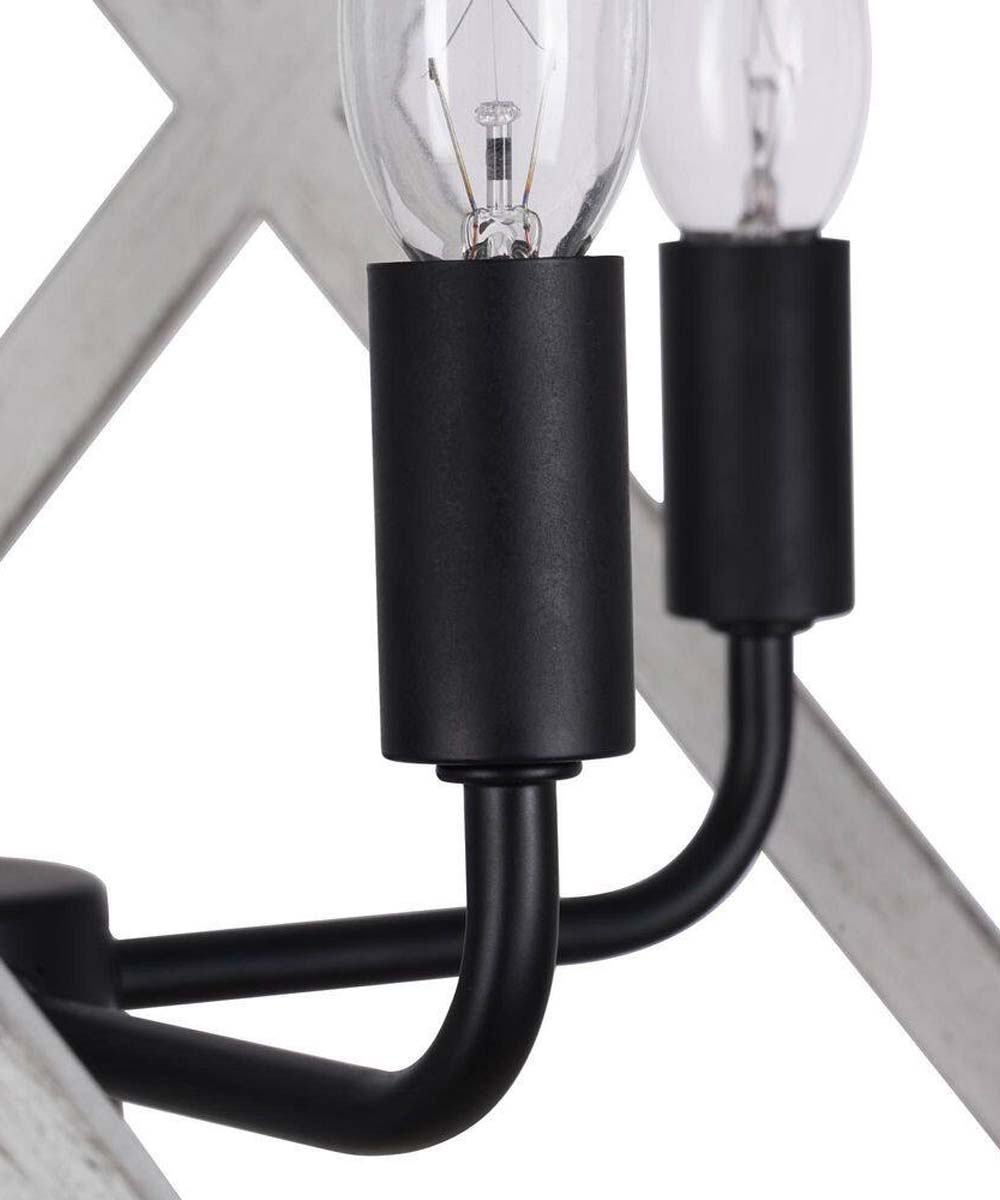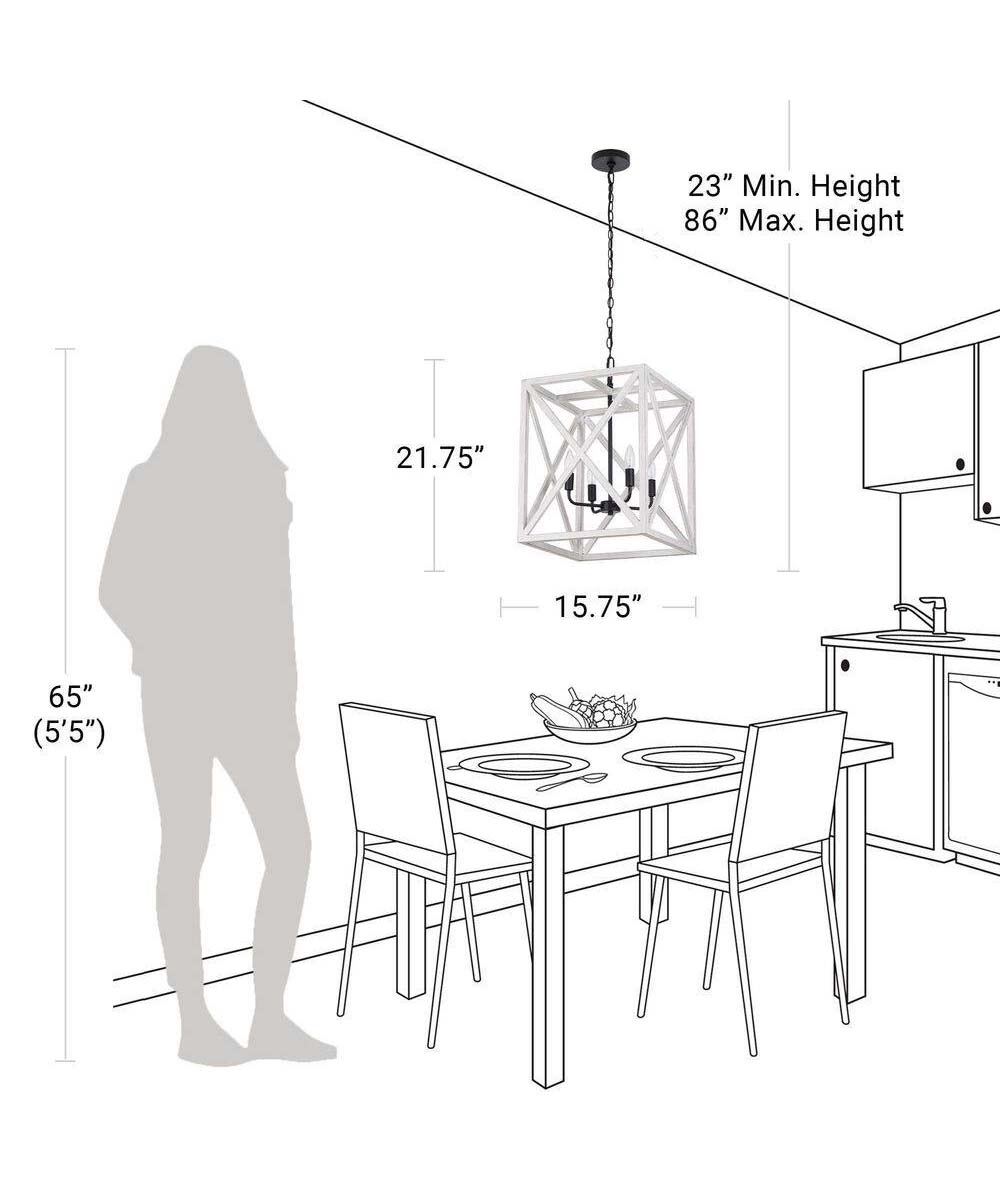 What is a Pendant?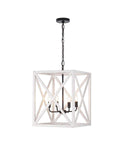 Pendant lights hang from a ceiling and place strong light over an island, table or furniture. Often the light is aimed downwards to help with tasks, but also outward to provide ambient lighting. A central stem or chain usually supports a single shade, although it may also support multple light bulbs. Pendants work well for dining and sitting areas. They can also be used in a hall or foyer if there is head-room. They are installed electrically and operated by a wall switch, and can also function as a centerpiece.
Pendant Benefits

Shines a stronger light onto a table or surface.
Can be used instead of chandeliers.
Work well in a row of 2 or 3 fixtures.
Ideal over a kitchen island or dining table.
Can be hung over or near to seating areaas.
Speads light outward in the lower half of room.
Can be hung overhead if enough headroom.
Adjustable height.
Over a table, the shade shields the eyes.
Ambient Centerpiece Lighting
These hanging lights can form a centerpiece in any room, ideally positioned over a table, counter-top, kitchen island or in the middle of a larger room. They produce a lot of ambient light but also center the light below them. Great for dining rooms and living rooms or over a kitchen island. A larger number of light bulbs tends to produce more light and lights up the whole room.
For which rooms?
Pendants are ideal over a table or seating area. They work well in kitchens and dining rooms. But also can be useful in a living room, office, bedroom or guest room.
Placement/Layering
Since pendants hang from the ceiling they'll shine most of their light at mid-level height. This may produce less ambient light in the upper part of the room. You may want to pair it with some lamps or closer-to-ceiling fixture to fill out the area.
Mounts to the Ceiling
Attaches to a flat ceiling. The provided decorative canopy covers up the electrical installation area.
Installed by an Electrician
An electrician or person with electrical installation knowledge will need to permanently wire the pendant light into the building's electrical supply.