Regular price
$100.00
Sale price
$44.44
Unit price
per
Save 56%
Sold out
72 in stock
Kichler presents New Allen + Roth 24"W 3-Light Rail Fixed Track Bar Light by Kichler Antique Pewter Finish. Add this beautiful three light LED fixed track fixture to your decor for a stunning effect. The antique pewter finish and opal white shades are a great match and provide a focal point for the room. The LED lights provide ample light and a warm glow.
FINISH - Antique pewter finish fixed track light. The opal white glass shades provide a pleasant glow.
DIMENSIONS - 8.38" Height x 24" Width x 4" Depth. Back Plate Width: 12.38". Back Plate Height: 5.75". Hanging Device Max. Length: 8.41".
LIGHTING - Includes three integrated LED lights. Maximum Bulb Wattage: 5. Maximum Fixture Wattage:15. Lumens: 1290. Color Temperature (Kelvins): 3000.
FEATURES - Provides a pivoting light that can be used to create more dramatic lighting, more natural looking lighting, and to create more interesting shadows.
EASY INSTALLATION - Hardwired power source. All mounting hardware and detail instructions included for an easy installation. ETL certification indicates that this fixture has met the minimum safety standards of a widely recognized testing organization. Weight: 4.41 lbs.
SKU:LD16103AP
Share
View full details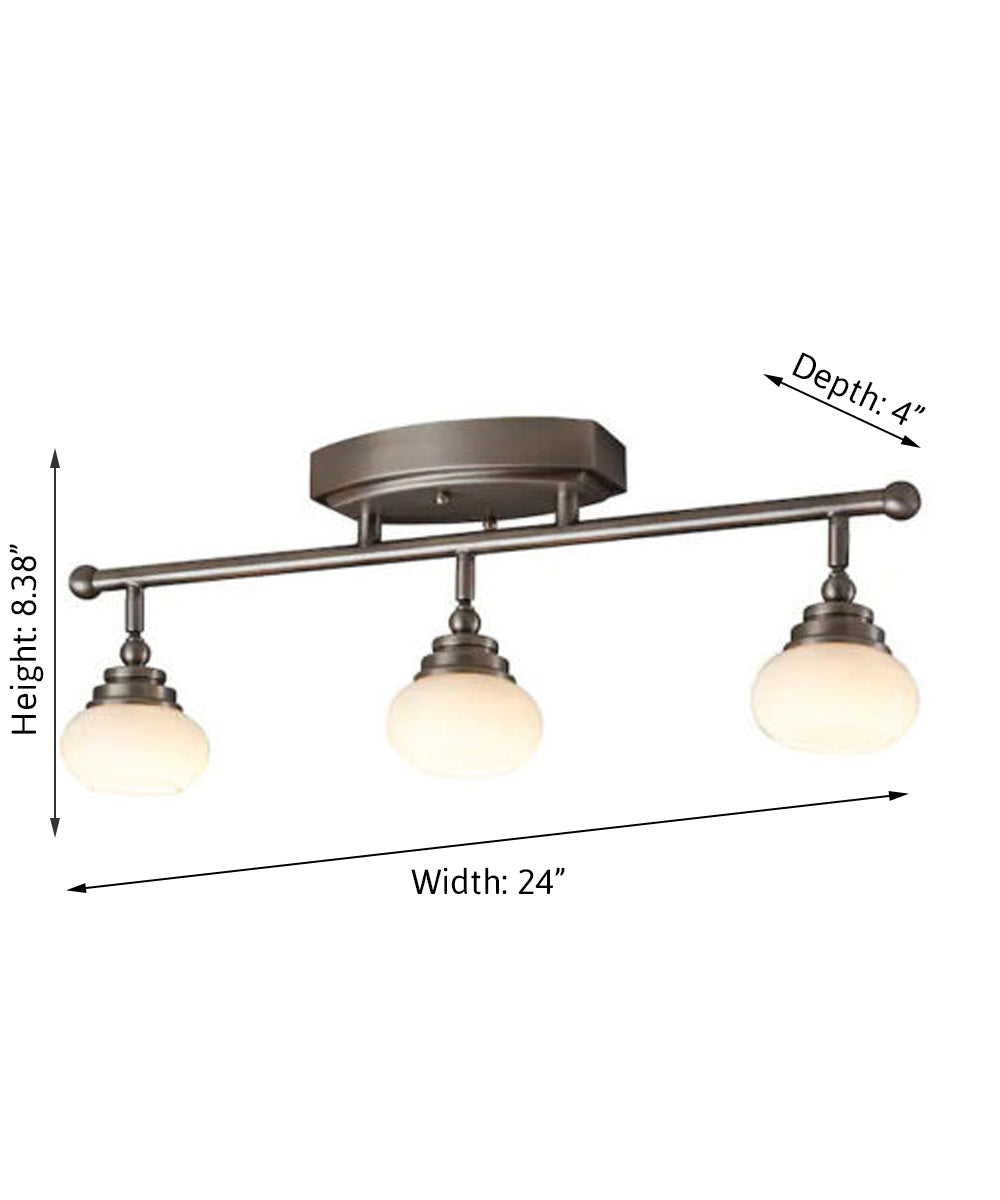 What is a Semi-Flush Mount?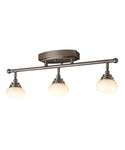 A semi-flush light fixture is mounted to a ceiling. While part of the fixture sits flush to the ceiling, usually there is a gap between the ceiling and the light shade. A close-to-ceiling fixture can work well as a central light fixture, ideal in smaller rooms and hallways where there is less head-room. A semi-flush fixture tends to be more decorative than a fully-flush light fixure. These lights are hardwired and must be installed electrically, operated by a wall switch. They produce good ambient light, although a larger room may need more than one.
Semi-Flush Benefits

More decorative than a flush mount.
Close to the ceiling, leaves head-room.
Allows for fairly bright overhead lighting.
Single installation with multiple bulbs.
Ideal for small, medium or large rooms.
A big upgrade over 'boob lights'.
Better-quality than 'builder lights'.
A less-expensive alternative to chandeliers.
Less formal than a larger light fixture.
Modern Style
Contemporary and innovative, modern lighting underscores futuristic form and structure, and geometric or asymmetrical shapes. A modern lighting design instills functionality within an artfully streamlined form, radiating a reflective glow while providing clear and bright light. Modern Lighting complements a sleek, contemporary interior with straight lines, and can also create an agreeable contrast with transitional styles.
Ambient Background Lighting
Fixtures closely attached to a ceiling tend to produce more ambient background light. They might be used to support a more central light fixture or as a less elaborate central light. They can produce strong light near to where they are placed. A close-to-ceiling light can flood a room with ambient light.
For which rooms?
A semi-flush may need a little more ceiling height than a flush mount, but is often useful in a living or family room, bedrooms, a kitchen, a home office or in a basement. They also work well in hallways, bathrooms and smaller rooms.
Placement/Layering
Being close-to-the-ceiling, these lights will radiate light outward and downward. They can light a large area, but you should also consider wall lights or lamps to fill out the edges or corners of the room, and to provide softer light for more relaxed situations.
Mounts to the Ceiling
Attaches to a flat ceiling. Could potentially be mounted to a sloped/vaulted ceiling. The flush-mount canopy area hides the electrical installation.
Installed by an Electrician
An electrician or person with electrical installation knowledge will need to permanently wire the semi-flush fixture into the building's electrical supply.