Regular price
$120.00
Sale price
$59.98
Unit price
per
Save 50%
Sold out
80 in stock
Kichler presents the Allen + Roth 9"H 3-Light Vanity Light by Kichler Chrome Finish with its eye-catching chrome finish is the perfect addition to your room. The combination of oval etched glass shades and chrome finish gives it a sophisticated look. Not only is it visually pleasing, but it will also bring both style and practicality to your space.
FINISH - Chrome finish and modern design will complement many styles and includes an elegant etched glass shades. Great for modern style décor.
DIMENSIONS - 9.88" Height x 21" Width x 7.75" Depth. Back Plate Dimensions: 7" Width x 5" Height
LIGHTING - Requires 3 x 60 watt medium base (E-26) bulb. LED bulbs recommended for energy-savings and long bulb life. (Bulb not Included).
FEATURES - Dimmable light. Can be adjusted to different levels of brightness to create your desired ambiance.
EASY INSTALLATION - Hardwired power source. Easy to install with mounting hardware and instructions included. ETL listing demonstrates this product has met minimum requirements of widely accepted product safety standards. Weight: 5.28 lbs.
SKU:LD37316CH
Share
View full details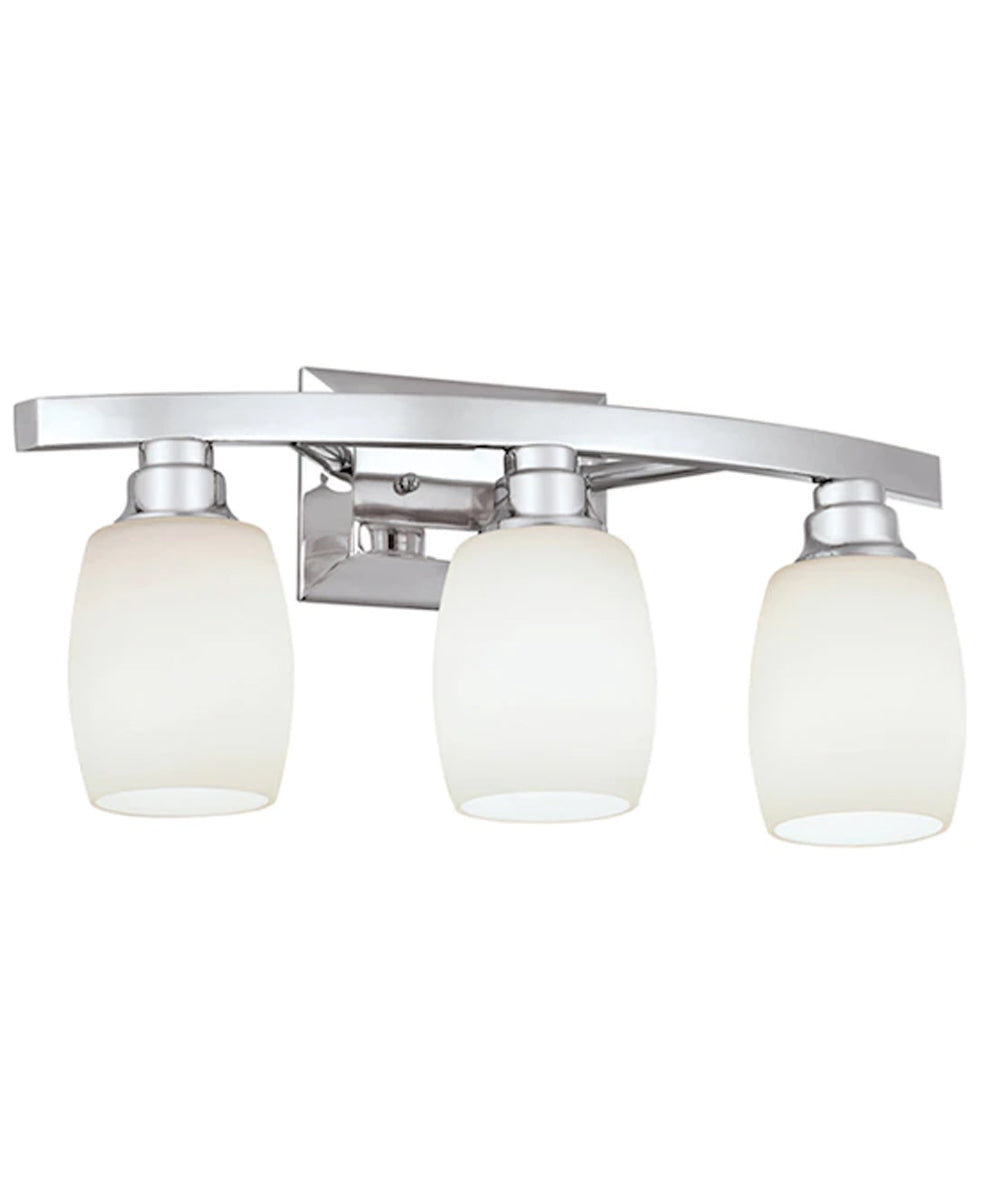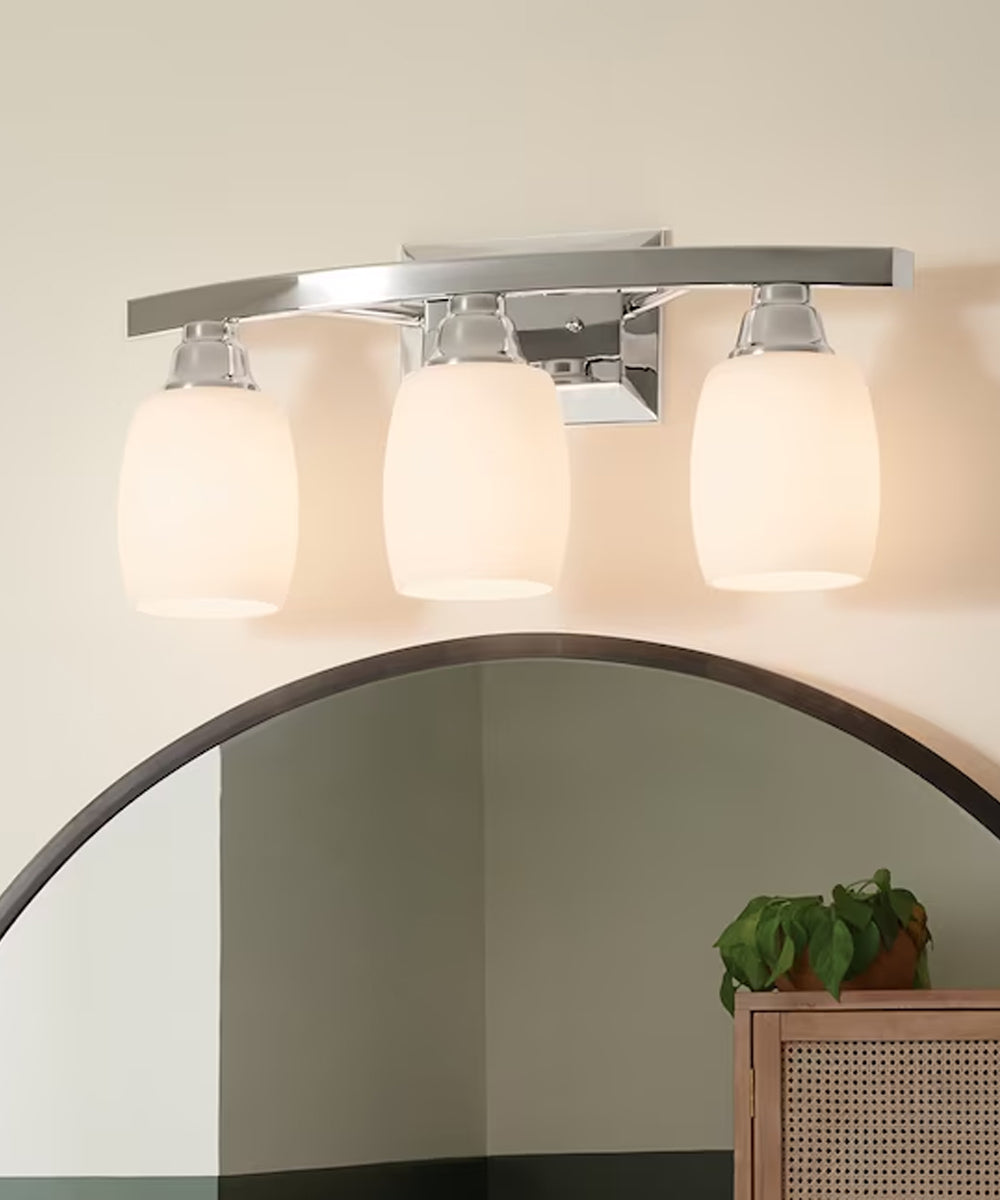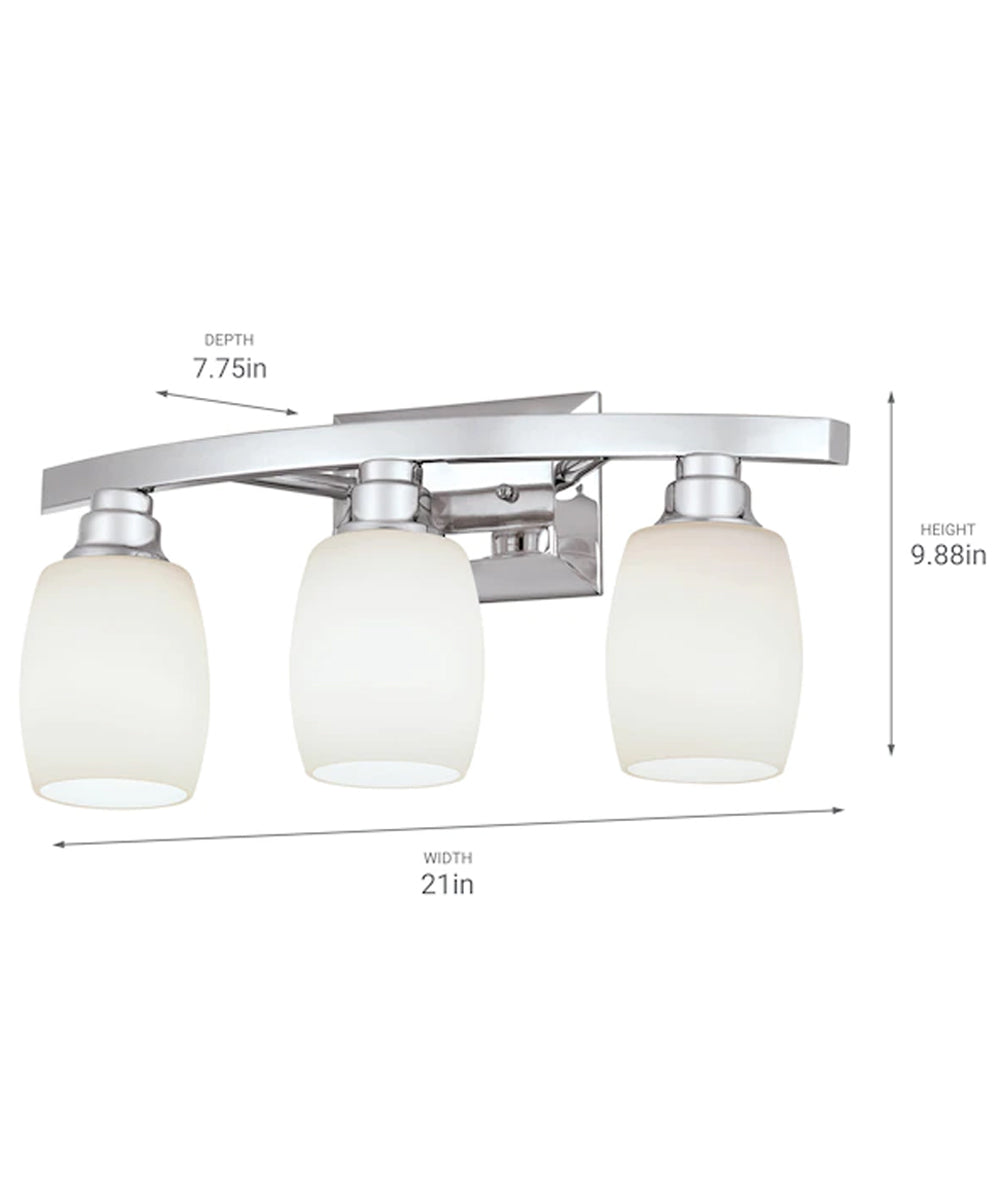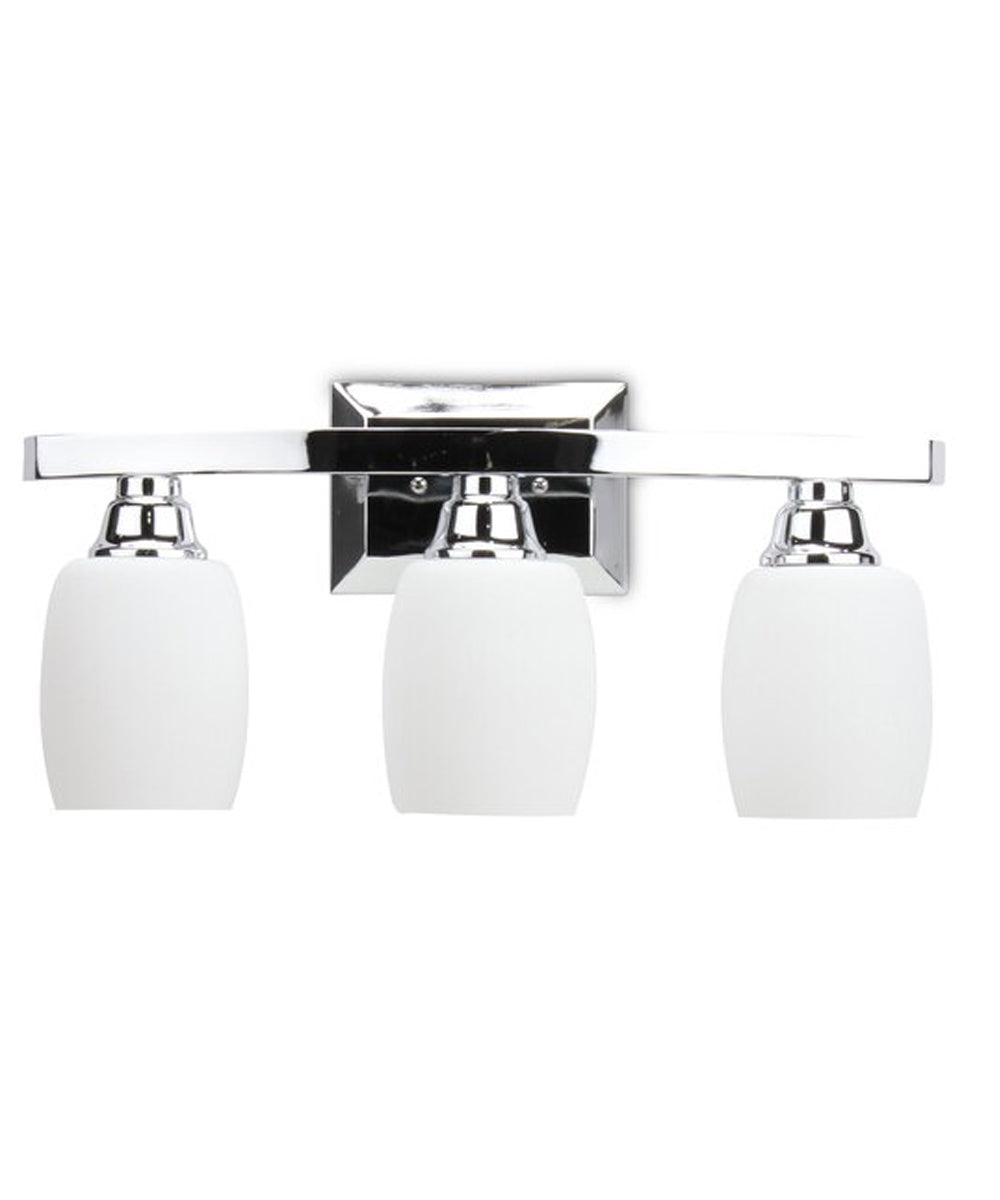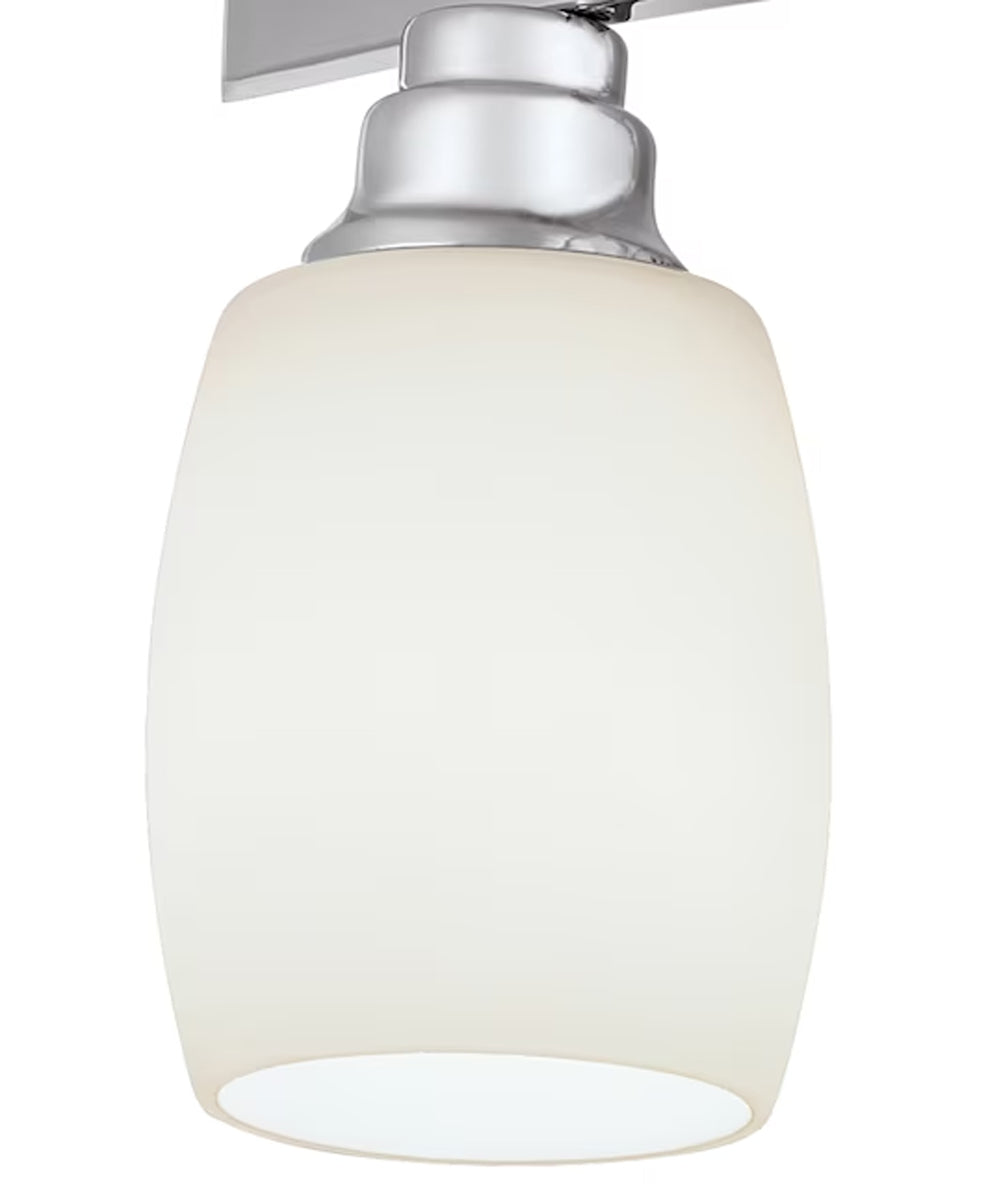 What is an Bath Vanity Light?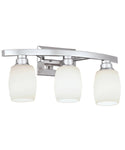 Bathroom lights usually are placed above or next to a bathroom mirror, above your vanity or sink. They provide a fairly strong light in front of your face which helps you to see clearly for washing, make-up application and so on. A row of 3-5 light bulbs is ideal for most bathrooms, while 1-light or 2-light fixtures could be placed either side of a mirror. Bath vanity lights shield your eyes from the glare of lightbulbs and also provide ambient light for the whole bathroom.
Bath Light Benefits

Illuminates the area around a mirror.
Helps you to see to apply makeup.
Helps to clarify personal higeine.
Provides ambient light for a shower or bath.
Gives guests light where they need it.
Designed to fit well over a large mirror.
Decorative shades (if applicable) shield the eyes.
Standard lighting in almost all bathrooms.
Brightens the room for safety, e.g with wet floors.
Places light in front of a person to light their face.
May amply light a restroom without a ceiling light.
Modern Style
Contemporary and innovative, modern lighting underscores futuristic form and structure, and geometric or asymmetrical shapes. A modern lighting design instills functionality within an artfully streamlined form, radiating a reflective glow while providing clear and bright light. Modern Lighting complements a sleek, contemporary interior with straight lines, and can also create an agreeable contrast with transitional styles.
Ambient Background Lighting
Fixtures closely attached to a wall tend to produce more ambient background light. They might be used to support a more central light fixture or as a less elaborate central light. They can produce strong light near to where they are placed. Wall sconces and bathroom lights can add extra light to one side of a room where you need it.
For which rooms?
Bath vanity lights are best used in a bathroom or restroom, above or next to a mirror. However, single or two-light bath lights could be used like a wall-sconce in other rooms such as living rooms, dining rooms, hallways or bedrooms.
Placement/Layering
The bath light and mirror are most likely placed directly above the vanity in front of the sink. The combination of using the sink while looking in the mirror is common. Since this places light to the side of the room, an overhead light is also recommended.
Mounts to a Wall
Attaches to an interior wall. The backplate hides the electrical installation.
Installed by an Electrician
An electrician or person with electrical installation knowledge will need to permanently wire the bath light into the building's electrical supply.