Regular price
$99.99
Sale price
$29.98
Unit price
per
Save 70%
Sold out
199 in stock
The Adesso Vintage Pharmacy Swing Arm LED Desk Lamp Brushed Steel Metal Finish  is a classic example of an updated classic style task lamp. Both the arms and dome shade are fully adjustable, allowing you to direct the light exactly where you need it. The modern-classic styling and brushed-steel finish will blend with traditional or modern style rooms. LED bulb included for energy-efficiency.
DIMENSIONS: 6.5"W x 19"D x 17"H. Shade Dimension: 6" Width X 3.75" Height. Rectangular Base - 10" x 6.5"
FEATURES: Brushed Steel Metal Finish on Base, Arms and Dome Shade. On/Off Rotary Socket Switch. This desk lamp is a classic example of vintage modern style. The sleek steel finish allows it to blend with classic or modern rooms. Adjustable lamp has 3 separate joints for perfect light positioning. It is great for use on a desk or nightstand next to a bed or end table next to a sofa.
EASY INSTALLATION: Fully adjustable at three separate joints for precise positioning. This Pharmacy lamp's sleek body and sturdy rectangular base enable it to fit in any space.No assembly required.
LIGHTING: 9 watt LED Bulb Included.  Energy efficient LED technology.  Bright 805 Lumens, non-dimmable A19 LED with Standard E26 base.  Color temperature is 2700 K for a warm light output.
ETL APPROVED: ETL Listed. Indoor use only. 
SKU:LDAF43446SA
Share
View full details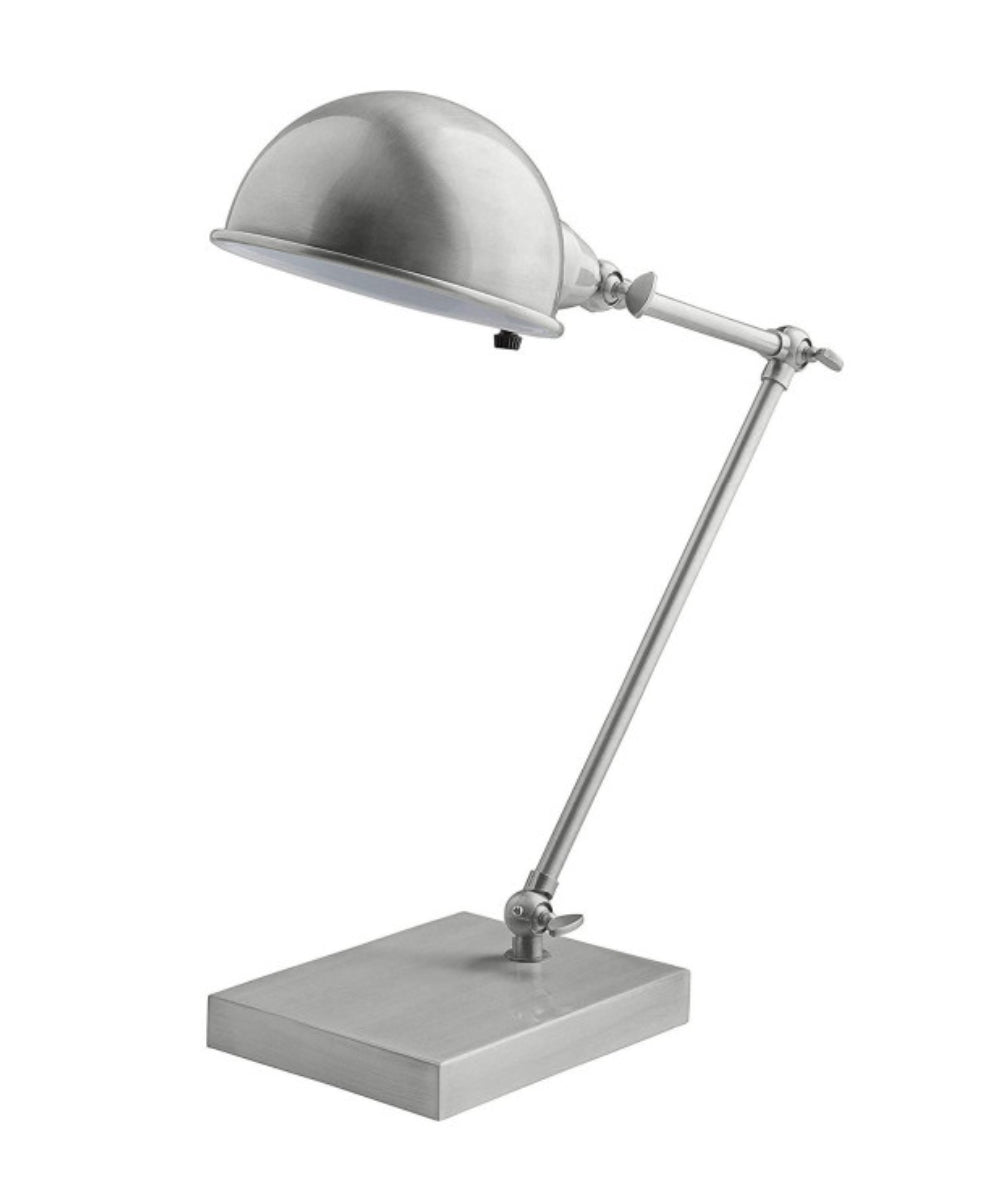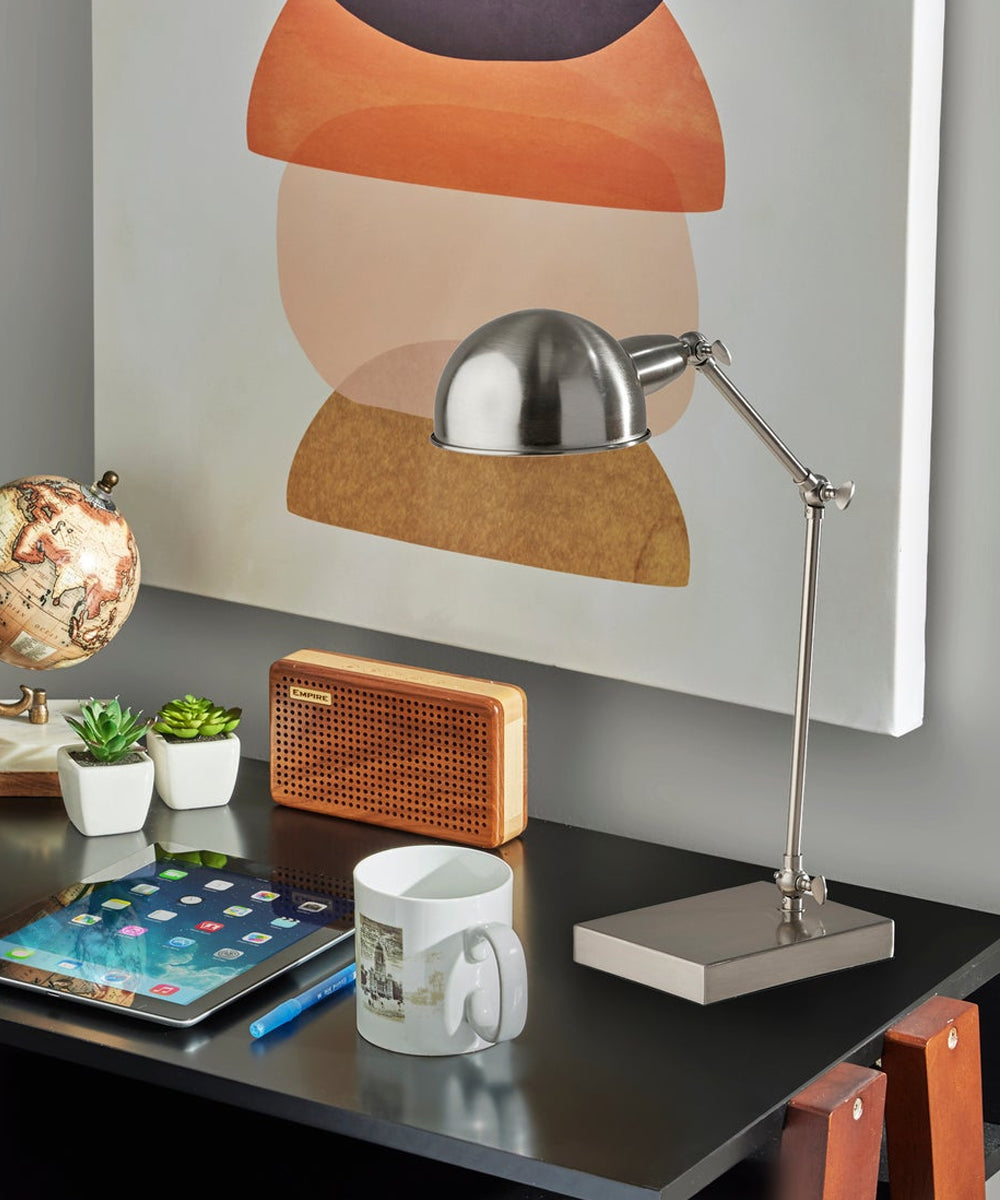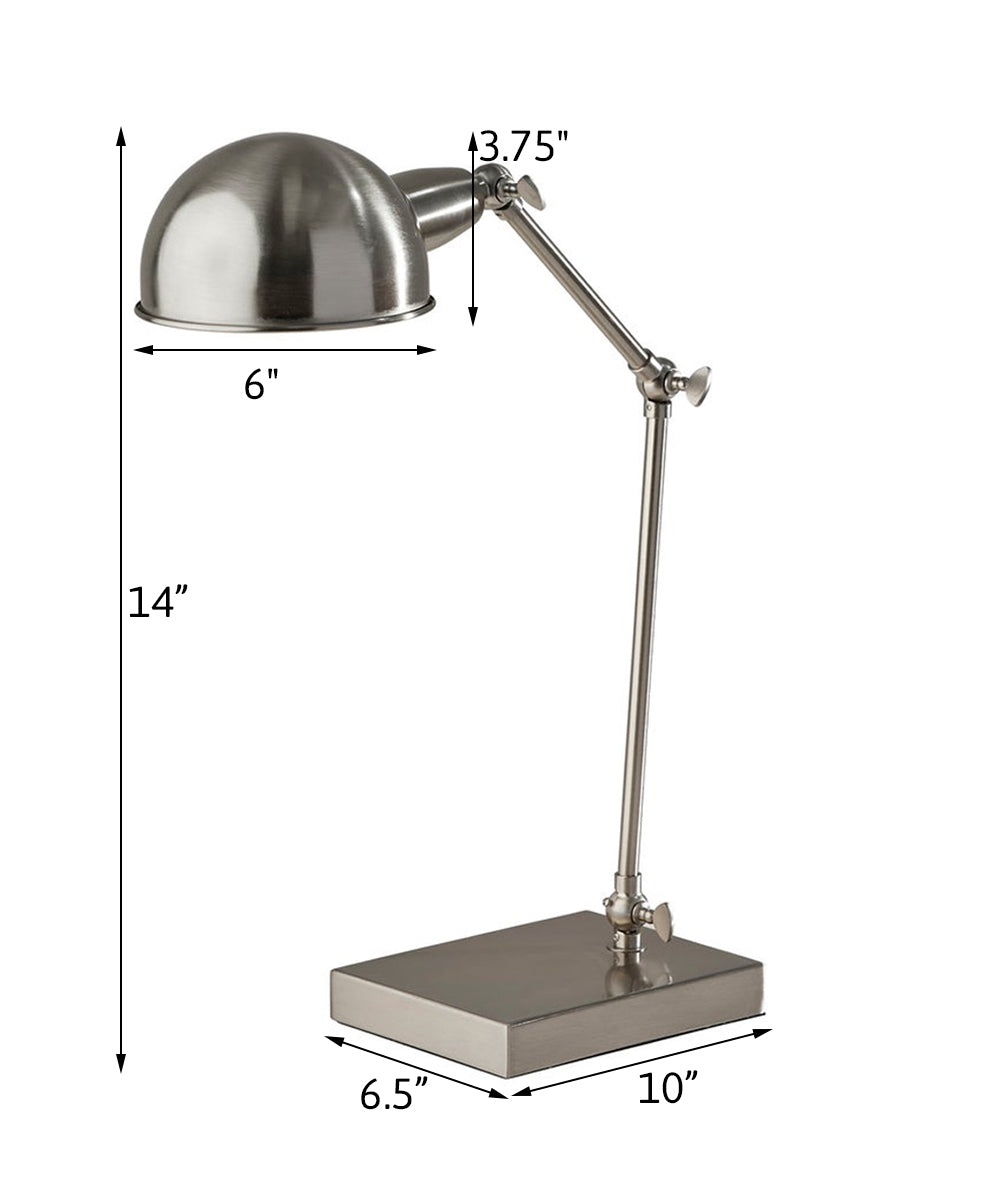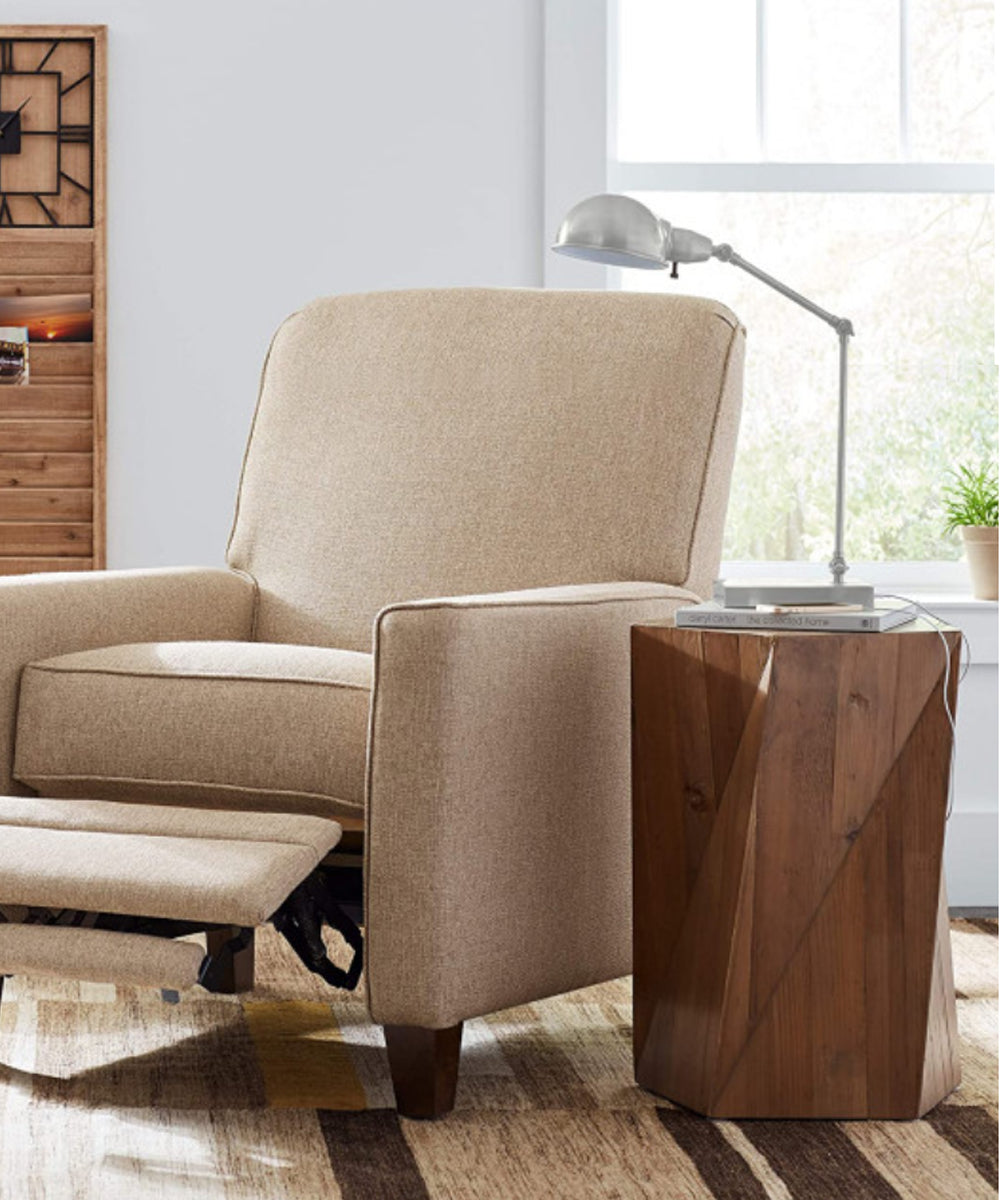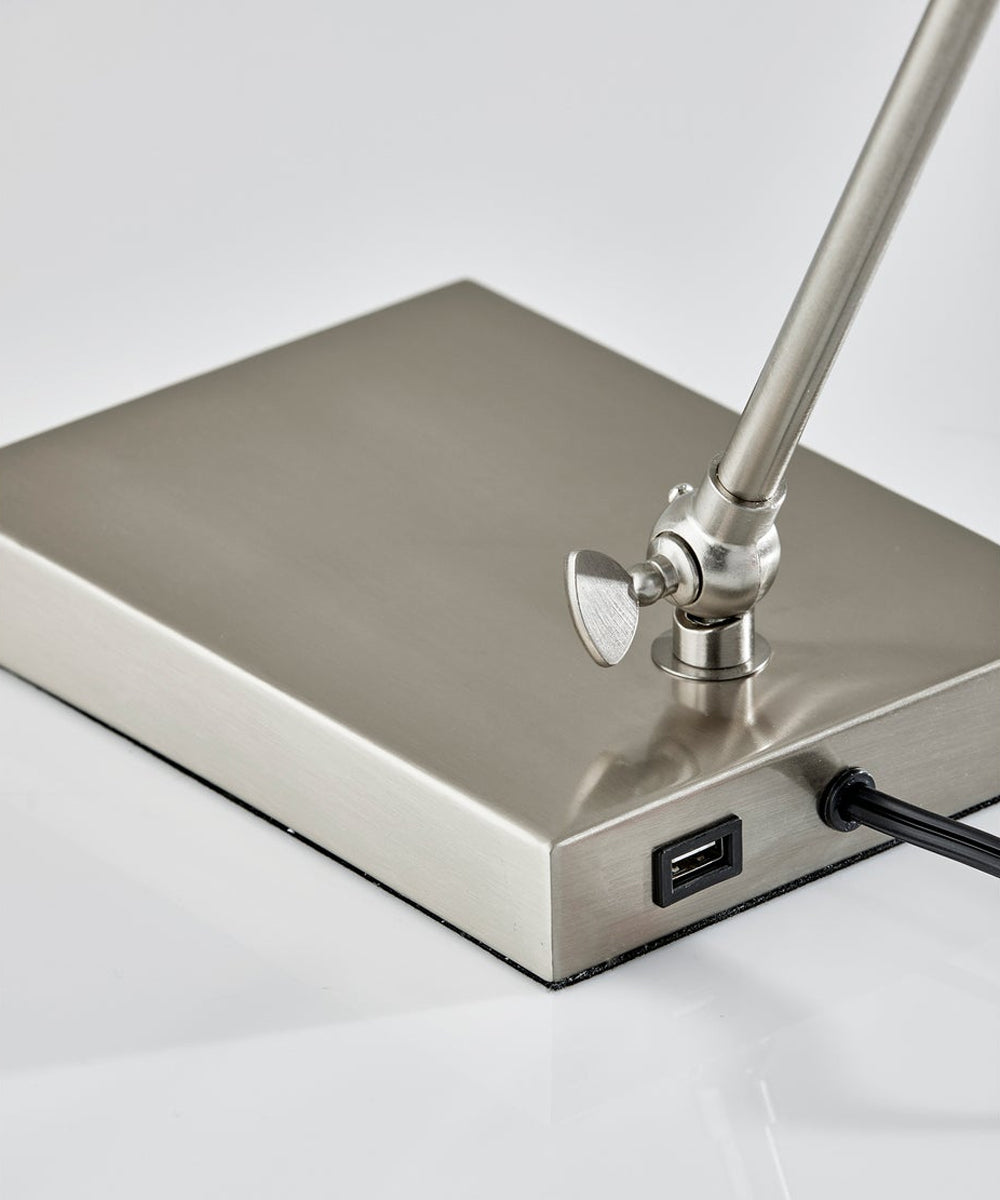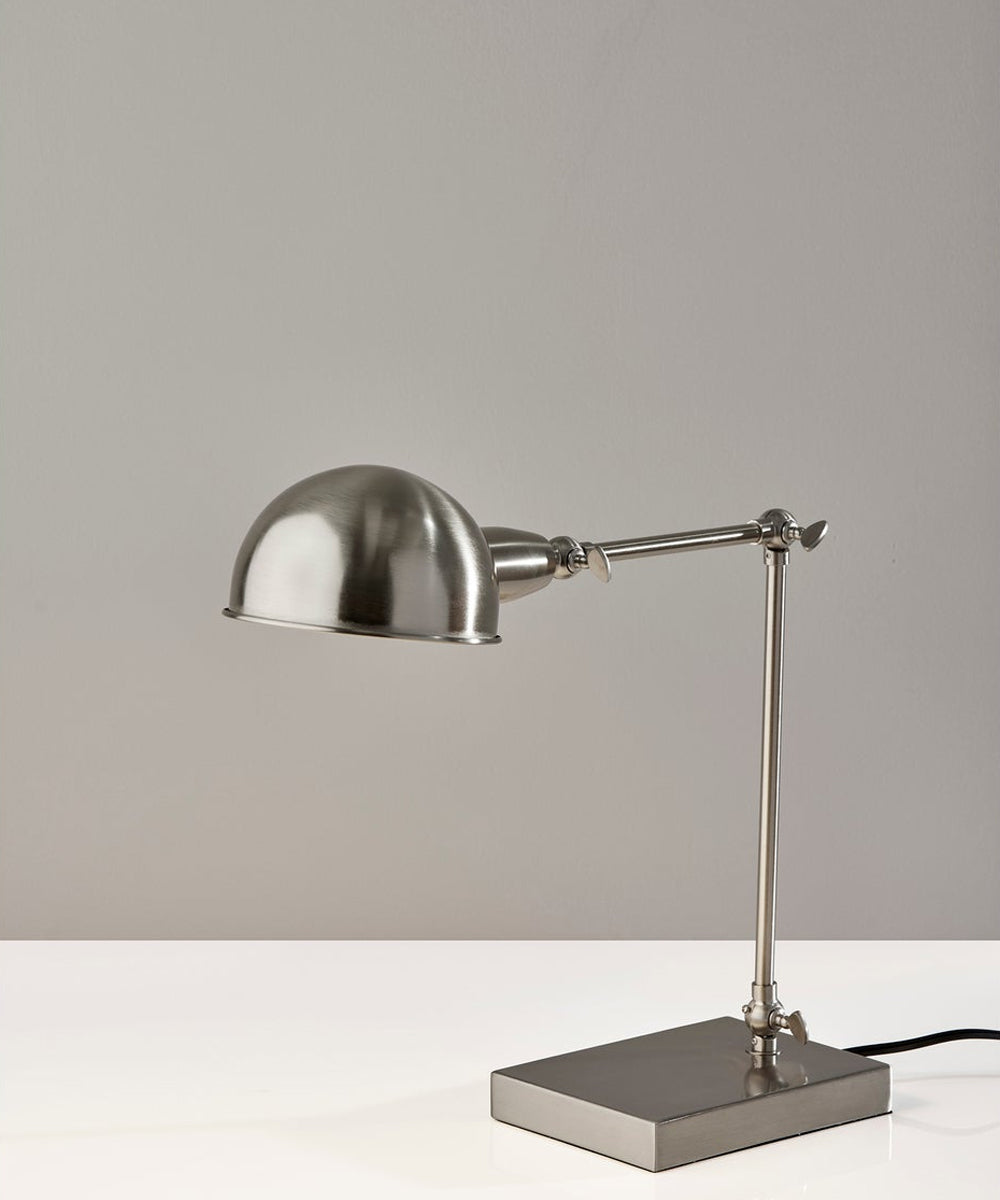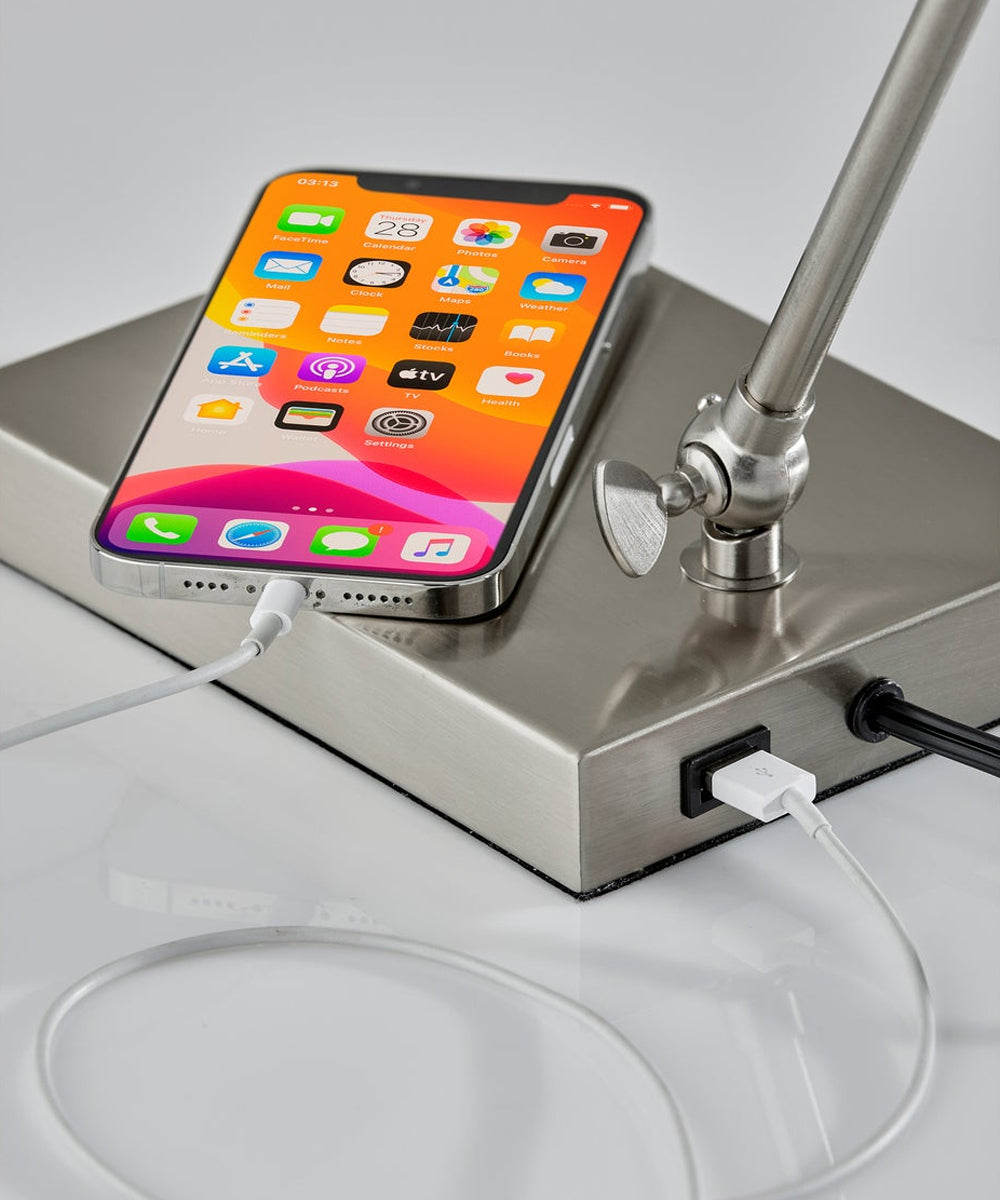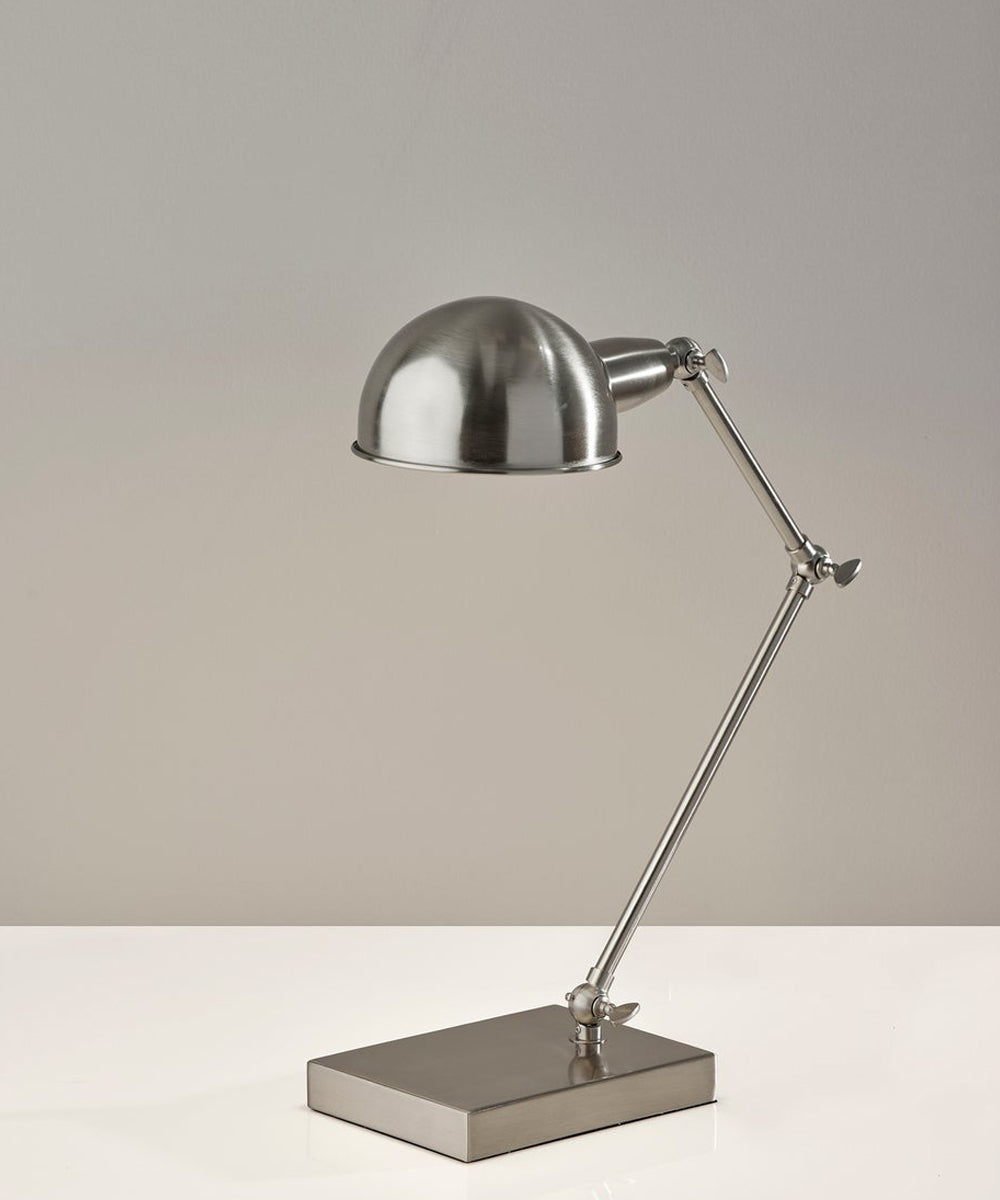 What is a Desk Lamp?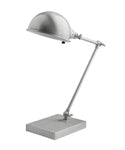 Desk lamps are portable tabletop lamps which can sit on a desk or table. They usually direct their light downwards so that they can be used for tasks such as reading, crafts or paperwork. The light from a desk lamp usually shines off to one side, rather than directly over the lamp base, so that it can optimally light up your desk area. Desk lamps are also often adjustable to place the light where you need it. Being portable they can simply be plugged into a wall socket. Great for work activities or for crafts and hobbies.
Desk Lamp Benefits

Perfect for an office desk.
Can also sit on standup-up-desks.
May be adjustable in position and height.
Places light over the desk where you need it.
Lamp base gets out of the way of the light.
Easy to switch on and off.
Doesn't take up much desktop space.
Great for highlighting crafts and hobbies.
Provides bright localized light.
Helps with visibility, reading and eye-strain.
LED Technology
This item features an LED light bulb. An LED (light emitting diode) bulb includes multiple small electronic diodes which each emit bright light. Each LED light uses very little wattage compared to other types of bulbs. They last far longer, typically more than 20-30,000 hours (several years), while saving significantly on electrical bills. The light output is typically bright white. LED bulbs also produce far less heat than other bulbs. Choose LED lighting for the most modern lighting technology.
Modern Style
Contemporary and innovative, modern lighting underscores futuristic form and structure, and geometric or asymmetrical shapes. A modern lighting design instills functionality within an artfully streamlined form, radiating a reflective glow while providing clear and bright light. Modern Lighting complements a sleek, contemporary interior with straight lines, and can also create an agreeable contrast with transitional styles.
Task Lighting
Task lighting places a stronger light in one area of the room. Very good for tasks when you're sitting nearby. Most lamps can be used as task lights and can be quickly switched on when needed. Great for reading, crafts and hobbies. They also work well to light up one area of a room, e.g. on either side of a couch or in the corners of a room. Most of the light is directed downwards and out to the sides.
For which rooms?
A desk lamp is best used with a desk or table, or next to a bed or seating area. Ideally in an office or work area, in living rooms, bedrooms, family rooms and guest rooms.
Placement/Layering
A desk lamp is best suited for desk, writing and office areas, on side-tables and accent furniture. They're likely to live closer to the edges of the room providing local light. You should add other light fixtures or lamps as well to create appropriate levels of light in the room.
Mounts to Furniture
Portable, sits on a surface via the lamp base. Covers a relatively small area, can be placed on desks, tables, shelves and other furniture.
Plugs in
Plug the desk lamp into a regular power outlet socket and switch it on.