Regular price
$126.00
Sale price
$14.44
Unit price
per
Save 89%
Sold out
64 in stock
This 1-Light Pendant 9B232A from Capital Lighting features an Industrial glass design, perfect for giving a rustic edge to your home. Burnished bronze finish and brown cord completes the look. Capital Lighting is a family-owned lighting company located in Atlanta, Georgia. Capital delivers stylish, high-quality products at affordable prices through some of the best lighting showrooms across the United States because they have earned a reputation as an innovative lighting company who creates well-designed, long-lasting fixtures.
Burnished Bronze Finish
Full Fixture Dimensions: 4.50"Width x 20.50"Height
Canopy Dimensions: 5"Width x 1"Height
Wire Length: 180" Wire
Chain Length: 120" Chain
Glass Dimensions: 4.5"Width x 4.5"Height
1 x 60 Watt E26 Medium Base bulbs (not included)
Recommended Bulb Type: T10
Voltage: 120 UL listed. Rated for Dry locations.
Light Source: Incandescent
Install Position: Socket Down
Material: Metal and Glass
Style: Farmhouse/Rustic and Industrial
UL listed. Rated for Dry locations.
Weight: 4.5
SKU:LD9B232A
Share
View full details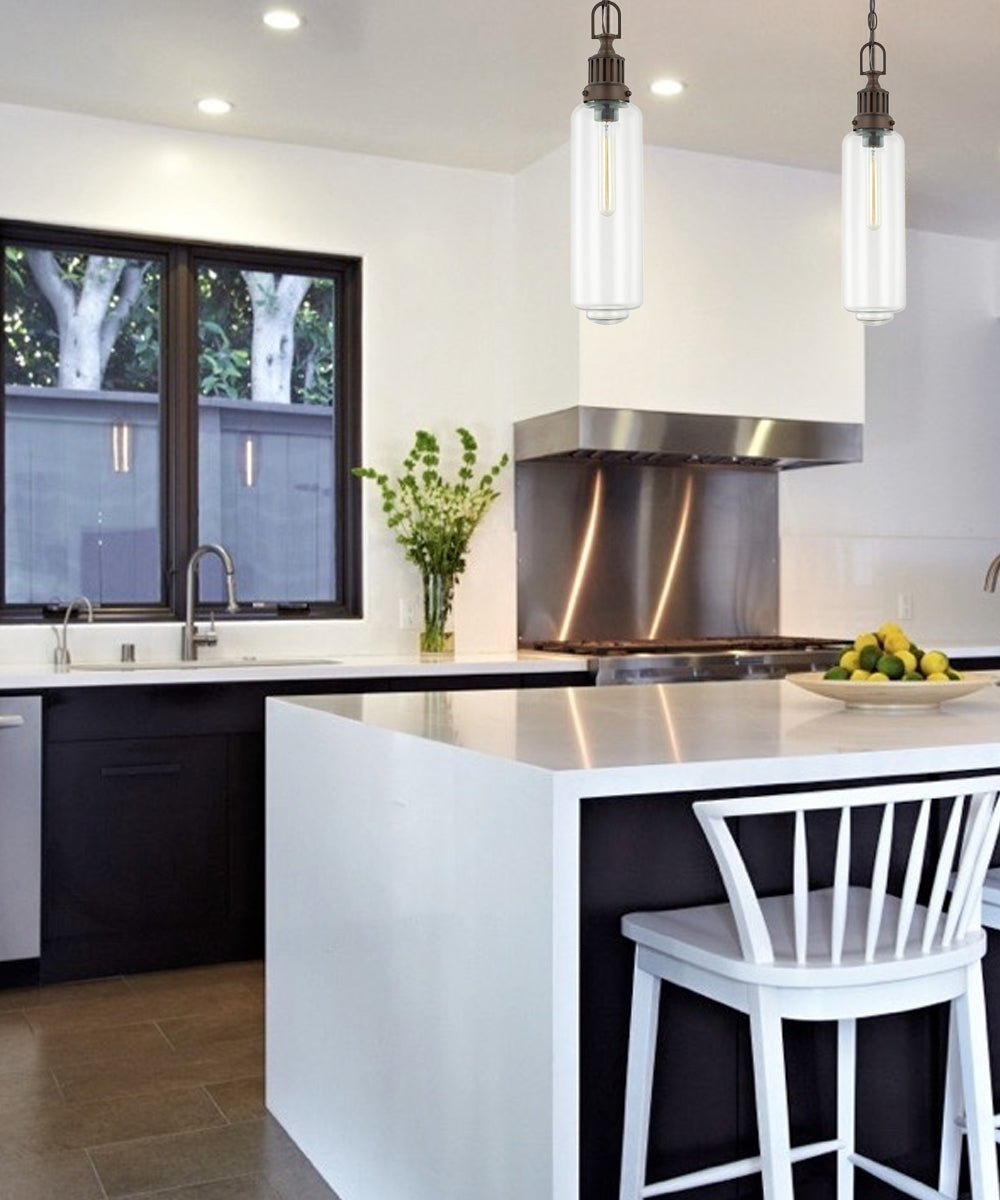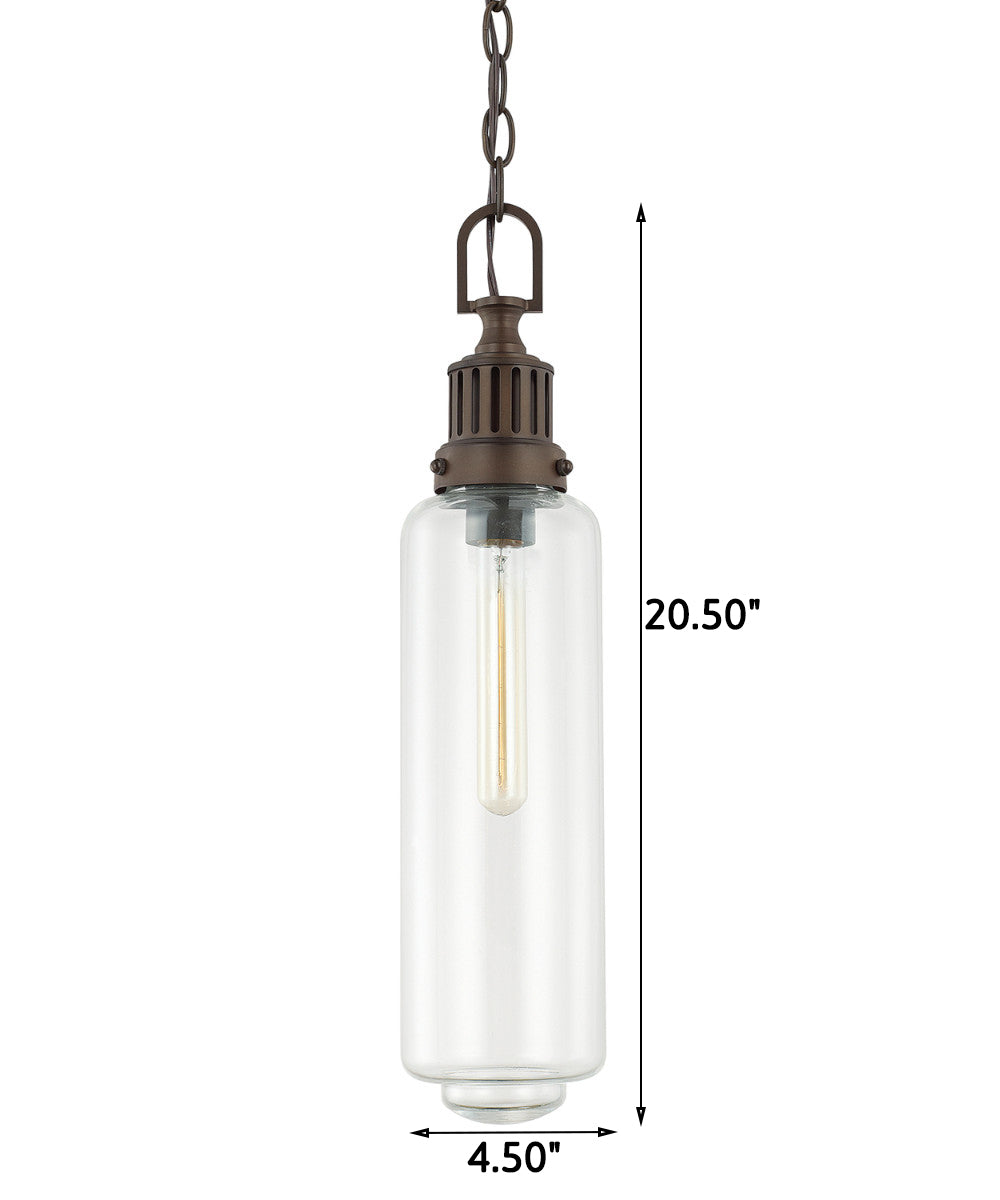 What is an Mini Pendant?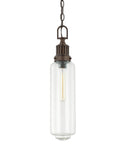 A miniature pendant is usually a 1-light pendant which hangs from the ceiling. The smaller pendant directs downward light to a specific area, over a kitchen island, table or furniture. A group of mini pendants in a row is a great way to light a larger area, and they often feature colorful shades. As a hardwired light fixture, mini pendants are installed electrically and operated by a wall switch. You may need at least a few mini pendants to light a larger area such as an island or bar.
Mini Pendant Benefits

Small size doesn't take much space.
Decorative shade adds a splash of style.
Easy to hang from the ceiling.
Focuses light directly beneath it.
Lights the local area over a table, island or bar.
Useful when a few are hung in a row.
Doesn't block line of sight.
Adjustable height.
Several can be hung in a row or cluster.
Industrial/Loft Style
Our Loft-Industrial Lighting Style is heavy on the unrefined aesthetic elements inspired by the industrial revolution and turn-of-the-century warehouse lighting fixtures. These bold and strong designs are dominated with heavy metal or rustic wood construction, and are certain to ignite an urban renewal through use of rivets, chain links, steampunk-inspired light bulbs, metal ribbon strips or wrought iron trimmings.
Ambient Focused Lighting
A mini pendant offers a spot-light of focused light over a local area. Being typically a one-light fixture they need to be grouped to light a larger area. Light will diffuse and reflect outward for ambient light, but most of the light will be aimed downwards to light a surface. Best used over a piece of furniture such as a kitchen island, bar or table.
For which rooms?
Mini pendant lights work well over furniture such as a kitchen island, bar or dining area. They are most often found in kitchens and dining rooms, although could also provide interesting office lighting.
Placement/Layering
Being fairly small, these small pendants tend to shed light near to themselves. For a larger area you'll need more than one. They may act almost like spotlights. Wall lights or another main light fixture is a good complement, or consider adding some lamps.
Mounts to the Ceiling
Attaches to a flat ceiling. Includes a canopy which covers the electrical installation area. However, since the mini-pendant is lightweight, it could potentailly hang from a vaulted or sloped ceiling, though pressure will apply to the bent stems/chain and power cord.
Installed by an Electrician
An electrician or person with electrical installation knowledge will need to permanently wire the mini pendant into the building's electrical supply.