Regular price
$120.00
Sale price
$27.77
Unit price
per
Save 77%
Sold out
69 in stock
Create a sleek workspace with this contemporary integrated LED desk lamp. Whether you need extra light on your desk, your crafting space, your kitchen table, your home office desk, or any other area, this task lighting is sure to be just what you need. This is the perfect lamp for a productive, stylish workspace. Futuristic slim profile lamp made from quality components will enhance any desk.
Illuminate your home office or study space with this tall contemporary integrated LED desk lamp standing at 22.75 inches high.
Featuring an elegant copper plated curved arc balanced perfectly on top a round base to create a simple elegance and styling that will work in modern or transitional spaces.
Dimmable - The convenient 4-way touch sensor switch allows you to set the lighting to create the perfect ambiance or task lighting at hand.
Powerful 1,000 Lumen (1,900 lux) 3,000 K soft light gives you warm reading light.  Soft white diffuser prevents sharp glare. LED Energy Efficient Technology.  10watts.
Versatile enough for a living room, office or bedroom and the integrated LEDs are both energy efficient and never need to be replaced.  Tall lamp will be a real attention-getter.
Dimensions: 22.75" Height x 7" Width x 12.5" Length.
SKU:LDC10480DSK
Share
View full details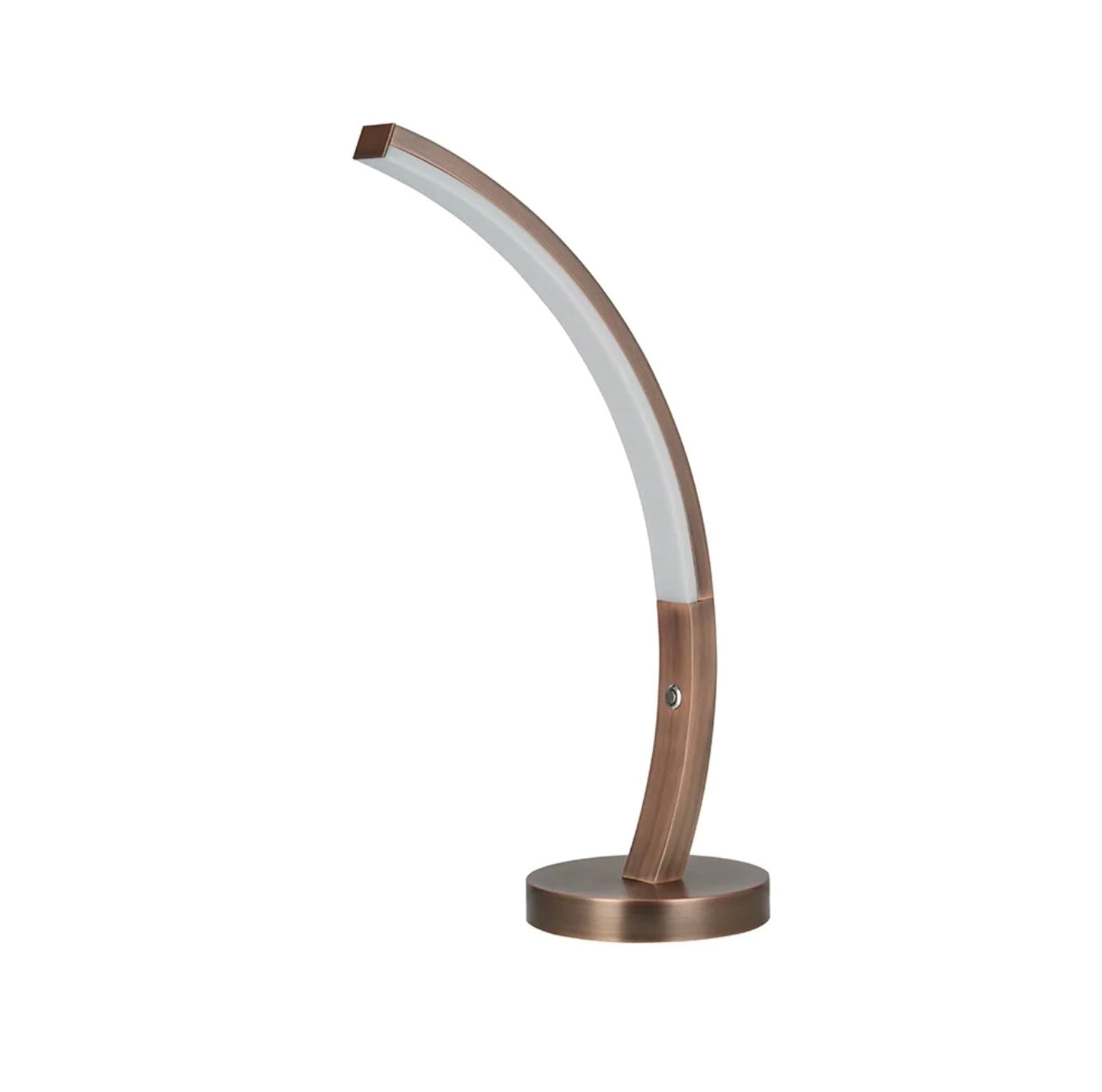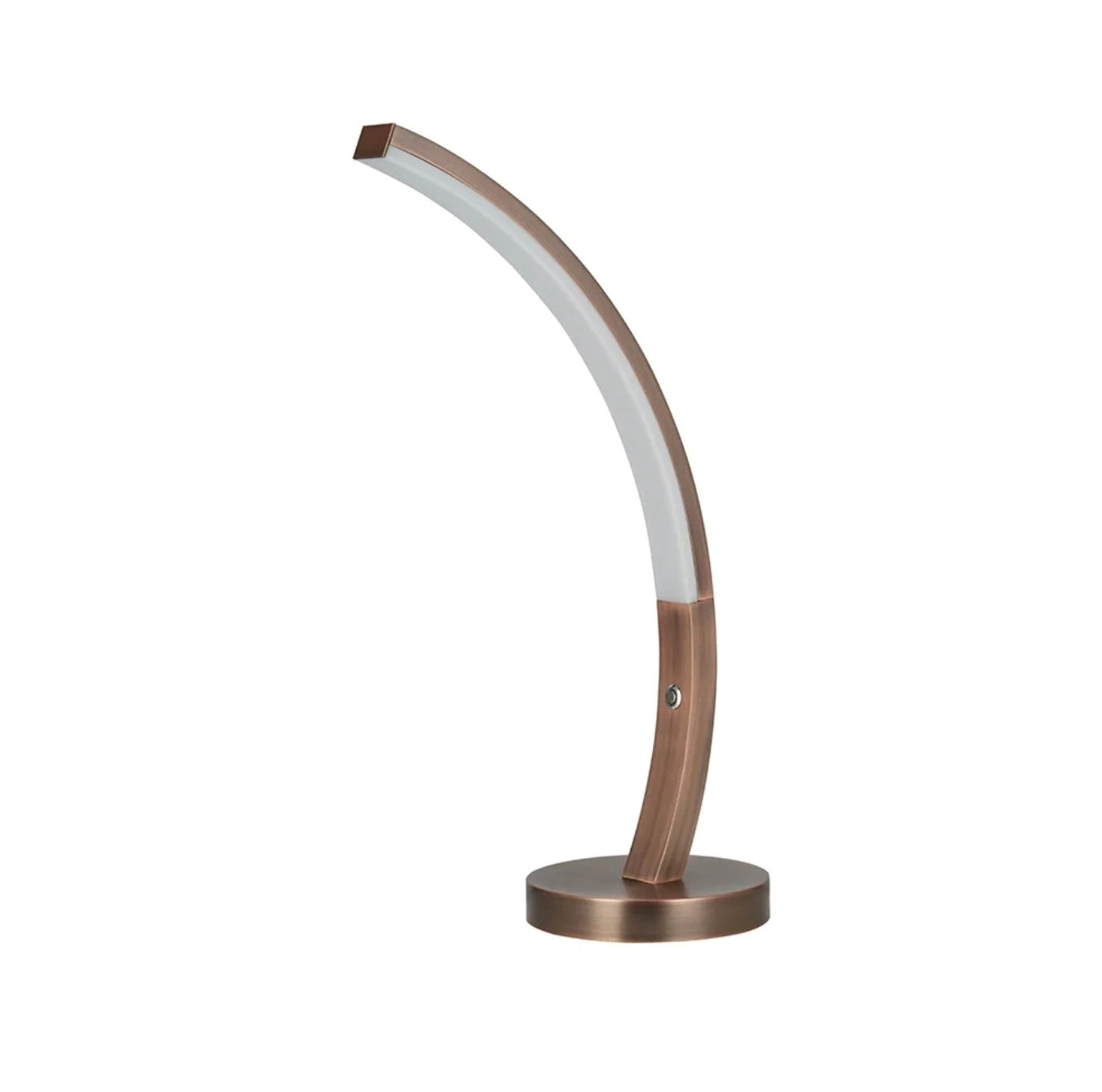 What is a Table Lamp?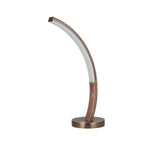 A table lamp is a portable light which can sit on a side-table. Usually a light bulb is positioned above the lamp base and surrounded by a lamp shade. They plug into a regular wall socket and can be easily switched on or off while seated nearby. Light typically emits outward and downward to illuminate a local area, great for tasks, reading, crafts and hobbies. Ideally positioned next to seating, at the bedside, or in the corners of a room for a more ambient mood. Table lamps usually feature one or two light bulbs.
Table Lamp Benefits

Portable and can be moved to any room.
Take them with you if you move.
Makes for a wonderful gift.
Lights up a local area for reading etc.
Ideal next to seating or sleeping areas.
Great as a bedside lamp.
Position either side of a couch or bed.
Easy to switch on or off.
Shade diffuses and deflects light.
Adds a decorative touch to any room.
LED Technology
This item features an LED light bulb. An LED (light emitting diode) bulb includes multiple small electronic diodes which each emit bright light. Each LED light uses very little wattage compared to other types of bulbs. They last far longer, typically more than 20-30,000 hours (several years), while saving significantly on electrical bills. The light output is typically bright white. LED bulbs also produce far less heat than other bulbs. Choose LED lighting for the most modern lighting technology.
Modern Style
Contemporary and innovative, modern lighting underscores futuristic form and structure, and geometric or asymmetrical shapes. A modern lighting design instills functionality within an artfully streamlined form, radiating a reflective glow while providing clear and bright light. Modern Lighting complements a sleek, contemporary interior with straight lines, and can also create an agreeable contrast with transitional styles.
Task Lighting
Task lighting places a stronger light in one area of the room. Very good for tasks when you're sitting nearby. Most lamps can be used as task lights and can be quickly switched on when needed. Great for reading, crafts and hobbies. They also work well to light up one area of a room, e.g. on either side of a couch or in the corners of a room. Most of the light is directed downwards and out to the sides.
For which rooms?
All you need is some furniture to sit it on. Most useful as a bedside table lamp, but also as a living room table lamp. It may also work in a family room, home office or guest room, or to help light a basement.
Placement/Layering
A table lamp works well to light a nearby area, shedding light to the sides and below. You'll need one either end of a couch or either side of a bed, or in corners of a room. Table lamps can provide a medium-level of light, but you'll want some ceiling and/or wall lights for when you need the room to be brighter. Consider also a floor lamp to make the room brighter.
Mounts to Furniture
Can sit on top of any piece of flat furniture able to support the weight. The lamp sits on its base which is flat on the bottom. Ideally positioned on a side-table, nightstand, or other smaller furniture.
Plugs in
Plug the table lamp into a regular power outlet socket and switch it on.