Regular price
$100.00
Sale price
$49.98
Unit price
per
Save 50%
Sold out
59 in stock
Kichler presents New 22.75"W 3-Light LED Vanity Light by Kichler Satin Nickel Finish. This attractive vanity light with a satin nickel finish is an excellent addition to your room. The unique opal white glass shades and satin nickel finish combine for a stunning appearance. This fixture will add form and function as well as beauty to your room.
FINISH - Satin Nickel finish is classy and elegant. Opal white glass shades provide a look of understated refinement. Great for traditional style decor.
DIMENSIONS - 8.25" Height x 22.75" Width x 7.75" Depth. Back Plate Width: 12.38". Back Plate Height: 5.75".
LIGHTING - Includes 3 integrated LED modules. Fixture provides approximately the same light as a 100 watt incandescent bulb. Maximum Fixture Wattage: 20. Lumens: 1830.
FEATURES - Can be installed facing up or down to suit your preference.
EASY INSTALLATION - Hardwired power source. Easy to install with mounting hardware and instructions included. ETL listing demonstrates this product has met minimum requirements of widely accepted product safety standards. Weight: 4.71 lbs.
SKU:LD37389SN
Share
View full details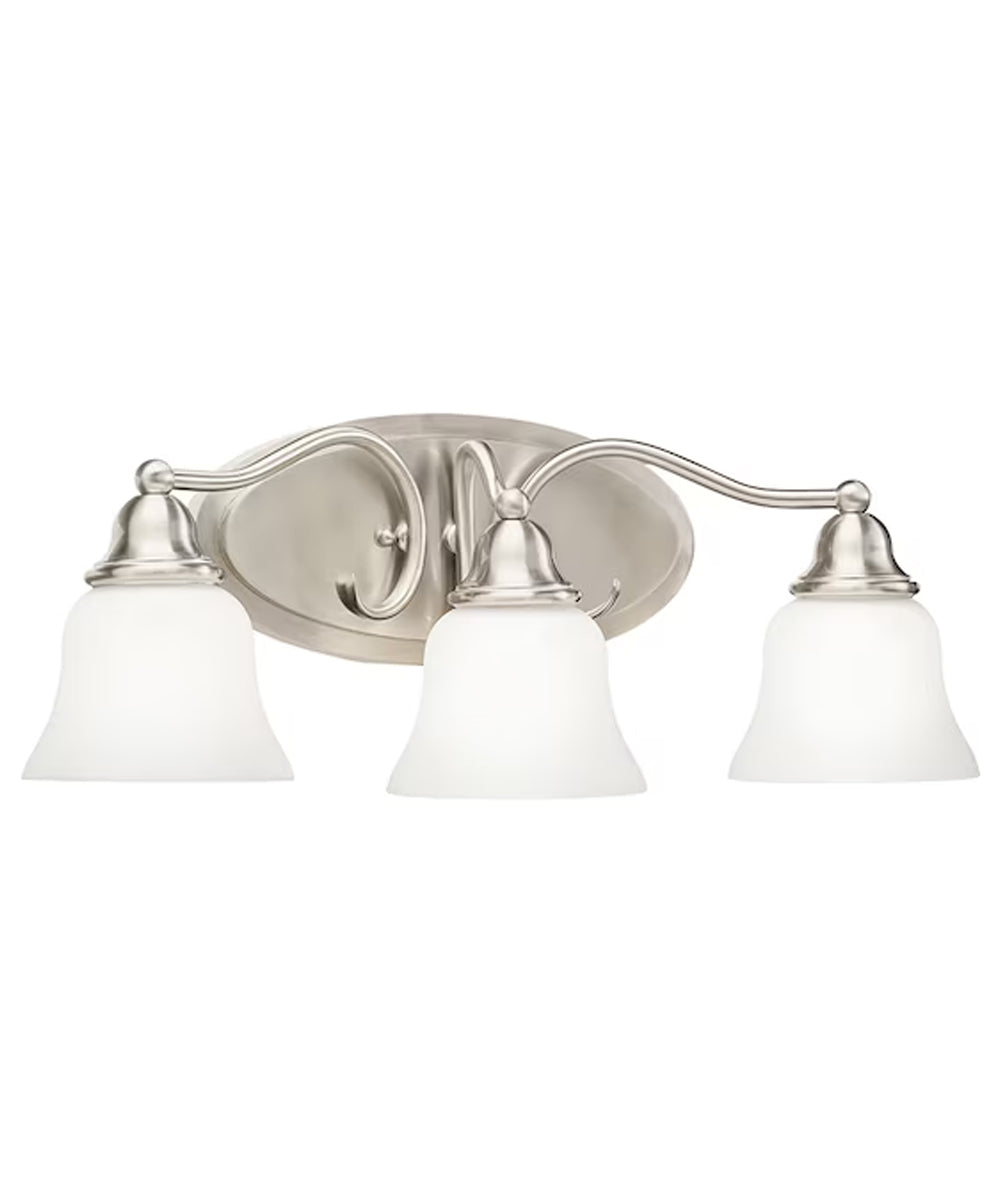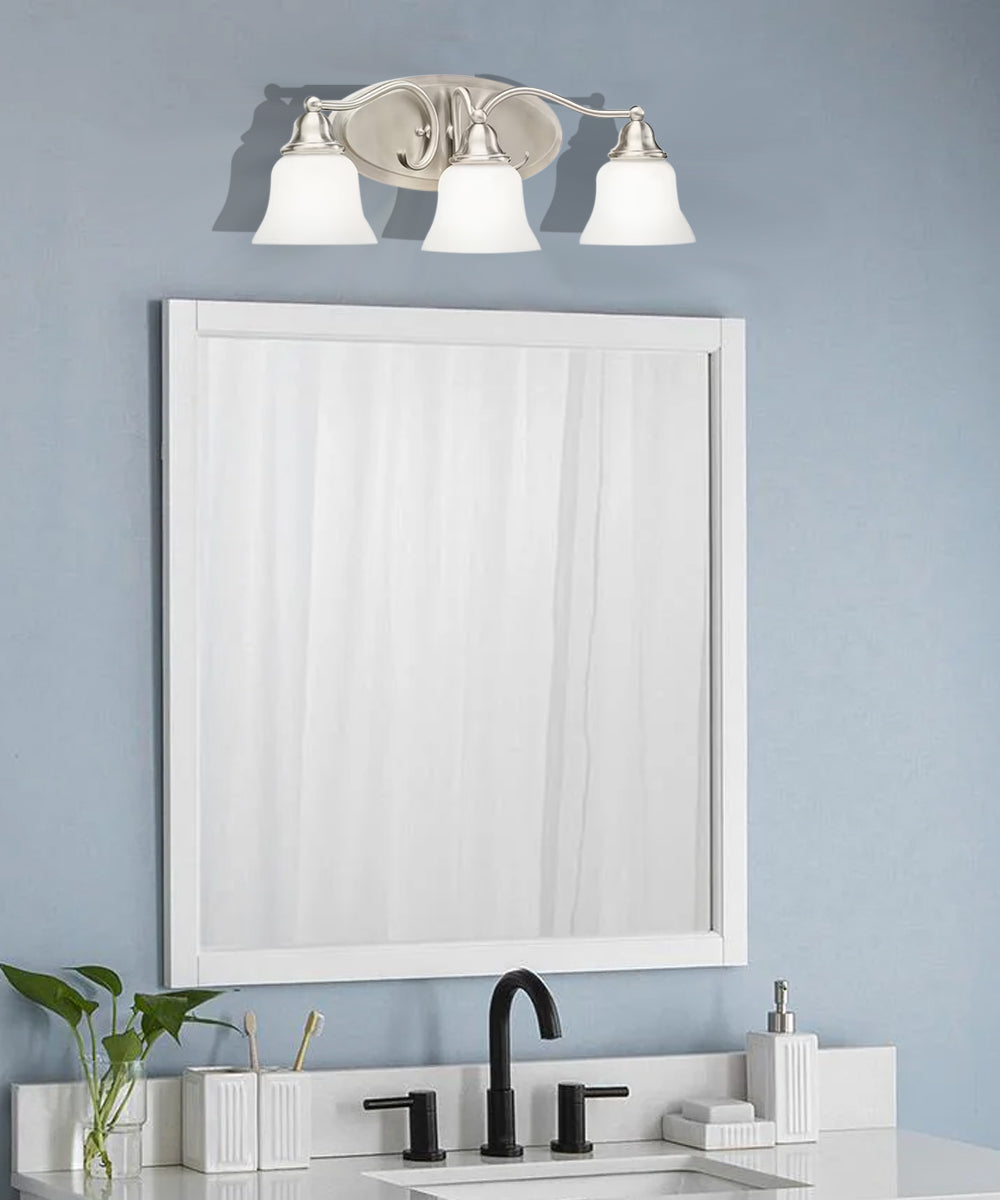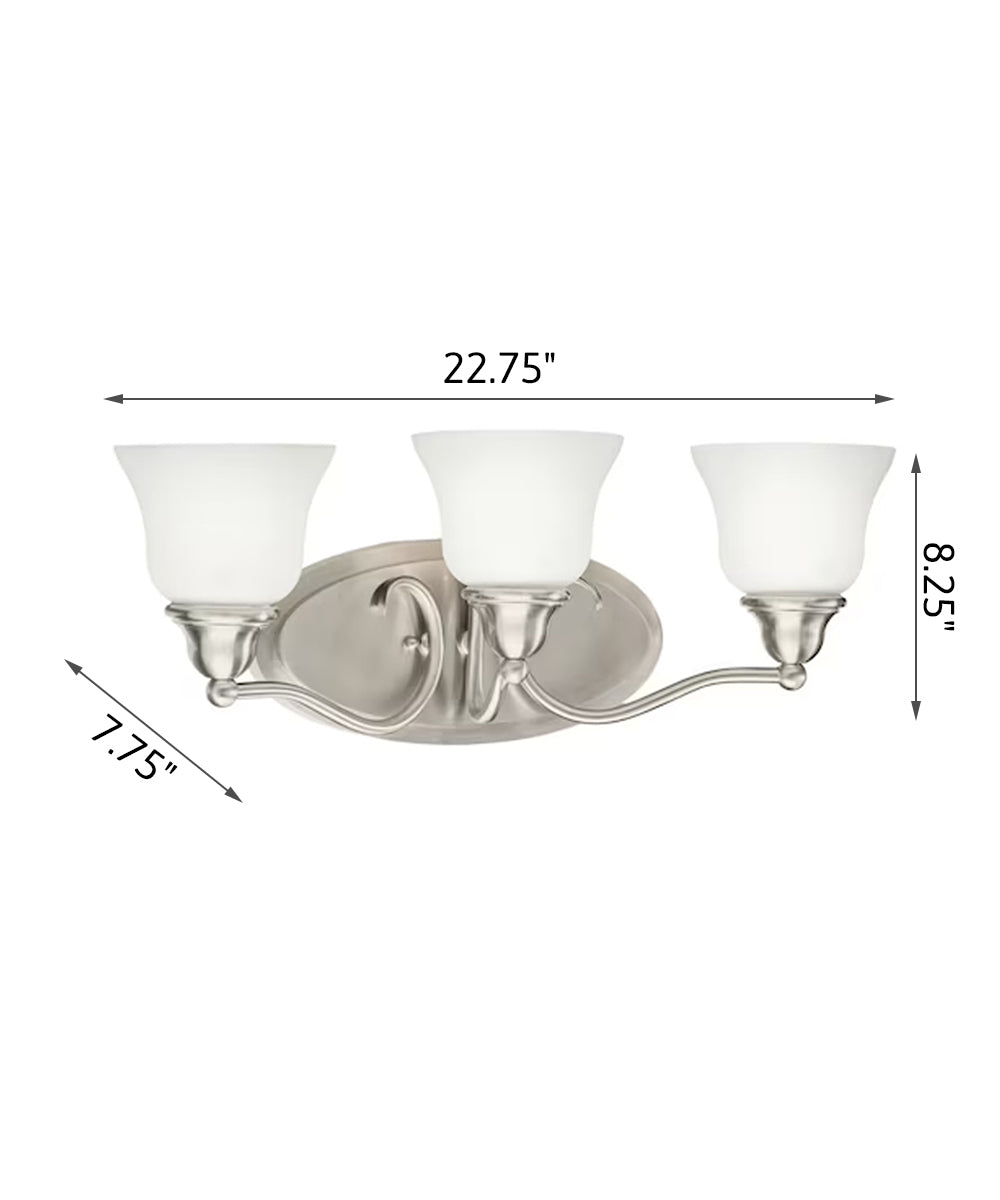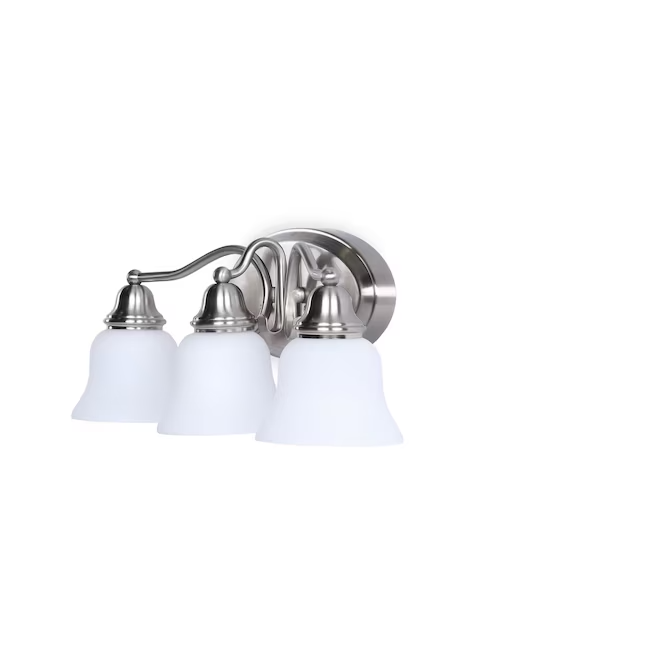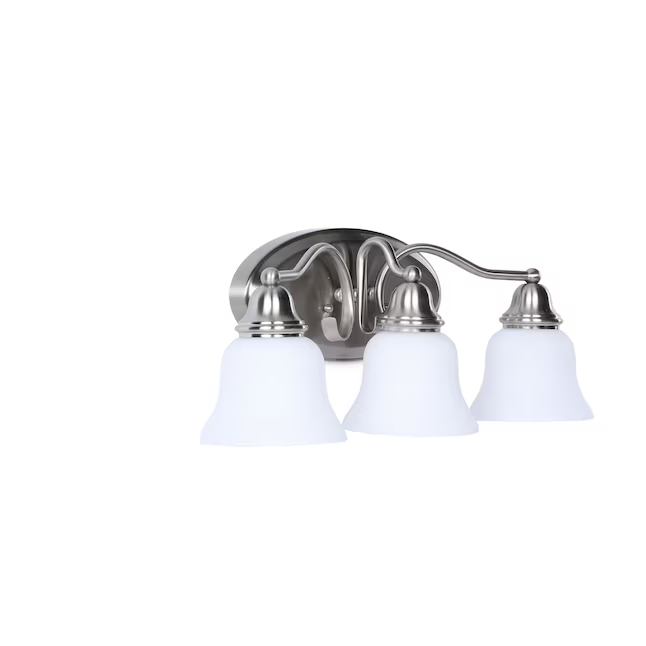 What is an Bath Vanity Light?
Bathroom lights usually are placed above or next to a bathroom mirror, above your vanity or sink. They provide a fairly strong light in front of your face which helps you to see clearly for washing, make-up application and so on. A row of 3-5 light bulbs is ideal for most bathrooms, while 1-light or 2-light fixtures could be placed either side of a mirror. Bath vanity lights shield your eyes from the glare of lightbulbs and also provide ambient light for the whole bathroom.
Bath Light Benefits

Illuminates the area around a mirror.
Helps you to see to apply makeup.
Helps to clarify personal higeine.
Provides ambient light for a shower or bath.
Gives guests light where they need it.
Designed to fit well over a large mirror.
Decorative shades (if applicable) shield the eyes.
Standard lighting in almost all bathrooms.
Brightens the room for safety, e.g with wet floors.
Places light in front of a person to light their face.
May amply light a restroom without a ceiling light.
LED Technology
This item features an LED light bulb. An LED (light emitting diode) bulb includes multiple small electronic diodes which each emit bright light. Each LED light uses very little wattage compared to other types of bulbs. They last far longer, typically more than 20-30,000 hours (several years), while saving significantly on electrical bills. The light output is typically bright white. LED bulbs also produce far less heat than other bulbs. Choose LED lighting for the most modern lighting technology.
Traditional Style
Classic in nature, yet elegant by design best describes the timeless appeal of predictable yet dignified lines and curves. Traditional Style Lighting prides itself on stately structure, beautiful ornate details, and reliable designs that tell a story of enduring appeal and craftsmanship. It's a tried-and-true style that is reliable, and speaks of discriminating and taste of a steadfast lifestyle.
Ambient Background Lighting
Fixtures closely attached to a wall tend to produce more ambient background light. They might be used to support a more central light fixture or as a less elaborate central light. They can produce strong light near to where they are placed. Wall sconces and bathroom lights can add extra light to one side of a room where you need it.
For which rooms?
Bath vanity lights are best used in a bathroom or restroom, above or next to a mirror. However, single or two-light bath lights could be used like a wall-sconce in other rooms such as living rooms, dining rooms, hallways or bedrooms.
Placement/Layering
The bath light and mirror are most likely placed directly above the vanity in front of the sink. The combination of using the sink while looking in the mirror is common. Since this places light to the side of the room, an overhead light is also recommended.
Mounts to a Wall
Attaches to an interior wall. The backplate hides the electrical installation.
Installed by an Electrician
An electrician or person with electrical installation knowledge will need to permanently wire the bath light into the building's electrical supply.