Regular price
$50.00
Sale price
$24.98
Unit price
per
Save 50%
Sold out
271 in stock
Beautiful Translucent Aqua Seaglass Base Table Lamp Brings Coastal Flare to modernize any living space. The quiet composition is suitable for a range of styles, instantly elevating a nightstand, side table, or desktop. Inspired by organic modernism, this casual coastal table lamp is a combination of natural beauty and sleek style. Attention to detail features a luxurious hand blown glass base to maintain high standards of quality and production. 2 way switch on socket, up to 100w max. bulb, (Includes 9.5w LED bulb). Lamp base only, add your own shade, harp, and finial. Artisanal hand blown glass gives your home stylish and elegant coastal accent. The textured glass brings warmth, texture, depth and a beautiful aqua green color tone and an organic element to any interior space. Display it on a side table or nightstand to accentuate your home décor.
FINISH - Artisanal hand blown Aqua sea glass table lamp perfect for casual, coastal style.
DIMENSIONS - Base is 9" Wide x 19" High. Weight: 5 lbs. Fits best with a shade 10" high and 14-16" wide. 
LIGHTING - Uses one (1) 100-watt max wattage incandescent bulb or LED equivalent (9.5w, 800 lumen, 2700k LED bulb included). LED bulbs recommended for energy-savings and long bulb life. Do not exceed specified wattage. 2 way switch on socket.
FEATURES - Lamp base only, add your own shade, harp, and finial. Expertly crafted glass lamp base is finished in textured aqua sea glass for a soothing coastal style. The raw bottom edge of the glass lamp keeps this light fixture light and airy. Organic modern style is a combination of natural beauty and sleek style. Brushed nickel neck and socket with clear 5' cord.
EASY ASSEMBLY - Plug in power source. Includes detailed instructions for easy assembly. Intended for indoor use only. Wipe clean with a damp cloth. We do not recommend using harsh household chemicals as they can damage the finish.
SKU:LD18941-001
Share
View full details
What is a Table Lamp?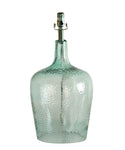 A table lamp is a portable light which can sit on a side-table. Usually a light bulb is positioned above the lamp base and surrounded by a lamp shade. They plug into a regular wall socket and can be easily switched on or off while seated nearby. Light typically emits outward and downward to illuminate a local area, great for tasks, reading, crafts and hobbies. Ideally positioned next to seating, at the bedside, or in the corners of a room for a more ambient mood. Table lamps usually feature one or two light bulbs.
Table Lamp Benefits

Portable and can be moved to any room.
Take them with you if you move.
Makes for a wonderful gift.
Lights up a local area for reading etc.
Ideal next to seating or sleeping areas.
Great as a bedside lamp.
Position either side of a couch or bed.
Easy to switch on or off.
Shade diffuses and deflects light.
Adds a decorative touch to any room.
Casual Style
Informal and comfortable, this relaxed style accentuates an airy and unpretentious living space, evoking the feeling of a permanent beach cottage vacation. Casual Lighting uses clean and simple lines, subtle curves, natural textures, and decorative glass for a subtle elegance that doesn't overwhelm the senses.
Task Lighting
Task lighting places a stronger light in one area of the room. Very good for tasks when you're sitting nearby. Most lamps can be used as task lights and can be quickly switched on when needed. Great for reading, crafts and hobbies. They also work well to light up one area of a room, e.g. on either side of a couch or in the corners of a room. Most of the light is directed downwards and out to the sides.
For which rooms?
All you need is some furniture to sit it on. Most useful as a bedside table lamp, but also as a living room table lamp. It may also work in a family room, home office or guest room, or to help light a basement.
Placement/Layering
A table lamp works well to light a nearby area, shedding light to the sides and below. You'll need one either end of a couch or either side of a bed, or in corners of a room. Table lamps can provide a medium-level of light, but you'll want some ceiling and/or wall lights for when you need the room to be brighter. Consider also a floor lamp to make the room brighter.
Mounts to Furniture
Can sit on top of any piece of flat furniture able to support the weight. The lamp sits on its base which is flat on the bottom. Ideally positioned on a side-table, nightstand, or other smaller furniture.
Plugs in
Plug the table lamp into a regular power outlet socket and switch it on.