Regular price
$80.00
Sale price
$29.98
Unit price
per
Save 63%
Sold out
378 in stock
The New Heath Zenith LED Motion Sensor and Voice Activated Outdoor Security Flood Light White Finish provides safety and security to the home. Offers smart controls through voice activated control with Google Assistant and Alexa. Smart lighting requires no bridge or hub while offering on APP control for all family products in a quick - easy setup manner. LED technology provides long lasting bright energy efficient lighting for safety and security around the perimeter of the home.
DIMENSIONS: 5" Width x 8" Height x 7" Depth.  Defiant Brand by Heath Zenith 
FEATURES: Voice activated HZ Connect- use your voice to control the lights with Google Assistant and Alexa. Wi-Fi connectivity with quick and easy setup to your router. 1 app control for entire family of products. 180° motion activated and 70 feet detection range. Adjustable Detection Sensitivity, Motion Sensing and Weather Resistant. White finish (ABS) material with light dispersing frosted shade finish.
EASY INSTALLATION: No hub or bridge required to work with other products like video lights, decorative lanterns or doorbells. Standard AC wired product with easy Install technology. Mounting Hardware Included. Tool-free lamp head adjustment.
LIGHTING: 1200 Lumens output at 5096K color temperature. Uses only 16 watts for 75 lumens per wat efficacy.
ENERGY SAVING: LED technology provides long lasting bright energy efficient lighting for safety and security around the perimeter of the home.
SKU:LDHW-9301-WH-H
Share
View full details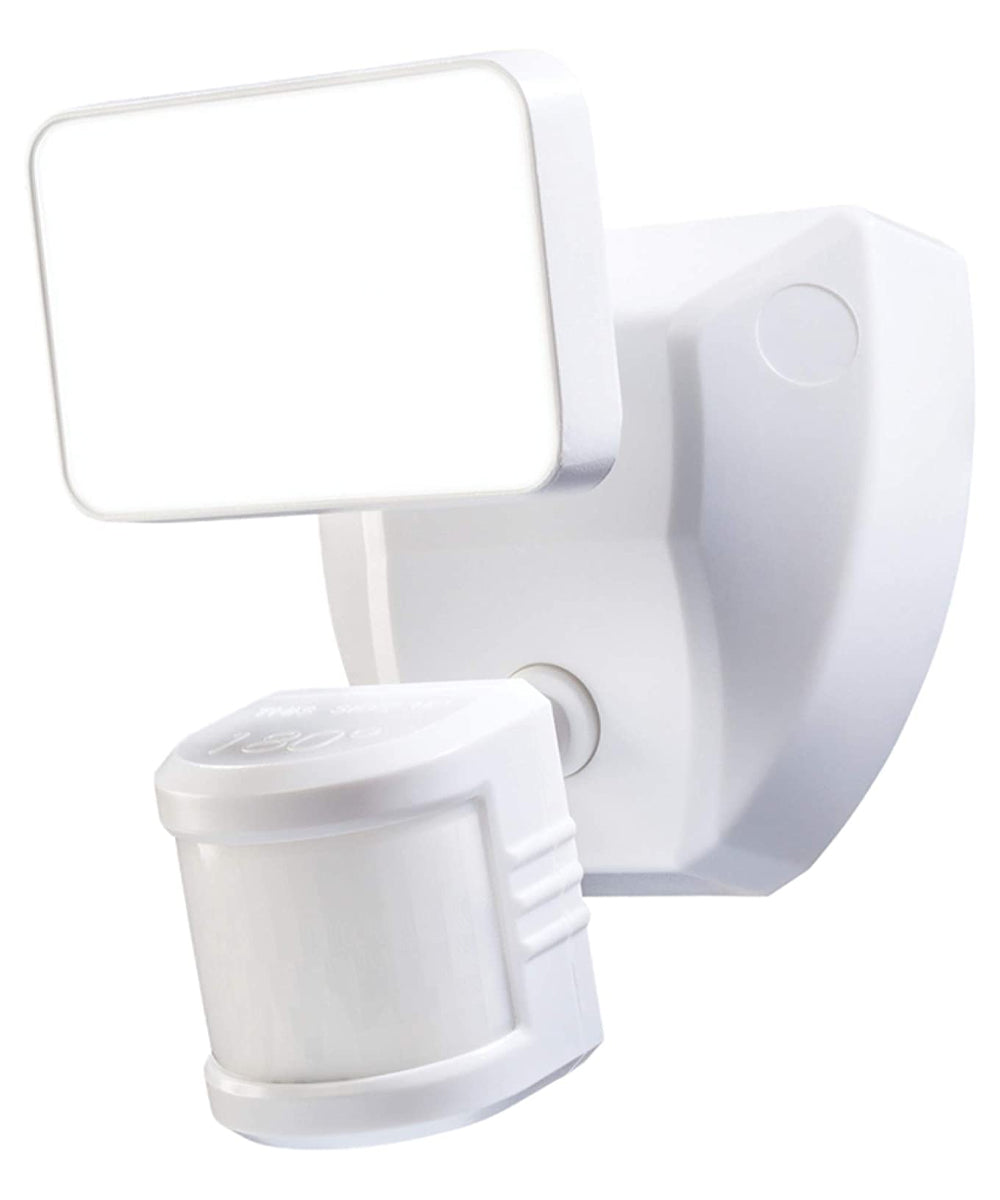 What is an Outdoor Wall Light?
Outdoor wall lanterns, also referred to as porch lights or garage lights, are mounted onto a wall. Usually they are ideal next to an entrance or either side of a garage. They will light up the local area and most of the yard, although a larger space may need more than one. Being fixed to the wall they place the light closer to the building, ideal for entering or exiting, or to help with parking. They are installed electrically as a hardwired fixture and usually operated by a wall switch or sensor.
Outdoor Wall Light Benefits

Places light near to an entrance.
Works great to light a parking area.
Can be placed either side of a garage.
Works well to light up a porch area.
Can be used at the side or rear of house.
Lights up visitors/guests as they enter.
Lights up the surrounding yard area.
Shines light onto the ground for safety/steps.
Can be bright for finding keys or reading items.
Flush to the wall doesn't obstruct foot traffic.
LED Technology
This item features an LED light bulb. An LED (light emitting diode) bulb includes multiple small electronic diodes which each emit bright light. Each LED light uses very little wattage compared to other types of bulbs. They last far longer, typically more than 20-30,000 hours (several years), while saving significantly on electrical bills. The light output is typically bright white. LED bulbs also produce far less heat than other bulbs. Choose LED lighting for the most modern lighting technology.
Modern Style
Contemporary and innovative, modern lighting underscores futuristic form and structure, and geometric or asymmetrical shapes. A modern lighting design instills functionality within an artfully streamlined form, radiating a reflective glow while providing clear and bright light. Modern Lighting complements a sleek, contemporary interior with straight lines, and can also create an agreeable contrast with transitional styles.
Ambient Background Lighting
An outdoor light fixture attached to a wall can shed a strong light into the surrounding area. At night it can light up a whole yard, although the most light will be found nearer to the fixture. A wall or garage light placed near an entrance is a great way to light up a porch or entryway. You may need more than one for a larger yard, especially for lighting in the dark.
For which rooms?
For outdoor use typically next to a porch entrance or either side of a garage. They can be exposed to weather or placed below a covered area.
Placement/Layering
An outdoor wall lantern will light up a porch, patio, or deck area, or even a garage driveway. But if you have a larger yard you might want to consider a lamp post light or a second wall light. Don't forget to also light the side and rear of the building too.
Mounts to a Wall
Attaches to a wall, typically the wall of a porch, or to the side of a garage door. The backplate of the fixture covers up the electrical installation area.
Installed by an Electrician
An electrician or person with electrical installation knowledge will need to permanently wire the wall light into the building's electrical supply.