Regular price
$140.00
Sale price
$69.98
Unit price
per
Save 50%
Sold out
36 in stock
Decorate and illuminate your room with this 18"H Stacked Glass Ball Table Lamp with White Linen Drum lampshade (Set of 2). The contemporary lamp base set features four clear solid glass stacked balls with brushed nickel accents to add glamour to your décor. Perfect for matching bedside lamps or on a buffet or end tables.  Choose your own lampshade (sold separately) to complete the look of the lamp. This stacked lamp base has a 2-way rotary switch on the socket to allow you to control the lighting brightness and uses one 2-way 60-watt incandescent equivalent bulbs (Two 9w, 800 lumen, 2700k LED bulbs included) The Stacked Glass Lamp Base is a perfect set to add decorative lighting to your great room, bedroom, office, or living room.
FINISH - Clear glass stacked balls with brushed nickel accents. White linen drum lampshade.  Clear 5' cord.
DIMENSIONS - 18"Height x 12"Width  Base is 18"Height x 5"Width.  Lampshade measures 12" wide x 8" high.
LIGHTING - Uses one 2-way 60-watt incandescent equivalent bulb (Two 9w, 800 lumen, 2700k LED bulbs included). LED bulbs recommended for energy-savings and long bulb life.
FEATURES - Set includes 2 complete lamps, with bases, harps, shades, finials and LED light bulbs.  Solid clear glass balls and LED bulbs included.
EASY INSTALLATION - Plug in lamps include 5' clear cord. All mounting hardware and detailed instructions are included for an easy assembly. 2-way rotary switch on socket. Each lamp weighs 4 lbs.
SKU:LD18851-WH-2PACK
Share
View full details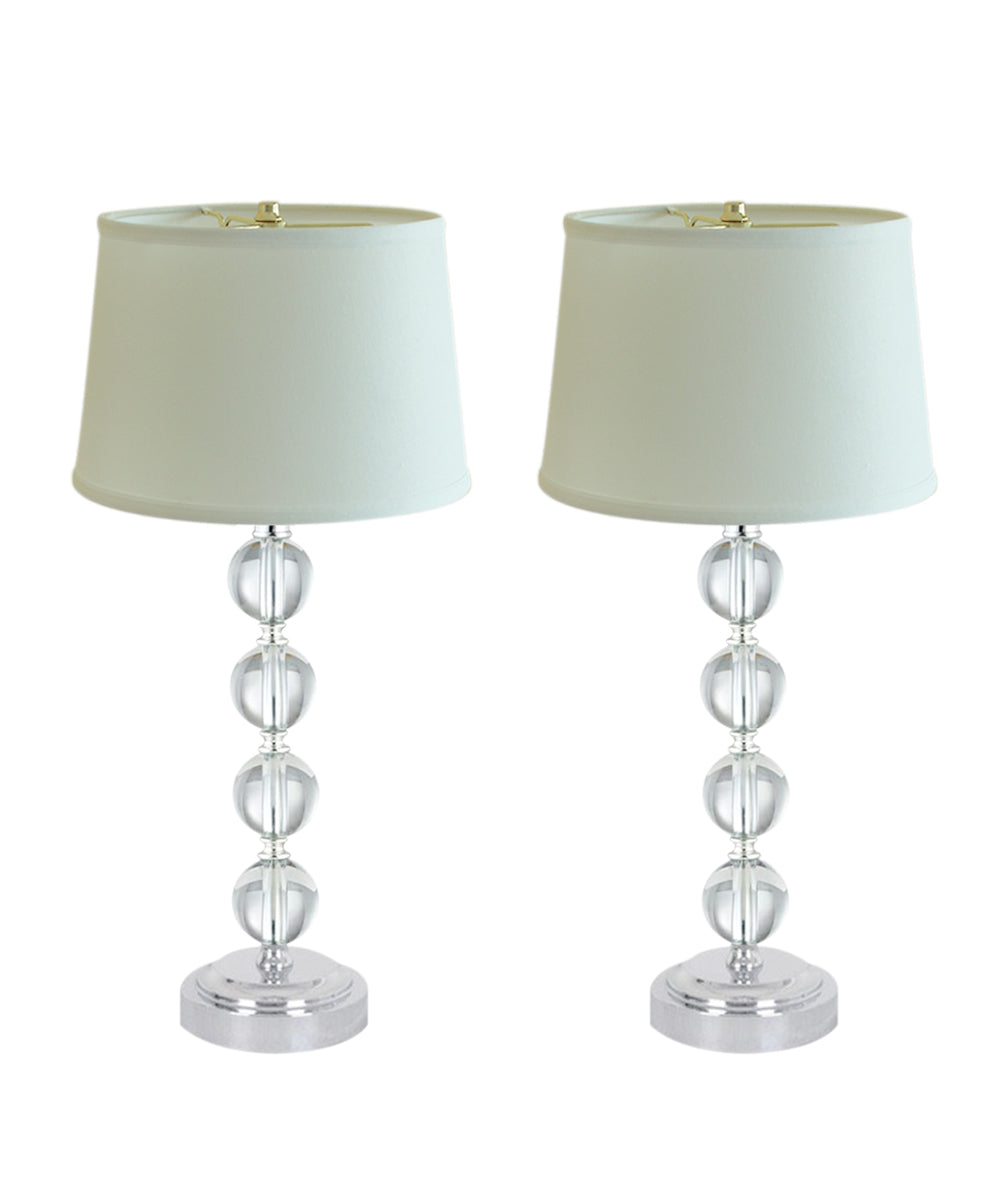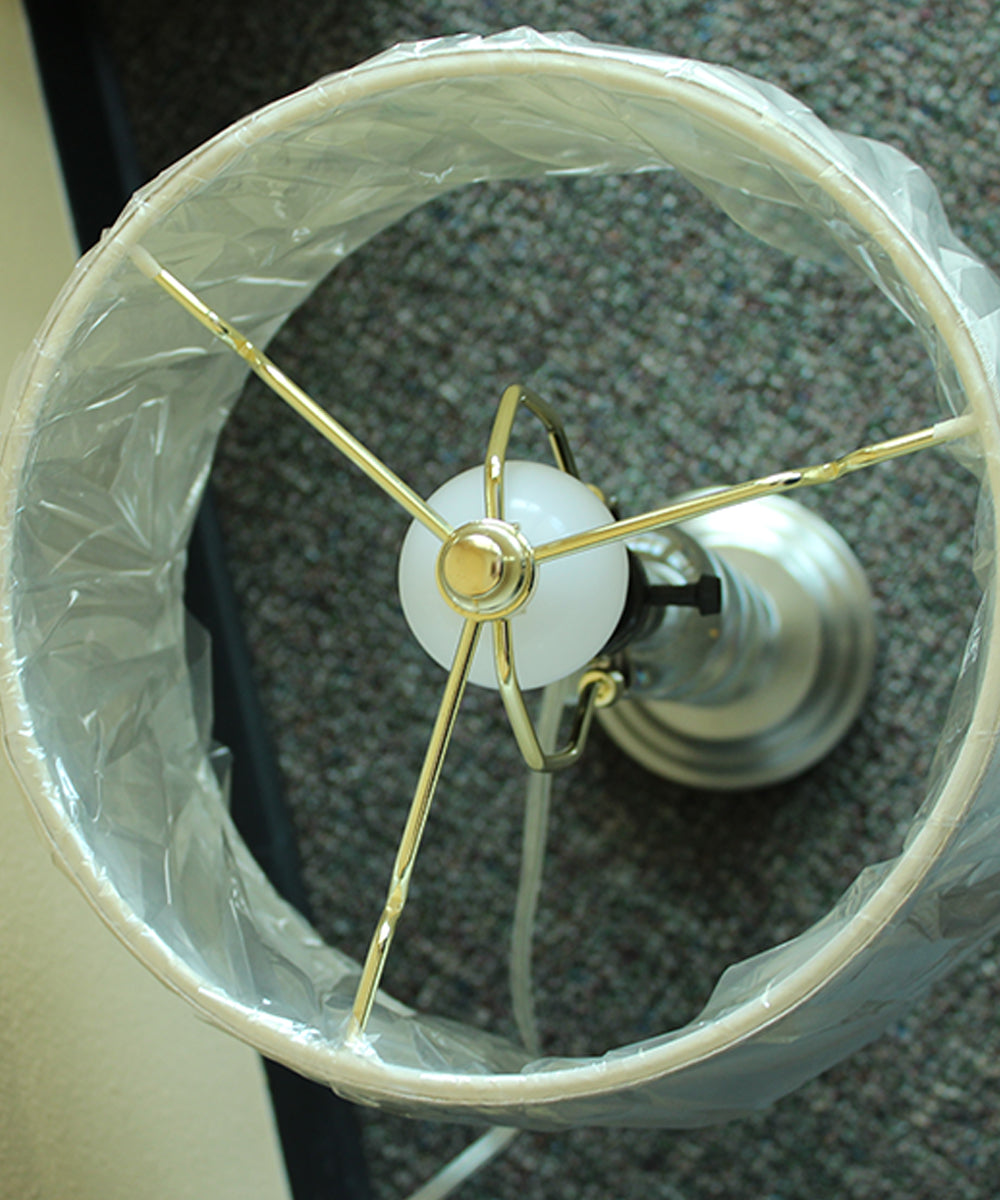 What is a Table Lamp?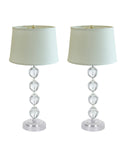 A table lamp is a portable light which can sit on a side-table. Usually a light bulb is positioned above the lamp base and surrounded by a lamp shade. They plug into a regular wall socket and can be easily switched on or off while seated nearby. Light typically emits outward and downward to illuminate a local area, great for tasks, reading, crafts and hobbies. Ideally positioned next to seating, at the bedside, or in the corners of a room for a more ambient mood. Table lamps usually feature one or two light bulbs.
Table Lamp Benefits

Portable and can be moved to any room.
Take them with you if you move.
Makes for a wonderful gift.
Lights up a local area for reading etc.
Ideal next to seating or sleeping areas.
Great as a bedside lamp.
Position either side of a couch or bed.
Easy to switch on or off.
Shade diffuses and deflects light.
Adds a decorative touch to any room.
Crystal/Gla Style
Our Crystal or 'Glam' Lighting Style is full of bling, and includes the most head-turning clear glass designs to express your inner diva. Lavished in crystal ornamentation or rich in precious metallic and chrome overlays, each dazzling lighting design speaks opulence and splendor. And like a true-to-life Cinderella story, our Crystal-Glam Lighting can turn your home into the palace it was meant to be.
Task Lighting
Task lighting places a stronger light in one area of the room. Very good for tasks when you're sitting nearby. Most lamps can be used as task lights and can be quickly switched on when needed. Great for reading, crafts and hobbies. They also work well to light up one area of a room, e.g. on either side of a couch or in the corners of a room. Most of the light is directed downwards and out to the sides.
For which rooms?
All you need is some furniture to sit it on. Most useful as a bedside table lamp, but also as a living room table lamp. It may also work in a family room, home office or guest room, or to help light a basement.
Placement/Layering
A table lamp works well to light a nearby area, shedding light to the sides and below. You'll need one either end of a couch or either side of a bed, or in corners of a room. Table lamps can provide a medium-level of light, but you'll want some ceiling and/or wall lights for when you need the room to be brighter. Consider also a floor lamp to make the room brighter.
Mounts to Furniture
Can sit on top of any piece of flat furniture able to support the weight. The lamp sits on its base which is flat on the bottom. Ideally positioned on a side-table, nightstand, or other smaller furniture.
Plugs in
Plug the table lamp into a regular power outlet socket and switch it on.