Regular price
$170.00
Sale price
$68.98
Unit price
per
Save 59%
Sold out
56 in stock
Light up the bath or powder room in sleek, modern style with the Sloane vanity fixture. Impressive, Grooved and a Polished Nickel finish come together in this stunning bath light. Capital Lighting is a family-owned lighting company located in Atlanta, Georgia. Capital delivers stylish, high-quality products at affordable prices through some of the best lighting showrooms across the United States because they have earned a reputation as an innovative lighting company who creates well-designed, long-lasting fixtures. This 2-Lights Vanity 127621PN-458 from Capital Lighting features:
Polished Nickel Finish with Clear Grooved Glass
Full Fixture Dimensions: 14"Width x 9.25"Height x 6.75"Extends
Backplate Dimensions: 8"Width x 4.75"Height x 0.75"Extends
Glass Dimensions: 5.25"Width x 6.50"Height
2 x 100 Watt E26 Medium Base bulbs (not included)
Recommended Bulb Type: G16
Voltage: 120 UL listed. Rated for Dry locations.
Light Source: Incandescent
Install Position: Mount with Lights Up or Down
Material: Metal
Style: Industrial
UL listed. Rated for Damp locations.
Weight: 11.5
SKU:LD127621PN-458
Share
View full details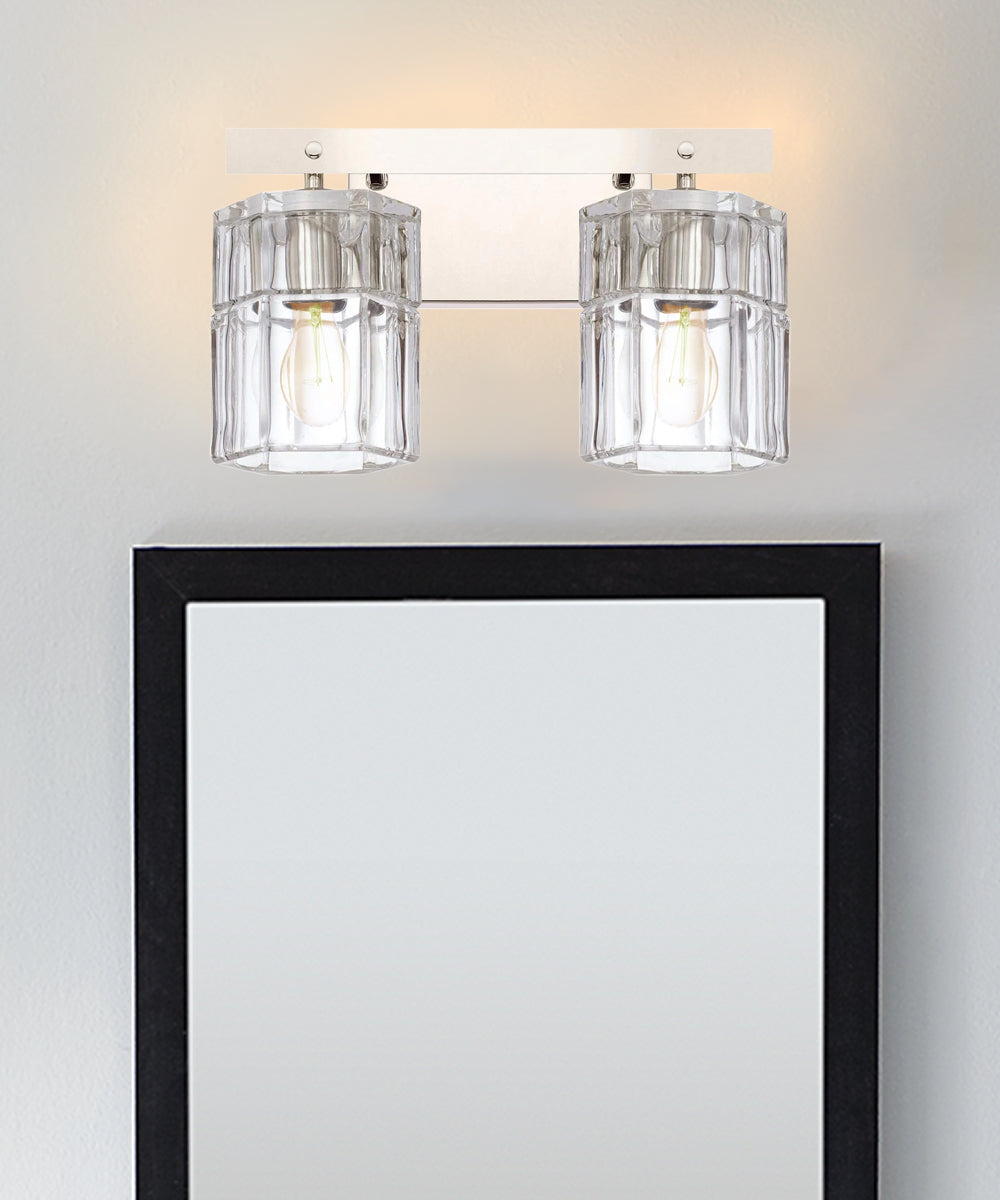 What is an Bath Vanity Light?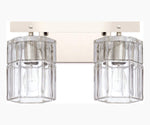 Bathroom lights usually are placed above or next to a bathroom mirror, above your vanity or sink. They provide a fairly strong light in front of your face which helps you to see clearly for washing, make-up application and so on. A row of 3-5 light bulbs is ideal for most bathrooms, while 1-light or 2-light fixtures could be placed either side of a mirror. Bath vanity lights shield your eyes from the glare of lightbulbs and also provide ambient light for the whole bathroom.
Bath Light Benefits

Illuminates the area around a mirror.
Helps you to see to apply makeup.
Helps to clarify personal higeine.
Provides ambient light for a shower or bath.
Gives guests light where they need it.
Designed to fit well over a large mirror.
Decorative shades (if applicable) shield the eyes.
Standard lighting in almost all bathrooms.
Brightens the room for safety, e.g with wet floors.
Places light in front of a person to light their face.
May amply light a restroom without a ceiling light.
Industrial/Loft Style
Our Loft-Industrial Lighting Style is heavy on the unrefined aesthetic elements inspired by the industrial revolution and turn-of-the-century warehouse lighting fixtures. These bold and strong designs are dominated with heavy metal or rustic wood construction, and are certain to ignite an urban renewal through use of rivets, chain links, steampunk-inspired light bulbs, metal ribbon strips or wrought iron trimmings.
Ambient Background Lighting
Fixtures closely attached to a wall tend to produce more ambient background light. They might be used to support a more central light fixture or as a less elaborate central light. They can produce strong light near to where they are placed. Wall sconces and bathroom lights can add extra light to one side of a room where you need it.
For which rooms?
Bath vanity lights are best used in a bathroom or restroom, above or next to a mirror. However, single or two-light bath lights could be used like a wall-sconce in other rooms such as living rooms, dining rooms, hallways or bedrooms.
Placement/Layering
The bath light and mirror are most likely placed directly above the vanity in front of the sink. The combination of using the sink while looking in the mirror is common. Since this places light to the side of the room, an overhead light is also recommended.
Mounts to a Wall
Attaches to an interior wall. The backplate hides the electrical installation.
Installed by an Electrician
An electrician or person with electrical installation knowledge will need to permanently wire the bath light into the building's electrical supply.