Regular price
$240.00
Sale price
$49.98
Unit price
per
Save 79%
Sold out
283 in stock
Outdoor LED Wallpack from Heath Zenith has a Black finish with dusk-to-dawn features chases away night-time darkness. Introducing Wall Pack style that creates a low profile style in your outdoor home night lighting. Photocell technology allows the light to operate from dusk to dawn at night time only. LED technology provides long lasting bright energy efficient lighting for safety and security around the perimeter of the home.  Smooth, clean lines give this security light an unobtrusive look for your home's exterior. Finished in black with a panel of frosted glass, this light features a dusk-to-dawn sensor, so you can conserve energy during the day. The LED design also adds additional energy savings. Keep your home safe with functional light that doesn't skimp on style. Black finish. Frosted glass. Integrated LED array. 6000K color temperature. Light output is 359 lumens. California Title 24 compliant. Comparable to a 40 watt incandescent bulb.
RUST FREE - ABS Polycarbonate Construction Wall Pack Style. Black finish with White Shade
DUSK TO DAWN - Photocell technology allows the light to operate from dusk to dawn at night time only.
BRIGHT - 359 Lumens output. (Comparable to a 40 watt incandescent bulb.) 5000 degree Kelvin Color Temperature. 80 Color Rendering Index (CRI)
NEVER CHANGE A BULB - Integrated LED (included). Energy efficient LED technology lasts 40,000 hours
EASY INSTALLATION - Featuring Wall mount and hardwired Installation
DIMENSIONS: 6.25" Width x 3.5" Depth x 10" Height, Weight: 1.71 lbs
CANOPY DIMENSION: 6.25" Width x 1.5" Depth x 10" Height
LAMP HEAD DIMENSION: 6.25" Width x 2" Depth x 7.5" Height
ENERGY SAVING - LED technology and dusk to dawn photo cell will save energy. Power Requirements: 120 VAC, 60 Hz. Wattage: Max. 12 x 0.5 Watt LED. LUX Control Level: Approximately 20 lux California Title 24 compliant.
Set of 4 LED Wallpack Lights.
SKU:LDHZ-8416-BK-4PACK
Share
View full details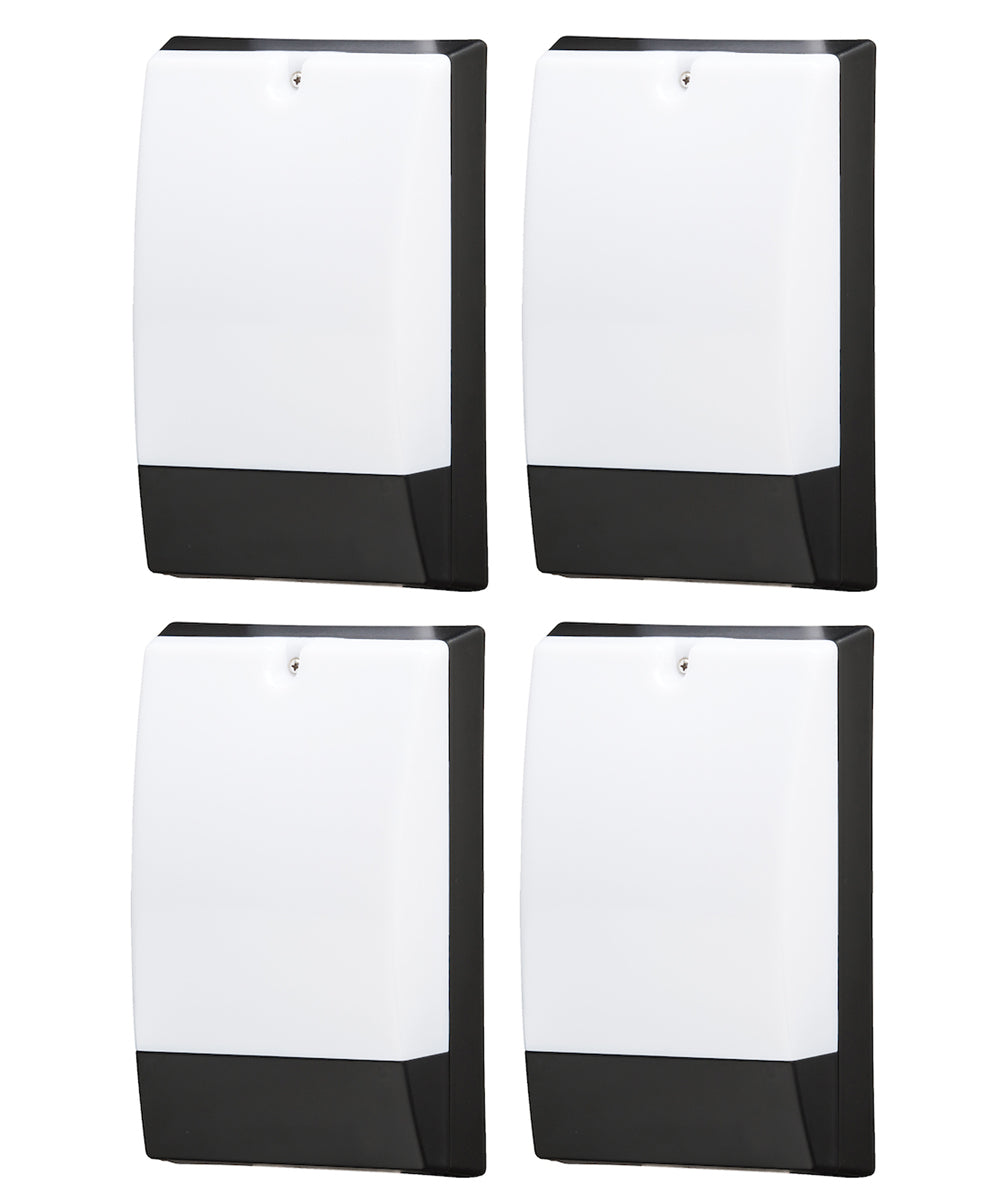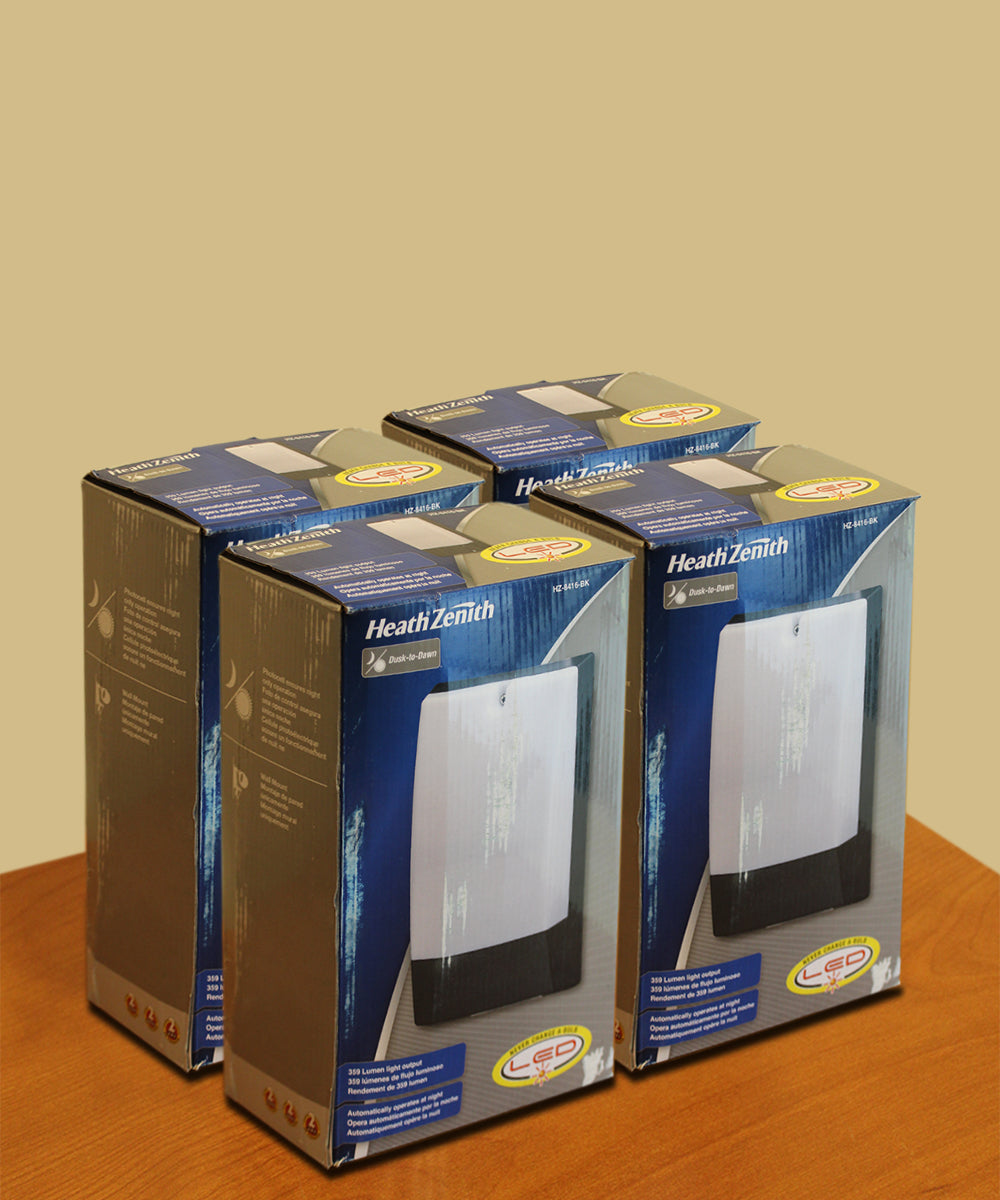 What is an Outdoor Wall Light?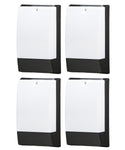 Outdoor wall lanterns, also referred to as porch lights or garage lights, are mounted onto a wall. Usually they are ideal next to an entrance or either side of a garage. They will light up the local area and most of the yard, although a larger space may need more than one. Being fixed to the wall they place the light closer to the building, ideal for entering or exiting, or to help with parking. They are installed electrically as a hardwired fixture and usually operated by a wall switch or sensor.
Outdoor Wall Light Benefits

Places light near to an entrance.
Works great to light a parking area.
Can be placed either side of a garage.
Works well to light up a porch area.
Can be used at the side or rear of house.
Lights up visitors/guests as they enter.
Lights up the surrounding yard area.
Shines light onto the ground for safety/steps.
Can be bright for finding keys or reading items.
Flush to the wall doesn't obstruct foot traffic.
LED Technology
This item features an LED light bulb. An LED (light emitting diode) bulb includes multiple small electronic diodes which each emit bright light. Each LED light uses very little wattage compared to other types of bulbs. They last far longer, typically more than 20-30,000 hours (several years), while saving significantly on electrical bills. The light output is typically bright white. LED bulbs also produce far less heat than other bulbs. Choose LED lighting for the most modern lighting technology.
Ambient Background Lighting
An outdoor light fixture attached to a wall can shed a strong light into the surrounding area. At night it can light up a whole yard, although the most light will be found nearer to the fixture. A wall or garage light placed near an entrance is a great way to light up a porch or entryway. You may need more than one for a larger yard, especially for lighting in the dark.
For which rooms?
For outdoor use typically next to a porch entrance or either side of a garage. They can be exposed to weather or placed below a covered area.
Placement/Layering
An outdoor wall lantern will light up a porch, patio, or deck area, or even a garage driveway. But if you have a larger yard you might want to consider a lamp post light or a second wall light. Don't forget to also light the side and rear of the building too.
Mounts to a Wall
Attaches to a wall, typically the wall of a porch, or to the side of a garage door. The backplate of the fixture covers up the electrical installation area.
Installed by an Electrician
An electrician or person with electrical installation knowledge will need to permanently wire the wall light into the building's electrical supply.